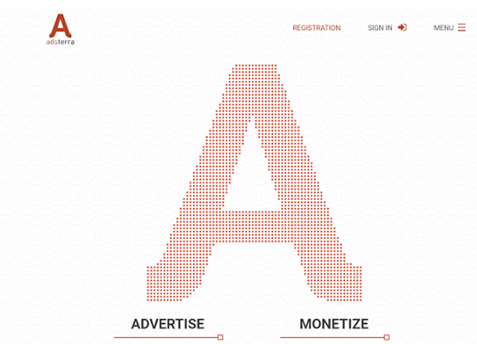 The Ad Network market is so vast today, so that it is hard to find a good one, like a needle in a haystack. But let's use magnet!
I would like you to welcome the ad network which worth to be trusted.
Adsterra Network, which I found a long time ago has a package of really nice options and seem to do the job very well.
I will try to share with you all the details I have found useful for publishers so you can decide, should you join it or not. Let's begin the Adsterra Review !
Introduction
Adsterra is a premium advertising network started in 2013 providing the better advertising solutions to all the parties.
Since then they keep on growing and currently, Adsterra is able to deliver over 10 billion impressions per month. It is one of the fastest growing ad networks and has established themselves as a market leader in the many ad segments. Now Adsterra is concentrating not only in enlarging and making new features, but to make them most reliable compared to other networks.
It mainly offers performance-based solutions for advertisers and media partners worldwide. But we'll look at publisher's perspective.
Adsterra Network Features
Here are some of the amazing features of Adsterra ad network which help publishers to achieve their goals.
Personal Account Manager: You will get a dedicated account manager for your campaigns who will keep you updated with the latest buzz. They will also help you to optimize your campaigns.
Security: Adsterra is a technology-enabled platform which uses third party fraud detection systems that automatically monitor the security of all ad campaigns.
Conversion Tracking: Choose your profitable plan to target mobile and desktop traffic for high conversion through best fitting payment model: CPM, CPA, CPL, CPO, CPI (PPI).

Real-Time Statistics: Get instant access to your detailed statistics and track your performance in real time.
Companies like Jabong, Ali Express, Jumia etc. are advertising on Adsterra and so publishers can expect some great return.
Adsterra Ad Formats
You can monetize both desktop and mobile traffic with Adsterra.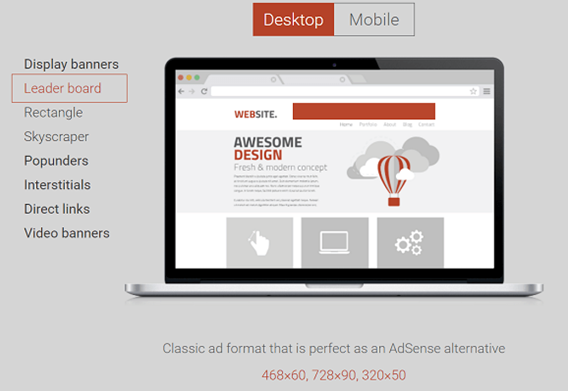 Here are the major ad formats used by Adsterra
All the ad formats are available separately for both desktops as well as mobile traffic.
Leader Board: This is usually of size 728*90 and publisher place this after the logo in the header part. Although not much clicks get here but good for branding purpose.
Rectangle: Classic ad format that is perfect as an AdSense alternative. Can be placed anywhere you have space on the web page.
Skyscraper: Usually placed in the sidebar and is good to get clicks
Pop-under: If you are having viral traffic, such ads can work best for you.
Video Banners: Based on СPM model, video banners may be integrated to any publishers' placement
Direct Links: No need to create banners or other promo materials. There is a link which is placed on any placement of publisher: banners, texts, videos etc. Note that it is a sub-type of POP-UNDER.
You can monetize all your traffic easily with Adsterra, there are just three steps to make it out:

Also check Adsterra's competitive features for publishers
Highest CPM Rates: Monetize your every impression with 100% fill rates and competitive CPMs with customized to your needs solution.
Safe Ads: Adsterra offers maximum security and protection against common malware and bad ads through its in-house and third party fraud detection system.
On-Time Payments: Adsterra deals in NET 15 payment basis and you won't have to wait for the payment anytime. That is absolutely true.
Referral: Being a publisher you can also earn by referring someone. You'll get 5% of the revenue generated by the Publishers you referred to Adsterra Network for a LIFETIME.
Conclusion
I really hope, that I've answered all your questions considering this ad network and that it will help you to make the right decision.
If you want to monetize your site, blog, or Facebook page, Adsterra can be a perfect solution. Adsterra grows fast but try to concentrate more on quality, than quantity, the rates are comparatively better than for other ad networks, so it is your turn to try to sign up at Adsterra and tell us about your experience!