Whenever you come across something new, there are numerous questions that pop up in your mind that what it is, how does it work, what is its application, how to use it, when to use it and what would that help you with. This can happen with anyone and anywhere and that too in any field and regarding anything. It is human tendency to be curious and ask questions and there is nothing wrong about it.
And this will happen to you too also if you are a beginner when it comes to digital marketing and analytics too. And to be honest it's good that you are curious for such a great thing. Digital marketing and big data are the future things that would grow and grow continuously and gaining a skill that would be relevant in future and would be highly in demand would give you edge over others and would help you to stand out in the crowd.
But at the same time choosing a great mentor and guide is crucial while learning anything new. Choosing a tutor or a teacher, a guide or a guru wisely would affect your understanding of that particular thing and would help help you in imbibing that skill effectively and efficiently.
Here comes SerpStat academy into view. Now we all know serpstat was started in 2013 as a keyword research tool, Serpstat has been growing and improving continuously and in August of 2016 Serpstat turned into an all-in- one SEO platform, and now it offers 5 essential tools used by professional digital marketers worldwide.
With their expertise in SEO tools and their history and experience in these skills they are the ones that should be the preferred choice for learning and absorbing those skills.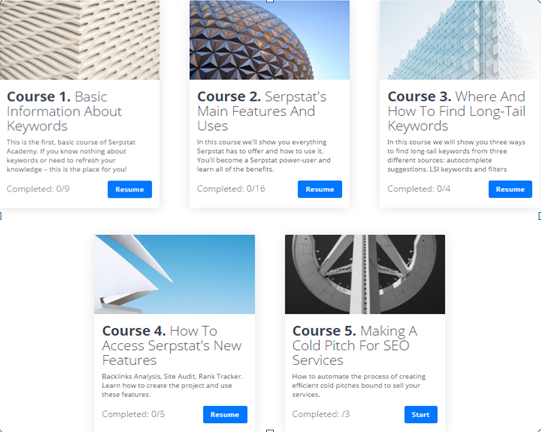 COURSES THEY OFFER:
Now let us talk about what actually have to offer.
They have a carefully curated course framework which includes five different courses. Let us now dig deep into what they are providing:
COURSE 1:  BASIC INFORMATION ABOUT KEYWORDS
As the name suggests this is the basic course of keywords for freshers or beginners but also at the same time for those who are looking to brush up their basics about the keywords and trying to strengthen their foundation of basics.
This course contains nine modules within it which are namely:
Prologue
What is a Keyword?
What Are Keywords Used For?
What is Keyword Research?
Different Types of Keywords
SEO and Keywords
PPC and Keywords
Copywriting and Keywords
Analyzing Competitors with Keywords
COURSE 2: SERPSTAT'S MAIN FEATURES AND USES
Again after completing the basics course you can learn in this course about the framework and tools that serpstat is being offering to you and you can become a power user of this website and become a fresh user of the tools. In this course you will get to know the various tools that are being used; their application and details about them. This course contains sixteen modules within it which are:
Getting Started.
Domain Analysis. Overview.
Domain Analysis. SEO Research.
Domain Analysis. PPC Research.
Domain Analysis. Batch Analysis and Infographics.
URL Analysis. Overview.
URL Analysis. URL vs URL and Missing Keywords.
Keyword Research. Overview.
Keyword Research. SEO Research.
Keyword Research. PPC Research.
Keyword Research. Content Marketing.
Keyword Research. SERP analysis.
Projects.
Filters. Export.
API
Use Cases.
COURSE 3: WHERE AND HOW TO FIND LONG TAIL KEYWORDS
Now as we all know, long tail keywords are gaining more popularity today. Once you know the basics and you know about the tools the next step is to learn the application of these tools. In this course you will learn what long tail keywords are and what the different methods to find them are. This course consists of following four modules
What are long-tail keywords
How to find long-tail keywords: Method 1 – Keyword Research
How to find long-tail keywords: Method 2 – Search Suggestions
How to find long-tail keywords: Method 3 – LSI Keywords
COURSE 4: HOW TO ACCESS SERPSTAT'S NEW FEATURES
Coming to somewhat of an advanced thing, this course would help you realize the values and benefits you can attain after accessing serpstat and using its new features. Here you will learn how to create a project and how to apply those exclusive features on your project. You would gain insights on backlink analysis, site tracker etc. This course encompasses five modules in it which are namely:
Intro
Creating a project
Backlink Analysis Tool
Rank Tracking
Site Audit
COURSE 5: MAKING A COLD-PITCH FOR SEO SERVICES
Once you know all the basics and you are well versed with the tools too and along with this you have learned to prepare a project too, now is the time to make use of the project, by finding potential clients and creating a cold-pitch for your SEO services. This is basically the final step that you would be learning which would involve applying all the things that you have learned so far. This course contains the following modules:
Finding potential clients
Analysis and comparison
Preparing a pitch
FINALLY WHY TO GO FOR SERPSTAT ACADEMY!!
So as we have discussed above there are many great things that could attract you to go and learn from this academy which are:
Fully free of cost
Easily accessible from anywhere and anytime by anyone
Finely Curated course Framework
Alignment of course with SerpStat's tools to focus on practicality
Easily to toggle courses and modules that lets you skip the courses that you are well versed with
Simple language and basics for beginners
Simple yet powerful technically
Sequential learning procedure of all the courses
Use of examples everywhere
In short this is one of the best free coursework for you and your path to become a SEO skill based hero for your own business. For further details and queries regarding any course or any module please feel free to visit their website here:
http://academy.serpstat.com/
Incoming search terms: