Act 1. In Which Author Discourages You Reading This
When it comes to making money online, those who seek solutions will surely land somewhere reading countless articles restating what have been said million times before.
First thing in the morning, your light reading mixed with 3 to 6 cups of coffee start forming ideas: "Ooh! I should definitely try that!".
Then, after lunch, you stumble upon this great case study "How I earned $XXXXXX in XXXXX seconds… bla-bla-bla" and your heart pounds to the every well-placed word of this artfully written digest. By the end of it, you decide to give it a try.
Wait! Which tactic to prioritize? The one you've read about a week ago and already started to deploy? Or this new one?
The longer you ponder, the more money you're not currently making.
Act 2. In Which I Question Your Reading Skills and Finally Get to the Point
Now you think "Why then should I read this one? Should I break vicious circle now and concentrate on one goal?" After all, this is just yet another 1000 words article on "How to…"!
But bear with me a bit longer. And don't be a skim reader. (Got you).
Thing is, great many of these articles contain solid advice on how to increase your traffic, conversion rates, sales, how to advertise, or how to manage PPC campaign. (You're not skim-reading aren't you?).
The 5 things I pledged you haven't used with keywords and are extremely efficient can change the way you research and use keywords!
Up to date, there simply has not been tools with such capabilities.
In 10 years working with the no. 1 SEO agency in Eastern Europe (i'm not advertising, so there's no link) I've seen and used helluva lot SEO tools to get metrics needed to measure all kind of stuff: competitors' budgets on ads, how they implement their ad campaigns, how keyword distribution relates to their success, how they use PPC, and many more. This data gave me an insights on the most efficient strategies I've sold to my clients for big $. Now, I won't disclose their name and the reason for this conspiracy is simple. I have no intent selling you anything. I just want to share things that really work for free. Why? Because eventually it'll increase my own profit and yours as well. No bs, win win – yes.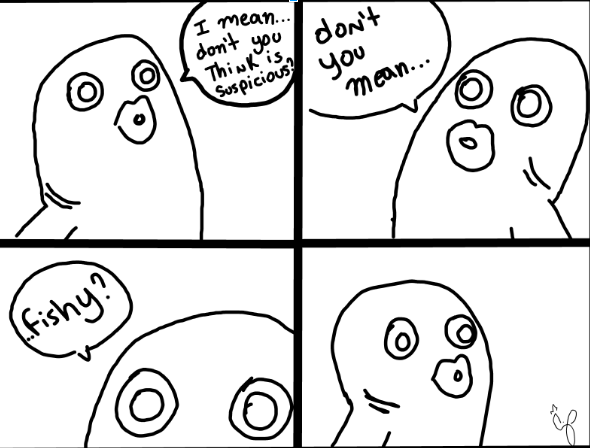 Act 3. The Actual Guideline (start reading here, skim-readers)
The tool I'm about to convince you should use is called Serpstat.
(As a sample domain we're gonna be using Amazon and "buy sneakers" as a keyword)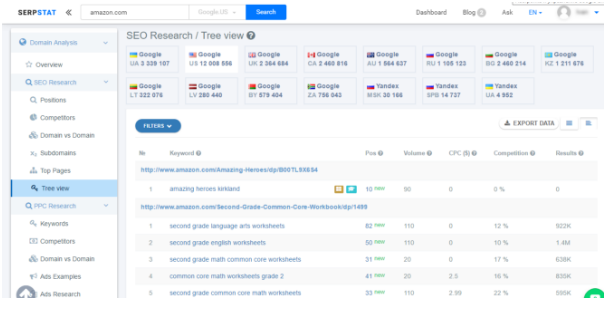 Enter domain in search tab and in "SEO Research" section of the tool click on "Tree View". Now you have full list of URLs with all keywords those URLs contain and are ranked for in SERP. For the first time ever you have the opportunity to analyze each keyword-rich page separately, not the domain in general.
Now is the time to apply super SEO kung fu. Click on "Filters" to filter domain position by keywords ranked 11 to 20 and get the list of potentially successful keywords that can be easily pushed to the top 10 by managing site's internal linking.
Implement this must-do technique to get on top of organic search.
Top pages by Topic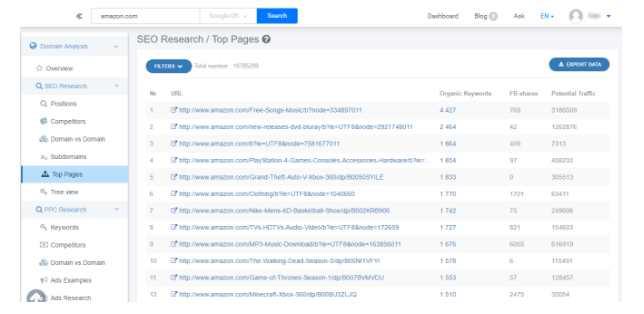 Enter your researched domain, in "SEO Research" section, click on "Top Pages" to get full list of site's pages (URLs) with keyword density distribution and number of shares on Facebook. This unique feature lets you identify the most successful traffic-driving pages of any site. Potential traffic will show you how much traffic will your page receive if it will remain on top of organic search.
I think I need not elaborate on why you should always measure what works best and what's worse.
Identifying Missing Keywords in URL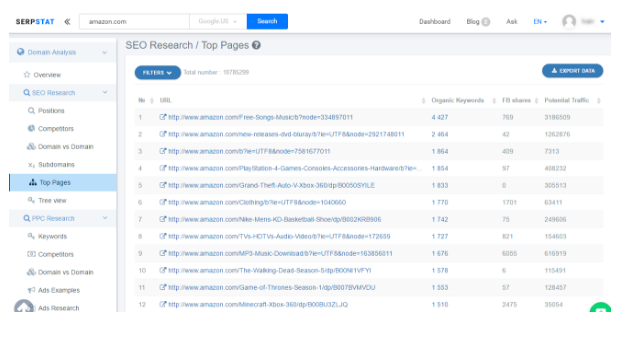 You can spend fortune on SEO experts whose bread and butter is to identify keywords that suit best your site. Or you can use revolutionary, no REVOLUTIONARY (bold italic caps won't underline how important this is) feature.
In few clicks, while still in "Top Pages" section sort your list by volume (arrange in descending or ascending order by clicking on "Organic Keywords") and pick URL that has the most keywords.
Now we have the possibility to analyze a specific URL.
In "Domain Analysis" section choose "Missing Keywords" to get all keywords for which your competitors are ranked top-10 but are missing on your page. This revolutionary feature provide you with verified top keywords.
Again, I won't delve into why you should expand your semantic kernel for obvious reasons. (My dear, thorough reader).
Suggestions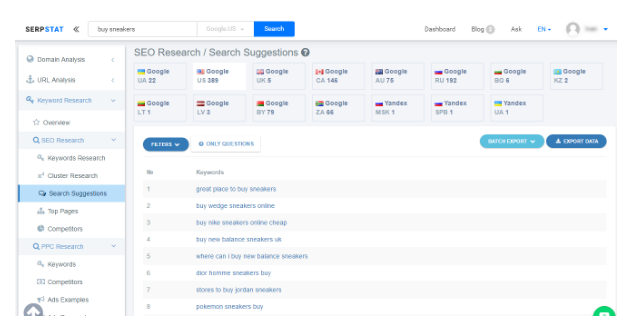 When entering keyword in "SEO Research" section tap on "Search Suggestions". This is where all related search queries for your keyword are displayed.
This feature is of particular value for content-marketers and bloggers because of it's unique filter "Only Questions" that lets you identify search trends, get relevant questions, and answer them to reach broader audience (while getting traffic boost). Next.
Cluster Search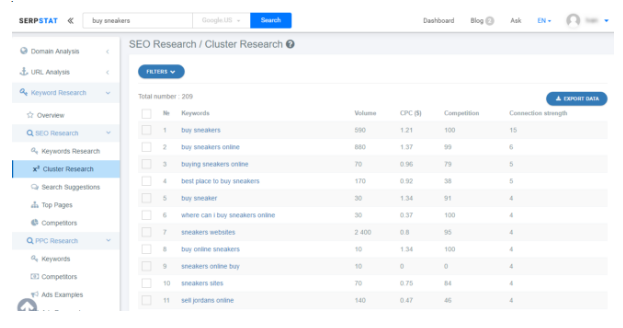 Enter your researched keyword (ours is "buy sneakers") and in "SEO Research" section click on "Cluster Research" to get all keywords that are semantically close to your keyword and are used by similar pages on search results.
You'll have the full list of keywords that are also used in search for given product/service.
This data is straight from Google's Cluster search, and it's uniqueness is in the fact that your competitors unlikely have those kws using just Google KW Planner. Always be ahead of your competitors. Notice "Connection Strength" rate. It measures how many sites in search results rank for this particular keyword.
Act 4 and Final. Where I Give my Last (Halfhearted) Dissuasion   
Spend some time researching your competitors and analyzing keywords your site use. The more data you obtain the more analytical material you'll have, clearly. But the point of the 1000 words above is to take you one step further. Use revolutionary techniques to get the most out of this data. After all, no charge will be asked of you. Use Serpstat wisely. And let the force be with you.
Thanks and let me know your Comments about the today's post.