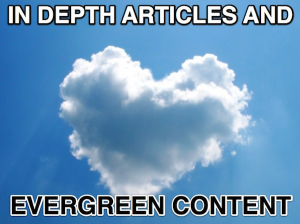 There was a time when people post no. of articles but in short, this lead to massive traffic to their blogs because they are dominating Google with lots of Post Titles! In short, Google matches exact post title and results them up in the search engines. So what about long written quality articles? Hmm In the mid 2013 (6 Aug) , Google launches an algorithm named as In-Depth articles and that leads to the huge traffic drops for short content and keywords ranking slipped. So today I am going to tell you the importance of In-Depth Articles and Why you should write it to rank well in Google search engine results pages etc. Note- This action is proudly taken by Google in order to serve quality content to the users and force other to write even more even on a small topic covered.
What are In-Depth Articles?
In simple terms, Google is creating a new SERP position that highlights long form content that is at least 2,000 words in length. In-Depth articles are written long, original, detailed and pure quality enrich. So writing up this type of articles will reward up your blog and blog posts to rank higher at SERPS and many more.
Fact: 10% of people's daily search needs are for more in-depth content.
Why We Should Write In-Depth Articles?
1. Improved Rankings and SEO Score
Well after the In-Depth articles in search engine algorithm rises, your SEO score can be boosted up with the long written content upto 2000 words and short content can't be ranked well. Keywords are ranking more from inside the original long content and not from exact matching long tail keyword. So the final conclusion is that SEO is directly proportional to the In-Depth articles, so write up more even on a small topic.
2. Evergreen Content that ranks higher
Yes, its true… You might have noticed that your newly generated content can rank higher in Google but ultimately after few days, its rankings slipped for no reason. This is mostly because your content is short and no new information there. So write more words to stand out from the crowd and evergreen content that always ranks well even on a Google algo too.
3. Google and ordinary people loves In-Depth Articles
Apart from SEO, its a fact that people also loves In-Depth articles where they can find all the information about the specified topic. In-Depth articles will never let you left with short or incomplete information. Its a true fact that I also love reading How to Guides, FAQ's and long type articles.
4. Proper information even on a small topic
Yes as discussed earlier, In-depth Articles provides proper and all information about an single small topic and other things related to it. This is the best thing about it and even Google also loves this because they wanted to make their search engine with more exact and improved results etc.
How to Write In-Depth Articles?
1. First of all research and choose an topic to write on!
2. Now its time to gather and collect the data related to it.
3. There took your time to understand it and then make yourself ready to write on it.
4. Start with an Small intro at the top and a cute image placed.
5. Now its time to tell everything about that topic like FAQ's, for ex-
What is that?
Importance and Why that?
Top 3, 5 and 10 lists
How to guides
History of
FAQs or glossaries
6. After this, end up your article with a Conclusion or Final Words.
Note– For SEO, its better to make your targeted keyword bold and use headlines H2, H3 throughout your article. Place images with ALT tag and include more and more relevant keywords. Lastly Check Spellings and interlink your other posts in the article. That's it!
Apart from this, Google also recommends webmasters adding the following signals to help the algorithm recognize In-depth content better,
1. schema.org "article" markup
2. authorship markup
3. rel=next and rel=prev for paginated articles
4. Information about the organization's logo
Is In-Depth articles are good for SEO?
As discussed earlier, In-Depth articles are damn good for Search Engine Optimization. After 6 August 2013, Google loves to put up long content upper in the search pages. Long tail keywords are not rankings well, instead of them Keywords are ranking good from In-Depth articles. So its my humble request to my readers to write up long and original content from now a days to enjoy natural SEO forever.
Conclusion:
I hope you all will like this article, and understand the importance and Why we should create In-Depth articles! So please take your time to generate long content that speaks itself and rise in the search engines. Note- Producing up right and original long form content is only the solution to save yourself from any type of Google algorithm updates in the future. Till then Best of luck and your comments are welcomed below.