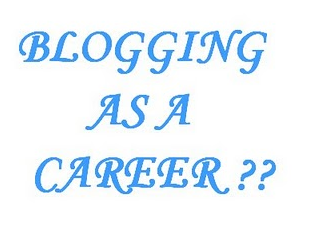 Blogging is becoming very popular day by day and it is getting great exposure in India as well as other other countries among the students. Basically, blogging helps you in many areas of your life like it will improve your English and writing skills, improve your creativity and on top of that you will have full independence to do what you want to do.
Now a days students are very creative and even have lots of time for things they want to do. So why not choose blogging? Blogging has a potential to give wings to your ideas and lets you share the same with the world. By this you can also tell your talent to others. Most of the young generation is internet savvy in today's time and daily search lot of things on the internet so why not use the same time and energy on the right things.
On the other hand, blogging as a profession is becoming more popular with students. Thousands of students daily search internet for various types of jobs for their part time income and out of that jobs one of the most common ones is blogging which is also best for students. It is proved from many bloggers that blogging can also be done at a professional level and it can also provide you all those basic benefits which you will get from any other job income.
Basically, when it comes to choosing blogging as a career many people goes in dilemma and start thinking that whether it will be good for their future or not. But let me tell you blogging is equally good as any other career option. Students face so many challenges and problems daily while choosing the right career option for themselves, but here are some benefits of blogging, which will help you get more clear about this career option:
One of the most important parts of blogging is that it improves your writing skills to a great extent.
Secondly, blogging will also improve your grammar because while writing your main focus will only be in writing good English with no grammatical errors which will also help you in the future in various aspects of your life.
Blogging will also help you to start your earning while studying which is the best part for all students.
Last but not the least is that blogging will also generate earnings for you from YouTube and on the other hand, when you spend time in writing an article, you will also increase your knowledge about various other aspects of life.
Do you think blogging is an easy job?
Blogging is not at all an easy job and it requires the same skills and creativity that any other job will require. In fact the truth is that blogging is much more difficult than any other full time job and if you fail get a job in present market scenario, then it might be possible that you don't get successful in blogging also. On the other hand, blogging requires a lot of skills and creativity and you can make a lot of money from it if you do this will full dedication. Therefore, the basic skills that you require for becoming a blogger are good internet skills, excellent English reading and writing skills and one area of expertise.
So, if you have a perception that you can easily make money over the internet and blogging is an easy job then you are wrong as this is also a full time profession which students can choose for their career.
Popularity and awareness of blogging in the youth
The first and the basic problem comes in choosing a blogging as a career option  is that it is still not very popular in our country and especially amongst the young generation. Students usually have a mindset of becoming doctors, engineer or teacher or else they would prefer a government job from which they can secure their future.
On the other hand, students are not aware about blogging, like if you visit a college and ask students about blogging then you will get a very rare response and most of the time you get silence in answer. No one even knows about the basic detail of blogging. Therefore, it becomes difficult to opt that career which is not popular.
Views of  our society  on Blogging
In our society, people usually don't care how much you earn and all they do is care about in which MNC or government company you work. But there might be possibility that you get success in blogging and you have started earning well in future, so in that case you can have an office for the same as it will also help you in giving respect and status in our society. Therefore, it all depends on your seriousness about blogging and choosing the same as your career option.
One of the biggest reasons why our society thinks that blogging is not a good career option is that it does not generate the regular income.  Basically, it all depends on Google Algorithm updates. In the blogging business, you will not have a same amount of work and income every time. It all depends on time because in the blogging business, you have to change and update yourself with changing trends. There was a time when people like your site with more number of pages but now are the days in which you will only get traffic to your site if you have a quality blog.
Therefore, this is all about why students need to choose blogging as a career and what are the various issues which they can face while opting this as their career option. On the other hand, if you start doing blogging at a student level and have experience of maintaining a quality blog with regularity, then you can definitely choose blogging as your career option. With this you will also get a good name and fame and that too with lots of money.
About the Author –
Jonathan is a motivational speaker and blogger. He is a creative content writer, provides the Best Essay Assistance and develops humorist content to share publicly.