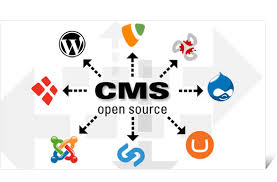 A CMS (Content Management System) enables people to upload and update content on a website. Unless you are a skilled website developer, you are probably going to need a CMS if you are managing website content. There are loads of different types of CMS available but the most popular one is WordPress, accounting for almost 60% of the CMS market. In fact it's even included as a "auto install" function on most hosting packages making it pretty much standard on all most sites.
If you are at the stage where you are deciding which CMS to use then you will probably want to take a look at WordPress first.
Because it is such a well-used CMS, developers provide themes and plugins that will help you to get even more out of your website. There are also masses of online tutorials and guidance material to walk you through any aspect of content management that you may be struggling with. So for someone relatively new to managing content, you are going to have a lot more support available for WordPress than you would for any of the other CMS.
Other types of CMS include:
Joomla
Drupal
Magento
Blogger
Shopify
Squarespace
Each CMS has its own unique features and pros and cons. When you are making your choice, your decision should revolve around what you will be using your website for and how you will be updating it.
Will you have a team of people creating and uploading content? If so, what is their experience in content management? What sort of content will be going onto your website? Will you require a CMS that is good at optimising pages, so your team do not need to do that work separately?
Another important consideration is SEO. Search Engine Optimisation will help your website to attract higher volumes of traffic and some CMS are better for SEO tools than others. WordPress has a number of plugins like Yoast that will help you to get on top of SEO. It will help you to identify improvements and flag issues that will affect your search engine rankings.
If you are setting up your first ever website, or you are not very experienced with SEO then it is highly recommended that you spend time learning the fundamental principles if you want to use your website to generate business/leads. A good place to start with SEO is Moz.com for their Beginner's Guide to SEO. This will give you a basic understanding of what SEO is and more importantly, how it can help your business.
When deciding on a CMS, you should also think about the performance of the website and with that, which web host will be best to support your website. There are numerous variations of web hosting plans, such as free hosting packages, which are not great from a performance perspective. Some hosts are recommended for use with specified CMS, such as WordPress or Drupal, so check this when you are making your choice.
Again, it really does depend on what you want from your website – are you going to be putting large amounts of content on there? Will you be offering online shopping through your website? What sort of budget do you have for your website? Will you be able to afford the cost of a dedicated web hosting plan?
You can request a demo of how a CMS works, or even just head to YouTube and look at some of the explainer tutorials on various tasks, to see which CMS looks the most suitable for your needs. Many web hosts will offer a period where you are guaranteed your money back if you decide further along the line that it isn't the right set up for you. Remember, the speed of your website can be really crucial in terms of conversion rates, so that is something that you want to take on board when choosing a hosting plan.
If you are simply looking for a very basic and low cost website solution and you are not too concerned about performance or professional design then you could look at free hosting options like Wix. They offer an easy to use website builder which is ideal for non-experienced content management but none of the advanced features of WordPress and similar CMS.