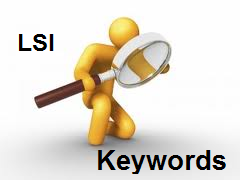 Well LSI stands for Latent Semantic indexing and LSI keywords is just a another name for synonyms or related keywords. In laymen's terms, this simply means that these are words that are similar to your main keyword and are used throughout your webpage/article in place of your keyword etc. Now its being a algorithm to rank your post in SERP's. So today we will discuss more about LSI Keywords, their importance, use and role below.
What are LSI Keywords?
Well LSI keywords or Latent Semantic indexing, is an alternative name given to synonyms and similar words by Google and search engine experts. Its actually your related keywords which uses a mathematical technique called singular value decomposition (SVD) to identify it!
How to Find LSI Keywords?
There are many tools online which can help you to find LSI Keywords as mentioned below. You can also see some LSI keywords placement at the bottom of Google Search etc. Note- LSI keywords are easy to find and but proper use is hard.
1. Google Adwords Suggestion tool
2. WordPress LSI plugins
3. UberSuggest
4. Use Google Search Box
Importance and Role of LSI Keywords
Importance– LSI keywords helps internet search engines like Google or Bing to get an idea about the websites in order to establish its position in the SERP's. While it is impossible to perfect any site/blog without accurate keyword study, therefore every keyword comes with numerous related keywords, LSI helps to decide applicable keywords, which in turn assist in making the text more suitable. That's it!
Role– Its the best practice to use LSI keywords in the starting and throughout the article. Also note to maintain a keyword density of up to 3% for your primary keyword. You can never neglect LSI keywords role in your blog posts.
That's it! I hope now you all know the importance and Role of LSI keywords in ranking your blog post higher in SERP'S. Without proper use of them, you can't beat your competitors online. So please use them properly and not to excess it. Using repeated LSI keywords for increasing keyword density will lead your blog to Over Optimization Penalty. Play an Smart Safe Side Game always.
If you have any doubt left in your mind, Please let me know in the Comments. Bye.