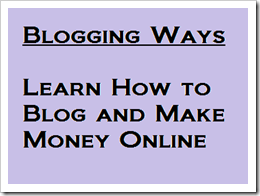 Hi! Welcome to my new Blog on "Blogging Ways". It is one of the fastest growing Technology Blog ever where topics like Blogging, SEO, WordPress, Social media, Computer/Mobile tips and tricks, Web Designing and How to Make Money online were gonna be discussed. This blog is currently owned by Karan Singh Chauhan which is also the author and co-founder of KrackoWorld. The main purpose behind this blog is to teach people about the secrets of Blogging, Social media and technology. This blog runs on a WordPress platform and had Genesis framework installed. However, I have created this blog for you people only and named as www.bloggingways.net as this name is easy to remember, pronounce and search engine friendly as well. So gear up friends to see unique and awesome work at here. As this blog is totally new in blogosphere so its my request to my dear readers to support me with your peace and blessings!
 Our Aim in 2014
1. To provide unique and quality content.
2. Help my readers from their doubts.
3. Getting PageRank as soon as possible with huge traffic.
4. Be on top of every website.
5. Get listed in Popular Human made directories like DMoz.
Other Social Media and RSS Links-
You can catch us at Facebook, Google plus and Twitter also for more latest news and stuffs.
To join via RSS – Visit http://feeds.feedburner.com/bloggingways
Also Receive our Post updates directly in your inbox via clicking here.
About Author- Karan Singh Chauhan
Karan is a 18 years old guy, currently living in Punjab,India as a B.tech student (Engineer) in the field of Electronics and Comm. He is a Professional Blogger, SEO, Web Developer, Internet Marketer and Computer Expert as well. He loves to make new friends on internet and During his leisure time, he loves to write what he knows well at here. That's it!
Need Help? Contact Us-
For any type of doubts and queries related to this blog, please contact us at bloggingways@gmail.com
Incoming search terms: