When a person or a blogger start a blog or website, they are always looking for a traffic which is next to impossible. When you are a fresher and a newbie in the field of blogging then you are always looking for good traffic. Without traffic, your website and blog never perform well. Once it popular and get huge traffic then you have to maintain its popularity. In this review, I would like to mention some points like What is Rankinity? Features of Rankinity. What are its advantages? How can people use its features? Moreover, you will see the changes occur in your blog and website.
Well, let me tell you something about Rankinity, it is an SEO tool which monitoring the site's ranking on the daily basis. What is your site up to, it will tell you each and everything. Here you can check your website position plus analyze your competitors in the blogging field. Check out the full review, let's start with Introduction.
What is Rankinity?
Well, if you want to check your blog and website ranking and what are it's static condition in the field of the web then you can check with the help of Rankinity. Yes! Rankinity provides a platform where you can check and analyze your blog or website statistics. Rankinity is a website rank tracking service, and it provide a platform where you can track the website and your competitors in real time to give the information you need to improve your site rankings and keep them high.
It will also tell you how to adjust your SEO ranking in a right direction. You can also compare your site performance with your competitors on the daily basis.
Features Of Rankinity- Complete Review:
1) Ease of Use
Rankinity provides a platform where you can easily monetize your website stats. You can easily check where your blog or website stand plus you can also check your competitors site background. You have to just register yourself, just following the simple steps:-
– Firstly, open the Rankinity site.
– Open the signup page.
– If you are already registered, then just click on sign in page.
– Fill the desired details like Name, Password, Email.
– You can also signup using your Google Account and Facebook.
– Rankinity is very flexible, reliable and scalable. It is available in simple English   language, you can easily understand its function.
2) Site Ranking
If you are a blogger and want to check your site ranking, then you can see the results on Rankinity. Here you can easily check your website or blog ranking, and where it stands. You can also analyze your site ranking and compare it with your competitors. Else it would also tell you that how to monetize your site traffic. You can check the ranking on the daily basis.
Daily you will see how your site ranking got changed and it will also provide the best stuff for your site and blog. Your website ranking will be increasing day by day and I am sure you get amazed to see the changes. You website will be noticed by the Google. And the content will be published on Google Pages itself. It also provides a graphic chart presentation where you see many ups and down, Actually this is your site performance.
3) Monetization
You can easily get monetized by alternative. It does not only make your site looks professional, attractive, rather it also brings lots of traffic to your blog and site.
It will fully monetize your website. It provides an exposure to your blog/website so that more and more people will engage with your website.
Users will get extra data and search more keywords related to your site niche. It gives a professional look to your website. It provides different types of services.
4) Website In SERPS
Gaining a top ranking in Google alone is not sufficient. You have to do extra effort tp be noticed by the Google. There are several other search engines and sites that are quite popular being used by people world over. It gives the exact status of your website and blog in the various different search engines further, the ranking is analyzed based on the location too.
5) Check Your Competitors Performance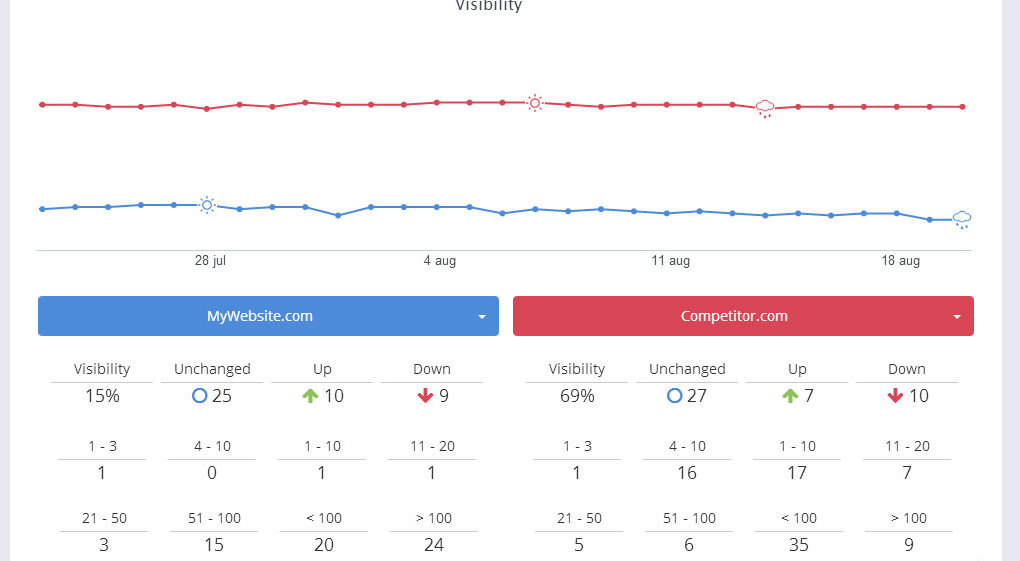 Yes, it is true you can easily check your competitors performance. Also, you can check the stuff via your competitors got famoused. Rankinity provides the platform where you can check and analyze your competitors record and you can also compare with your site ad blog. You can check the highest ranking keywords and see how the changes affect your ranking.
Overview Of  Rankinity Features
–  You can easily check the website rankings on a daily basis.
–  The user can analyze the competitor ranking.
–  You can focus on Group Keywords.
–  Provides Search Engine Optimization collaboration.
–  Flexible, reliable and scalable.
–  It provides Visual Infographics to the customers.
–  Provides SEO reports on daily basis.
–  It provides all your necessary accounts on your emails.
–  You can Access the full services to the Service by the API.
Pricing –
Now Offering $4.93 per 30 days for 50 Keywords etc.
Currently, it offers so many pricing offers where users can enjoy it purely. It provides an online calculator to estimate the cost of the service. It offers the cost offers which is entirely dependent on the number of keywords and words you want to check. Rankinity will evaluate your whole website content and keywords. It will give you a cost per 30 days. It will track more than 1000 keywords on your web site. When you complete the process of signup, it will give you $5 as a gift. It will offer the great opportunity to all the users and customers for marketing, and allowing you to get 10% of payments made by the customers you refer to them.
Thanks and Please share and Comment below!!
Now Check your website positions and analyze your competitors in popular search engines Easily with Rankinity.