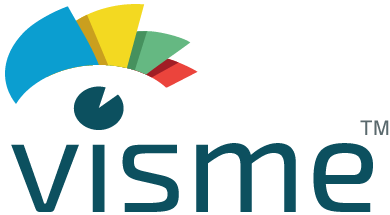 In today's world, everyone is very busy with their hectic schedule. Lots of different software were rising. If we talking about students then, they are the busiest person according to their age. Students are always involved with their projects, assignments, presentation etc. If you love creativity and design than here I come with a full proof review based on Visme. Visme provides a platform where you can easily create the awesome presentation, slide show etc.
Visme is an innovative and amazing online tool that allows you to create the interactive online presentations, infographics, animations and banners using HTML 5. It provides lots of different features, amazing tools etc. Generally people make their presentation on papers and adopt some software's but now you can create a new and amazing presentation with the help of this site. Let's check out some features and uses of Visme.

Features Of Visme
Ease of use
You can use this site very efficiently. It is easy to use, you can easily create your presentation and slideshow. If you are a newbie, then also do not need to worry. You can read out its terms and condition, it is in simple language. There is no usage of syntax and any coding. You can easily use its tools. If you made some errors while preparing your presentation than do not need to worry, it provides a feature of automatic grammar checking.
Drag and Drop
Drag and drop are a tool where you can fix and move the object from one place to other. It is supported for adding objects to slides, rearranging the order of the slides, and moving objects around on screen. With the help of this feature, you can easily arrange the object in your presentation.
Templates and Designing Structure 
It provides various kinds of presentation style and layout. You can create as many templates as you can. You can create different types of infographics, animation or banners. It provides more than 20 categories like science and technology, transportation, animals, food and so on. You can create different animation schemes and give an attractive look to your slideshow. If you want that your project should be animated then simply click on an animated button and automatically it will be animated your presentation.
Professional Fonts and Colors
It provides more than 100 fonts style, isn't great!! You can choose any font and make your presentation more attractive. It provides different languages also. You can choose any font and style. if you are getting bored with the existing fonts than here, you find some interesting and totally new fonts style.
The color scheme is also very good. You can choose any color and give a perfect look to your presentation. It provides unlimited color combination. You can give a color to the backgrounds of the file and also give a color to the text. You can also custom and mix the colors and makes it more interesting.
In short, with the help of Visme, you can create

Mobile Animations
Presentations
Animation and Special Effects
Content Marketing
Infographics
Website Animation
Banner ads
Animated Slides
Graphs, Charts and Media
Product Demos
Data Visualization
Presentation

It provides a platform where you can create unlimited slides in your presentations, right from your browser. It allows you to duplicate, add, edit or delete your slides and control all slide transitions, giving you full control and power over your presentations. You can give a perfect look to your slide. Many users are using the features of Visme and it give a perfect look to your presentation. All in all Visme gives a perfect online infographics, presentations, banners and animations. So without wasting much time, just use this site and its interesting features.
Sharing
It provides the amazing feature of sharing. When you are ready with your presentation then you can easily share it on your social profile like Facebook, Google Plus, Twitter etc.
Banner Ads
It provides different types of banner ads option. You can also customize the dimensions of the ads. Basically, it provides different kinds of ads-banners size. You can create a banner which is of a standard size for websites and blog to display, or for ad networks like Google Adsense.
Pricing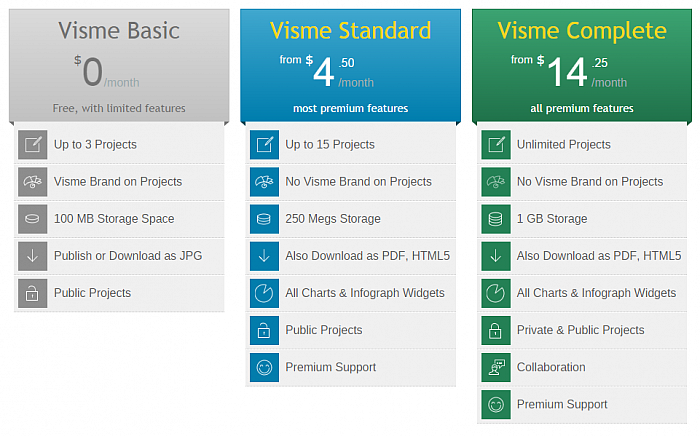 It provides a basic free plan along with 2 premium plans. Visme Basic having $0/month, Visme Standard from $4.50/month and Visme Complete is from $14.25/month. Basic provide some of the limited features and Visme standard provide the most widely used premium features but if you want full-time features with a complete package then Visme complete provide all premium features.
So what are you waiting for, just check out this site and create your animated presentation with these amazing features.
Overview of Visme Review-
Creating rich graphics and animations to support content marketing
It allows you to duplicate, add, edit or delete your slides.
Objects can be animated with custom movements.
More than 50,000 free images you can add to slides.
Publish your attractive presentation in your blog or website.
You can give special effects to your images, such as opacity, reflection, blur, coloring and so on.
You can manage the data visualization so easily.
It also provides a 3D shadow effect.
Presentations can be downloaded as JPG file, shared with a public link, uploaded to SlideShare, or embedded using HTML.
You can animate the slides easily and customize the widgets.
Thanks, Must Share and Please Comment below about your Experience…
Easily Create online Presentations, animations, animated HTML5 banners, infographics and other rich visual content free in your browser.