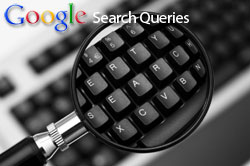 Google Webmasters tools is an great way to track and improve your site performance. GMT has lots of new features and now a days growing very fastly. Now today's topic is all about Search Queries and How we can use it to improve your site/blog performance and traffic as well. Google's says that Crawling, indexing and Ranking is the 3 important and obviously the only three things a search engine do with your website and final phase is generating results. Hence the Search Queries option in Google Webmaster tools gives you all the information about Google Web search queries that have returned from your site etc. So lets check Google's Video on it below.
Video on How to Use Search Queries to Improve your Website-
What are Search Queries and How to view it?
A Query refers to a search word or term that the user enters in the search bar. Now lets know how to check it.
1. Go to Webmaster tools >> sign in or sign up >> Add your website if not added already, Else click your site
2. On the left menu you can see the "Traffic" and Then click "Search Queries". That's it!
How to Increase your Site Traffic knowing Search Queries?
1. Understanding your audience
First of all to increase web traffic to your site, all you have to know from where you are getting the most of the traffic. You can use Search Queries, and then go to Filter to see the breakdown of your audience. Say for ex- If you are getting people most of them from USA, then do something special related to them which they like mostly.
2. Knowing the Top Queries
When you go to Search Queries, you'll see a tab labeled 'Top Queries'. Open it, and then Sort by Clicks. This can helps you to know the top queries to your blog and now you can use them further to improve your site. Create more content and If you sort your queries by CTR, you will be able to see where your website is making an impression on users, and where it isn't.
3. Checking your top Landing pages
Now in Webmaster Tools dashboard, you also have a 'Top Pages' tab in Search Queries which may helps you to see your top articles. A strategy can then be set up to improve upon the pages who have very few clicks. Pages with the most impressions are usually the highest ranked for certain search queries etc. Extra tip- More monetize your top pages to enjoy massive earnings from them!
Finished! Happy Blogging…