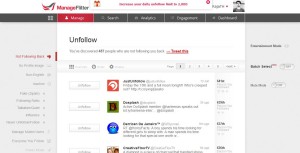 Sometimes its get frustrated to follow/unfollow your Twitter account followers at once, that's why here comes some automated softwares or tools which can mass unfollow your twitter non-followers easily. This is known as free online twitter Unfollow tools. Now If you are using Twitter for marketing, you may have found out that there is a limit to how many you can follow after you follow 2,000 tweeps. Once you hit this limit, you are put on a follower to following ratio by Twitter, Hence you have to keep their numbers exactly close to each other. Therefore to remove this limit, today I came up with some great Twitter unfollowing tools to unfollow your twitter non-followers fastly without much stress and many more etc.
Free Twitter unfollow tool to unfollow non follower users-
1. Friendorfollow
Friendorfollow is very simple and user-friendly unfollow twitter tool. It helps you to unfollow the people who are not following you on twitter in bulk by showing you all who are not following you back. As It saves your time to unfollow unwanted Twitter users.
It is the Easiest way or online tool to manage your all Twitter account at once. just Login using Twitter account and track your social activity etc. Here are some of its great features.
Find unfollow non-followers and inactive Twitter users
Follow back those who follow you
Manage multiple Twitter accounts
Increase your profile visibility with Featured Users
3. Twitter Karma
Twitter Karma is a great free twitter tool to use however here is no bulk unfollow there, but It can easily follow or unfollow the twitter user in your profile in seconds. Twitter Karma is one of the popular unfollow tools to unfollow Twitter users very easily etc.
This is my personally favorite. One of the best tool to clean your Twitter account. Apart from quickly unfollowing non followers, ManageFlitter also offers you the ability to unfollow inactive or noisy users. You can unfollow more than 500 users per day for free.
5. DoYouFollow
DoYouFollow as name says, this tools helps you to know who is not following you and you can unfollow the twitter users who are not following you in mass bulk. Also you can schedule, manage your twitter direct messages, followers, designs etc at here.
Also See– How to Make Money with your Twitter Account?
All Done! Now Please share the post if you liked on Facebook or comment below and let me know if anyone left…