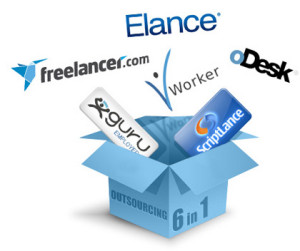 A freelancer is somebody who is self-employed and Freelancing is one of the best and yet simplest way to earn $$$ from your talent and capability without actually getting employed and being ruled by the employer only. In this, clients will give you the jobs or contracts if they find you capable to doing it and after completion of work, you get paid. All you have to work hard on your profiles, work great and get succeed. Now a days most of the educated person are making money via some Freelancing sites as given below in large. So today we are going to talk about Top 5 best Freelancing sites of 2014 to make money from. Enjoy!
Top 5 Freelancing Websites of 2014 –
This is one of my favourite website to work with. Elance is the world's leading freelancing platform for self-employment. It is a U.K based website that started in 1998. Elance works equally well for job seekers as well as the job providers. It provides you wide range of home based job assignments in various categories like web design, marketing, mobile applications, business services, writing, finance, engineering, legal, and administrative support also. In this to post or get a job all you have to pass a simple test related to the topic Freelancing. Its a fact that there are more than 1.5 million contractors registered with Elance and they post more than 60k jobs per month! Elance is free to join and Payment method is through PayPal, Bank Withdrawal, American Express, Cheque and many more.
oDesk is another 2nd largest freelancing website of all time. It was founded in 2003 by its CEO Gary Swart. This site has great reputation, trustful contractors and fully secured from scam also. oDesk offers you lots of opportunities in various categories such as data entry, graphics design, project manager, virtual assistant, website developer, creative media works etc. Its free to join oDesk and you have to pass an test same as in Elance to get started. At oDesk, there are 2 types of jobs offered such as Fixed job and other is Hourly job. To do an hourly job, you have to download and install an oDesk team app on your PC. This app keeps a record of your activities. You can get paid by PayPal, Bank Withdrawal, Cheque etc.
Freelancer is one of the oldest freelancing platforms in all of these. It is very popular and has more than 3.6 million users registered with it! I must consider one is gold in this case. Sign up is free and to get started all you have to do is to create a profile that displays your skills, work experience, and other important information. Note- Making a good profile can increase the chances of getting more opportunities and jobs to you in less time. In this, Jobs are related to almost all kind of fields like websites development, software development, template design, Photoshop, Ecommerce, CMS, logo design, article writing, graphics, data entry, and so on. Payment method is through debit master card, Moneybookers, PayPal, web money and wire transfer.
It is also one of the most popular freelancing websites like Elance and oDesk. As the name speaks itself Guru of all of these. Guru.com was founded in 1998 by Pittsburgh. The site has over 1 million members registered including both employers and freelancers. It allow its new users to use free bids of 15 to 20 per month. The projects which are posted on the site is divided into several categories like engineering, websites, ecommerce, Graphics Design and Multimedia, legal, networking, programming, software, and many others. The best thing about this website is that you can get paid as soon as your project is completed through PayPal or Bank wire.
Vworker is a great platform where freelance workers and employers get connected easily. It is best known for its highly scrutinized screening process which ensures that you only get jobs relevant to your own skills. The best part about this website is that they offers their users to bid free of cost at projects. You can also sign up for personalized e-mails and daily newsletter at Vworker which inform you all about new projects that matches your preference and skills. It is also free to join and categories include marketing, business services, administrative support, management, marketing, web and software design, multimedia and more. Payment options are though Payoneer debit MasterCard, Western Union money transfer and PayPal.
That's it! All the best for your Freelancing career! Now Get Set Go!
Incoming search terms: