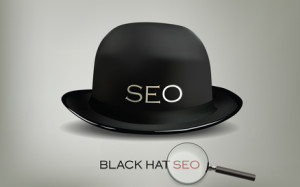 Usually many blogs who are getting less traffic or don't want to do hard work adopt Black Hat SEO Techniques. They think that it can boost their rankings and traffic but ultimately it will not gonna be happen as Google continues to change and update its searching algorithm for better results. Black Hat SEO is totally different from White hat SEO as it is illegal or unethical. Therefore In this article we'll examine the top 5 black hat SEO techniques.
What is Black Hat SEO?
As per Search engine optimization language, the term Black Hat SEO stand as the aggressive technique or tactic which is adopted to influence Search engine not humans also they are not obeying the rules of search engines as well. It may also refer to an unprincipled or spammed way of getting your page ranked high in SERP's.
Top 8 Black Hat SEO Tricks and Techniques
1. Doorway Pages
Doorway pages are those certain web pages which are created for being crawled by a spider and get included in Search engine result pages asap. They usually optimized those pages with over stuffed keywords mainly.
2. Cloaking
Cloaking is the best practice of deceiving the search engine by showing different content to Google and taking your website users to a different web page which they never think of, after clicking the search engine link etc.
3. Hidden Text
This trick is commonly used by bloggers where they select a bunch of keywords for which they want to get ranked high in SERPs and they place keywords on the pages in such away that are only readable by Bots not by human beings.
4. Link-exchange
In this, people exchange their links with each other websites. But the fact is Websites should focus on building links naturally, rather than exchanging links that are mostly low quality and irrelevant. Link exchanges will sure to get you lots of links in lesser time, but this will not help you improve your rank, and is more likely to put your SEO efforts to waste. Now this is an outdated techniques as per new Google Algo.
5. Duplicate Content
Well Duplicating or copying content from other websites is one of the worst Black Hat SEO techniques ever. Its a clear fact that unique + quality content always shine. Now Google Panda have strict penalty over duplication issue.
6. Keyword Stuffing
Keyword stuffing means using single keyword again and again to increase keyword density in your blog posts. This technique might have worked well in old days, but not anymore with Google's search and ranking algorithms now.
7. Over Optimization
I am again saying Over optimization penalty is another patch from Google to save their search results from the smartness of SEO masterminds usually black hat SEO tactics & techniques. Last year it was Google Penguin update, before that it was the paid links crackdown and this year it will be the over optimization penalty. So you must save yourself from this penalty to do well in SERP's etc.
8. Buying Links
When a person pays a guy to get a backlink, he usually inserts an unknown link between his/her posts which has no importance for the audience hence the crawlers identify these links are paid. This will gets you strong penalty. That's it!
Final Words:
Now I think this is enough to tell you Black Hat SEO. So my suggestion is to please avoid it and try legal White Hat SEO techniques to improve your blog. If you have any doubt or query, then please let me know in the comments. Bye!