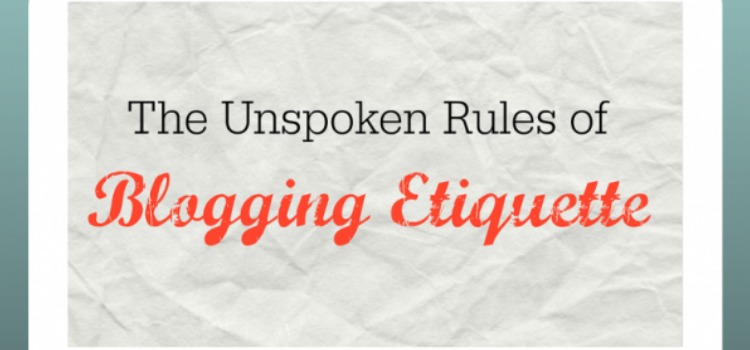 Just like in the offline world, formalities count even online. Sadly, too many people forget this when they interact with others on the net. I'm sure you've seen hundreds of these people yourself: they are the ones who mindlessly go about on every site and blog they can find and selfishly promote themselves without any regard to other bloggers and site owners. They keep touting their own horns as loudly as possible and don't care at all how many people they offend with their rude behavior.
While I know this is totally not the case of the audience of http://www.bloggingways.net, I finally want to get this off my chest and let the world know what is OK and what is unaccepted to do as a blogger if you want people to treat you with respect.
So let's see the most common rules of etiquette as a blogger. I'm sure you'll nod in agreement while reading many of the points below.
Etiquette Rule 1 – Don't Be a Selfish and Rude Stranger
You would think this is obvious for most people, but in my personal experience it isn't. I received countless emails from others who were mindlessly promoting themselves and kept asking favors from me, but more in a demanding tone than in an asking one.
Heck, many of them didn't even address me by name; they just kept talking about themselves and what they wanted. They never once mentioned why I or my audience would benefit from their "proposal". It's like one of those mistakes you make when asking for a guest posting opportunity.
The minimum people should do when contacting others is at least look up their names and also introduce themselves. Talking in a friendly tone and keeping in mind the interests of the other party should also be common sense. That's how it goes in the offline world, and the same courtesy is expected on the net.
Etiquette Rule 2 – Write in Proper English
Here we go. It's one of the most common and annoying habits the internet has triggered in some people.
And no, this rule is not only for those whose native language is not English. Heck, in my experience, people from the US and UK should pay a lot more attention to spelling and proofreading as well. You wouldn't believe how many messages I receive from both these countries with terrible writing that is hardly understandable even if I try my best to decipher the meaning.
Etiquette Rule 3 – Don't Write Long Emails
If you haven't seen this video by Derek Halpern on "How to email influential people", now you should definitely watch it:
One of the first rules Derek establishes is that you shouldn't write long emails since most bloggers are busy and chances are they won't even read your message.
I know that many people make this mistake even if they try their best to be polite and respectful (I must admit, I did it dozens of times), so I thought I should emphasize this point really hard.
Etiquette Rule 4 – Don't Be Offensive on Other Blogs
Again, this is a tip that should go without saying, but this is probably the most common etiquette mistake I see every day.
Just think about it: how many rude comments do you see whenever visiting a website or blog and checking out the comment section below a post?
Sadly, many people think that just because they're anonymous and visiting others' blogs they don't have to behave. So they turn into trolls and start acting as complete jerks, offending both the owner of the site and his or her audience.
They don't realize that visiting another site is like being a guest in someone's home. And while most people try to be even more friendly and nicer than usual when they're guests, others choose to act like a douchebag. I'm sure you agree that this is an utterly disgusting behavior.
Etiquette Rule 5 – Respond to Everyone and Respond Quickly
While this tip may seem very obvious to some people, I met many folks who were dumbstruck when I suggested that they should reply to all the comments and emails they receive. They said they never thought about it before, although now that I mention it, it does make sense for them…
If you think about it, this is really just the minimum you can do for your visitors and fellow bloggers who decide to contact you or a leave a comment on your site. I always get back to everyone within 48 hours, and people always tell me how happy they are that they finally found someone they can trust and follow.
Etiquette Rule 6 – Give Credit Where Credit is Due
It's another very obvious advice that many people ignore. If you want to quote someone's text or use their images on your site, the minimum is to give them a backlink at a prominent location to make it clear that this is not your content.
The best is if you ask for their permission before you post anything, since this is the most polite approach and also the surest way to avoid any lawsuits in the future (which happen more commonly than most people think).
Summary on Blogger Etiquette Rules
I know what I shared above is fairly common sense advice. Nevertheless, in my experience common sense is too uncommon nowadays, so it's worth repeating.
Still, I know that many people will think they're better than to stick to these rules and will choose to ignore these warnings. However, if you want to build good relationships with your visitors and other webmasters, it's vital that you always keep these blogging etiquette tips in mind.