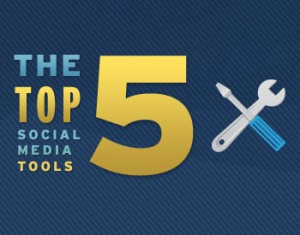 Well Promoting your Website with social media tools will be the best thing ever in achieving good Backlinks, SEO and traffic as well. Nothing would be the best after Social media. If you want to make your web promotion effortless and increase your site visibility in search engines, then you should try to expand your community on different social media sites (such as Facebook, twitter, Google plus, LinkedIn). Now in today's post I am going to share some best social media tools that to boost up your social rankings among search engines and saves your time too.
Top 5 Social Media Tools of 2014 are:
HootSuite is one of the most popular social media management app with a slew of options, settings and dynamic features to backup it's reputation. You can monitor and post to several popular networks including both Facebook personal profiles and business pages, Twitter, LinkedIn and others. With a built-in custom analytics system, the ability to monitor selected keywords and the option to conveniently schedule posts-HootSuite sets the bar high for competing social media management tools.
It was created for the Publishers & Bloggers who need to submit high volumes of content to their social networks. OnlyWire Enterprise is designed for that clients who require unlimited user accounts and analytics. It has also some other great features like One Button Publish Everywhere which Sends your message to the web's top social networks with the click of a button.
With an impressive list of features that really sets it apart from other social media management applications, SocialOomph can help you keep an eye on not only your Facebook and Twitter accounts, but it can also help you manage and schedule posts to your blog as well. SocialOomph offers both free and premium services. Schedule your tweets, track keywords, promote your profiles, shorten URLs, purge your direct message inbox, and create an unlimited number of profile accounts completely free of cost.
One of the leading platform for updating all your social media accounts. It's a one-stop shop for integrating every single social networking site in the world, which you can also use to update your accounts via SMS text messaging and via email. For anyone who has tens, hundreds or even thousands of social media profiles and accounts, Ping.fm would be one of the best options for organizing and updating them all from just one main application.
IMAutomator puts your link building on auto-pilot with a suite of tools that completely automate the tasks of building backlinks. We've got submitters for Social Bookmaking, Articles, RSS Feeds and Web Directories & Search Engines. The tools are super-easy to use, for example to submit a bookmark, just enter the URL you'd like the bookmark, IMAutomator extracts the title, description & tags (or you can enter your own), and then you submit and forget! Membership avails at $2.99 per month etc.
Some Other Useful Tools were-
Facebook Like Button, TweetMeme Button, Google +1 Button and lastly TweetDeck which is used to manage your Twitter account completely with your Fans and Following. That's it! Have Fun.