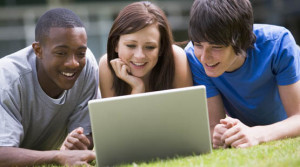 Hello everyone, This is my first article on Blogging ways. Anyways, writing guest post on various sites are my favorite past time. This is my first guest post on this site. Lets concentrate on this post. As we see everyone is found of money. People do anything to earn money by hook or by crook. This article is totally focused on How students can make money easily in no time. Below there are some easy tips via you can easily make money. These are the most simple and many people followed these ways and earn a handsome money. Making money is not an tuff task, it is just as how to make it in a real manner. Keep note that if you seriously follow these steps then you can easily make money.
How Students Can Make Money Online- 2014
1) Blogging
The first way of making money online is "Blogging". I know, i know everyone is aware with blogging but still my job is to describe it for those persons who having not enough knowledge about blogging. Blog is that kind of platform where an blogger can able to perform his/her technicality through writing articles. According to me whenever i heard that word i personally relate it with future investment or future earnings. The question arise – What is blogging?
A blogging is a discussion site or we can say a diary entry published on the world wide web (www) and consisting of discrete posts/entries.
There are various kinds of blogging are available like:-
2) Freelancing
Freelancing is one of the most important point while we eagerly waiting for money, Lol! I mean to say if you really want to earn money, then there is no better option rather than Freelancing. All you need a good writing skills, grammar knowledge presentation work area etc. Personally it is my favouriate past time. Specially if you are an college students then this is the most simple method to earn money. There are so many topics are available under freelancing like:
Another side of freelancing is "Guest Posting". Yes it is true, guest posting is the easiest way to make money online. You can do guest posting on different-different sites. You can just write well full fledged article and you will get paid for it.
3) By Conducting Surveys
The third option for making money is "Survey". If you are seriously make money through internet then conducting survey are the best option. If you conducting an survey manually then it will take so much time, also high money charges but if you conducting through internet then it will take less time, less money, also you can promote through social media sites. This is the easiest way to make money, only you have to fill the form on the basis of what the others people thinking.
There are so many websites are available which are looking for those persons who are really interested in that category. So if you really interested in this job then you get paid for it.
4) Join Affiliate Programs
The fourth option for making money online is Affiliate Programs. According to latest survey there are 85% of people which having there own blogs. Google launched the Affiliate ads for blogger. And blogger users can place a affiliate product links/banners to upgrade their blog without touching any code. To start an Google adsense account only you have to follow some points like:-
Go to your Blogger accounts and click on earning tab.
You find an option their, that is "Get Started" just click on it.
If you already have an Google ad sense account, then you will sign up for once.
Affiliate ads are not "pay per click", with affiliate ads you earn a commission when a reader clicks through and buys the item/product.
5) Q&A Websites
Last but not the least, the best option for making money online is Q&A websites. Q and A stands for question and answer. This is also one of my favorite methods through we can easily make money. As we see, we have so many question revolving in our mind, so there are so many Q&A websites are available on internet.They will hire you for answering the question which is asked by other peoples. So if you have an good general knowledge then why don"t you try it!
About the Author:
This article is written by Konika Chauhan. Also the founder of Earning Methods.
That's it!!
Incoming search terms:
Top5RecommendedWaysbyWhichStudentsCanMakeMoneyOnline-BloggingWays