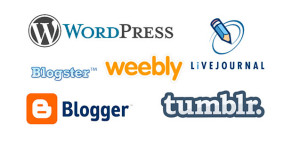 The first most important thing to decide is to choose your best blogging platform to blog on. There are lots of free and popular blogging platforms available on the internet but do you know which one to choose and why? if not, then I will tell you today. Here I am going to review top 5 best blogging platforms later below. As Blogging has turned out to be a powerful tool to share thoughts and ideas on the topics that you are passionate about that's why now a days people are more opening a blog and start earning money also. All you have to sign up at there and start blogging. So without wasting much time, lets see the list of top 5 most popular blogging platforms 2014 where users can create their free blog etc.
Top 5 Most Popular Blogging Platforms to Blog On
1. Blogger
I can never forget Blogger as its starting journey blogging platform. Blogger is a popular and free blogging service owned by Google Inc. One of the main advantage of using Blogger is that it provides each user with free hosting with sub domain. Blogger is very easy to use as its interface is user friendly with lots of monetizing options such as Google AdSense. Webmasters says now Blogger gets lots of new SEO features which can boost your SERP's rankings also.
2. WordPress
WordPress is a the popular open source blogging platform along the internet. Now its comes with variations: WordPress.org and WordPress.com. WordPress.com is totally free whereas WordPress.org comes with Self Hosting. WordPress comes with very useful features even in its free version such as great themes and plugins, SEO, anti-spam filters, traffic stats and a lot more. Around 60% of the users trust WordPress and currently using it. It can help you to build professional site for your online business.
3. Tumblr
Another great blogging platform where bloggers can create a free blog, launched in 2007 by David Karp. This popular micro blogging portal comes with interesting features like audio based blogging, highly editable themes and free customized domains with a lot more. Now you can even link Tumblr to your Twitter or Facebook profile. So just start blogging with beautiful posts and images.
4. LiveJournal
This website (LJ) is owned by SUP Media. Livejournal allows users to create a free blog, make friends and promote your business etc. Here you can find there thousands of online communities on your interested topic as well. Livejournal also allows you social networking site features. This is favorite after Blogger and WordPress.
5. TypePad
TypePad Micro is an extremely functional blogging platform that is used by most of the professional bloggers. It is a kind of hybrid of Movable-type blogging platform in which you can export and import content from various other blogging sites as well. Typepad offers strong analytics and now you can even earn revenue with ads on your blog. Now Drive traffic to your blog also with great seo features at this site.
Final Words:
Now I hope by reading above words, all are clear to you and Go for the best! But My recommendation is to use either Blogger or WordPress for your business blog. That's it, till then enjoy and don't forgot to bookmark this post also.
Also See- The Most Popular Blogs on Internet and their Earnings
Incoming search terms: