This Article is all about : Top 5 Indian Google Adsense Earners– Top Bloggers from India- Highest Google Adsense Earnings Blogs at present.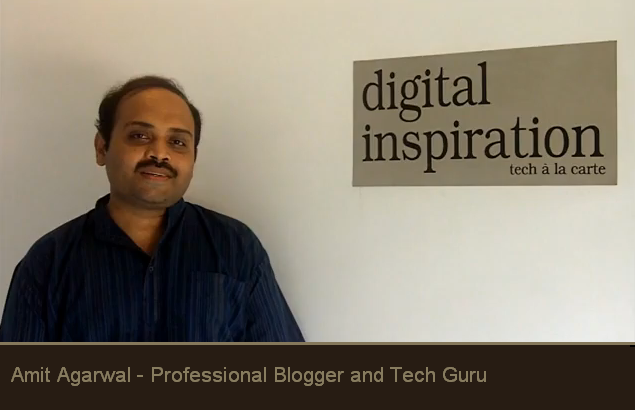 Google Adsense is one of the best and most recommended monetization program all over the internet and here's the time to check the Top 5 Google Adsense Earning blogs of India in 13-2014. Since last 10 years, its being the primary source of income of top bloggers and webmasters. So if you have a decent blog with good amount of traffic then must give a try to Google AdSense and earn more with your site or blog than ever. Therefore today I am going to write on the top 5 bloggers from India who earn maximum revenue from Google AdSense till now. Below is the complete list of them with their AdSense Earnings also.
Top 5 Best AdSense Earning Blogs From India
1. Labnol [ Amit Agarwal ]
Labnol is the #1 Technology blog founded by a man known as Amit Aggarwal. He has left his job past in 2004 and become the first professional blogger and premium AdSense publisher of India. Amit has done Engineering degree in Computer Science from IIT and works on many otherprojects like Google Social, long Tweets, RSS Search, HTML Mail, Blogger Sitemap and AdSense Sandbox etc.
Adsense Earnings- 50,000$/Year
Estimated Traffic- 5 Million Page Views/Month
PageRank- 6
Alexa Rank- 3100
Shoutmeloud covers topics like Facebook, Twitter, WordPress Plugins, SEO and Make Money Online. This brand was founded by Harsh Aggarwal in 2009 who is one of the top affiliates from India also. Apart living from New Delhi, he is also doing blog consultancy and now a days earnings huge $$$ from Google AdSense.
Adsense Earnings- 25000$/Year
Estimated Traffic- 3.5 Million Page Views/Month
PageRank- 4
Alexa Rank- 4400
Jaspal Singh is The Founder and Owner Of Savedelete. He Is a Mechanical Engineer with some Skills Of designing and Coding. His Interest in Internet and Computers made him a Professional Blogger of all Time.
Adsense Earnings- 15000$/Year
Estimated Traffic- 3 Million Page Views/Month
PageRank- 4
Alexa Rank- 20000
4. Techpp [ Raju PP ]
Raju PP is an Electronic Engineer and launched his site TechPP.com in 2008. Moreover, RajuPP was also featured among the 151 Top Tech Indians which was conducted by Exhibit Magazine.
AdSense Earnings- 10000$/Year
Estimated Traffic- 2 Million Page Views/Month
PageRank- 4
Alexa Rank- 22000
5. TRAK [ Prabhu Desai ]
Trak.in was Founded By Prabhu Desai. It is a Popular Business blog which Cover economic topics such as Business Trends, Forex Exchange, Internet Business, Financial News etc. He is one of the famous and popular blogger who earn a huge amount through AdSense per month.
Adsense Earnings- 8000$/Year
Estimated Traffic- 1.2 Million Page Views/Month
PageRank- 5
Alexa Rank- 17000
All Done! I think all of you are just amazed with their income report from Google AdSense Top Indian Bloggers…..Thanks and Please Comment below about them.
Most Searched Keywords:
google adsense earnings in india
google india earner amit agarwal
highest earning from adsense
maximum earning with adsense
Incoming search terms:
top earning blogs in india
дрова древторг