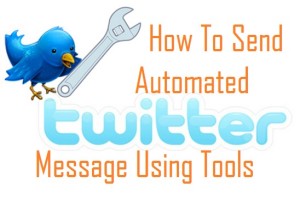 Well Twitter is one of the best marketing tool ever, so we need to know more on How to Use it effectively to manage our Profile. In this Post, we are going to discuss some top 5 free twitter tools to send automated direct messages. Now Sending direct messages/tweets to new followers or to old ones to introduce about your blog or new services is not considered as spam unless you do it properly, Therefore I found out few useful twitter tools to send automatic direct messages in bulk etc. These tools are absolutely free to use and very-2 user friendly. So please give a try and must save your time to do that manually. Here is the list of top 5 best twitter tools to automatically send messages in bulk.
Also See– How to Make Money with your Twitter Account?
Top 5 Twitter Tools to Send Automated Direct Messages
Its my favorite tool which can increase your productivity by sending auto direct messages. Well Sending auto direct message is only feature apart from it you can also schedule Tweets, Track keywords, Follow those who are following you, new followers, buzz and many more etc. SocialOomph has two versions (free and paid).
TwitterDMer tool allows you to send automated personalized direct messages to your new followers and many more. It has a few pre-written messages which you can use if you're too lazy to write your own but either way it works and it's free also.
TwitterManager is a yet another tool to send DM in bulk. Now you can also auto follow users, auto reply to @response, schedule tweets etc. Even having many Twitter features, it's a user-friendly tool as well. Tweetmanager saves a lot of time for you.
TwitterMassDM is best way to promote your articles thus apart from sending auto direct messages to new followers, you might need to send messages regarding new services, post to your followers etc. This tool helps you to send Direct Messages to all or selected followers in bulk.
TweetAdder has number of features in addition to the automated component. Well this tool can manage multiple twitter accounts, investigate current trends and even research trends from the past, automate your tweets and direct messages etc. This software is very popular now a days and must for bloggers!
Thanks! I hope you all are going to try all these above twitter tools for your Profile Management soon.
Also See- List of Best Free Twitter Unfollow Tools to Unfollow Non-Followers