Now a days, Author Box Plugins for WordPress are getting popular day by day. People are searching to beautify their small intro and links in their Author Box etc. This article is for those persons whom theme don't have pre-installed Author Box. Also you have seen many blogs with multi-author features and to enable all their introduction, you need this wordpress plugins. So wait and watch my top 5 free and best author box plugins for wordpress just below! Enjoy…
Top 5 free and best Author box WordPress Plugins

It Give identity to your single or multi-author WordPress website with Fancier Author Box – The Only Author Box Plugin You'll Ever Need. My Favorite one!

This plugin displays the author profile at the end of your every post. There is the option to display the author's user profile or a custom profile.

Now Social Author Bio automatically adds an author bio box along with Gravatar and social icons on the posts. Now with built in Google Author also!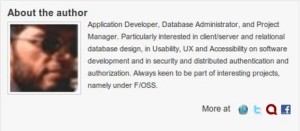 Well Author Box Reloaded plugin adds an author box to your blog. Fast and easy and fully configurable. Its just simple, neat and clean coded plugin ever.

The Plugin will add an author box to your site. It also gives a flexibility to add different description for the same author according to the post. I just love this WordPress plugin.
That's it! I hope you all will must install and enjoy these top 5 free and best WordPress Author Box Plugins to your dashboard. Till then Bye and please share this article with your friends…