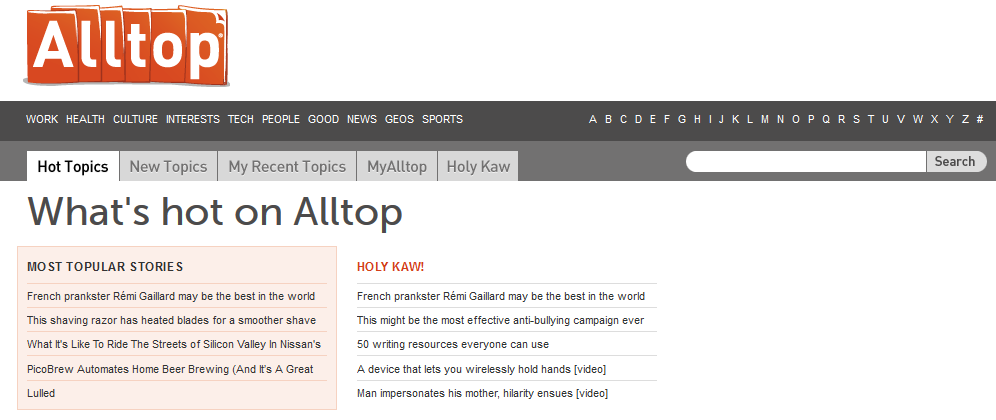 Well Content Aggregation is the collection of information based on a common topic involving one or more related keywords. In simple words, We can say an content aggregator is an individual or organization that gathers Web content or sometimes applications from different online sources for reuse or resale etc. Its just like an article directory but it cant hurt your Google rankings as you have to choose one for your submission. Now a days many people are using it for massive blog traffic and building quality backlinks too. So today I am going to mention Top 5 Best Content Aggregator Websites or Tools for your Blog Promotion, Just have a look!
List of 5 Best Content Aggregators:
Alltop is the best Content Aggregator website in 2016, There are tons of different topics that you can browse through, and the submission process is very simple here. The purpose of Alltop is to help you answer the question, "What's happening?" in "all the topics" that interest you. At Alltop.com, If your Content gets listed in Most Popular Stories, then you can have the blast of traffic to your blog.
Inbound.org is an online hub where good Marketers come to get better. You have an idea? Share it. You need to create an account in order to submit a blog or article. According to me, it's an great place to syndicate blog content on marketing and make quality links etc. So submit your latest posts on Inbound.com now.
Well Blog Engage allows you to submit your Blog Articles that will be reviewed by all and will be promoted by me or our visitors to the main page. Blog Engage is one of the most active blogging communities where top bloggers meets and share posts of their networks. Note-  Blog Engage is not free, you have to pay for account creation.
Basically Its an great Social Media Network and Blogging community, It's all about like minded individuals getting together to share valuable, quality content, but that's just the beginning. Well Blogkube.com can get you exposure to your blog and network with other bloggers, which is good for building relationships with other bloggers of similar niches.
Blogcatalog is a blog submission and directory that also has a paid section called VIB's, although you can submit your blog for free once you create an account. Along with Increasing Your Blog's Exposure & Traffic, here you can also make money with your articles and their affiliate program etc. I think its also considered as Top blog aggregating site ever.
Bonus One- BizSugar.com
Conclusion:
I hope you all have liked my above mentioned Top Aggregators and Must give it a try! . I am sure there are many others if these don't suit your blog niche. If you take my recommendation, I would go preferably with AllTop, Inbound.org and Blogengage etc. Now a days Approval is very tough due to large competition, So make sure that your Blog stands upto mark there. If I had missed something? Leave a comment below and I'll add it to the list! Till then Enjoy and must share this post as well.