21st Century marked the beginning of lot many things but the one thing that totally changed the direction in which we were moving was the emergence of online shopping. With ability to shop from the confines of your living room or even bedroom bought yet another dimension to the whole shopping experience.  Being able to browse large catalogs with a couple of mouse clicks, making secure payments and getting the delivery at you doorsteps has ensured that every second person is shopping online today.
5 best shopping apps for Android Phone
Flipkart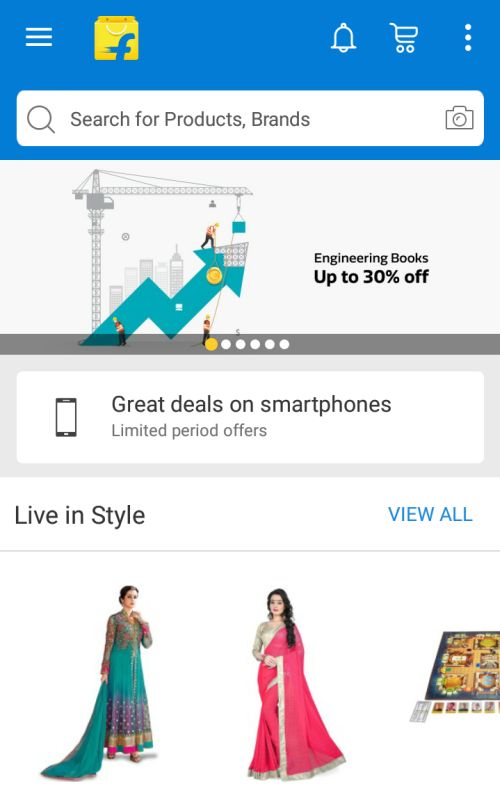 The leading e-commerce website, Flipkart has a free to download app hosted on Google's Play Store, which is only natural considering India is now one of the largest smartphone using nation in world. This app has been designed to mimic the website of Flipkart in its entirety on a smartphone. Using the Flipkart app, you can check images of the product, look at close ups, read user reviews and check product ratings. If in case you are not satisfied with the product you are currently viewing, you simply have to swipe left or right to check next or previous product. Also, when you proceed to place the order you can easily do so with all the payment options available and also keep track of the delivery from within the app.
Amazon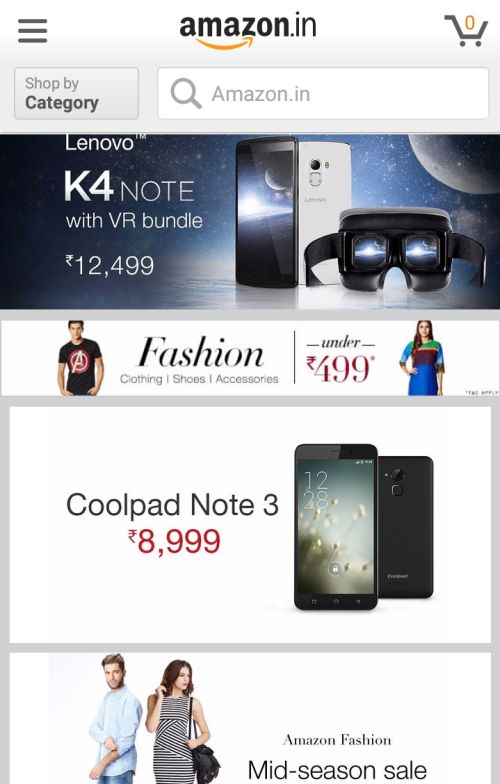 While Flipkart has a pretty high detailed app to its credit, its rival Amazon is not so far behind with an easy to use app listed on Play Store. Just like Flipkart, Amazon (India) also has designed its app to replicate the website including recently viewed items and recommendations. Browsing products, placing orders and tracking orders is a breeze on the Amazon app as it incorporates all important features like payment methods and order tracking. Moreover, it does not matter whether you have placed the order using the app or desktop, they will all show up in Your orders section in the app and can easily be tracked. The app will also inform you through push notifications when the order is out for delivery or if the delivery has been missed. A must have app for Amazon loyalists.
Snapdeal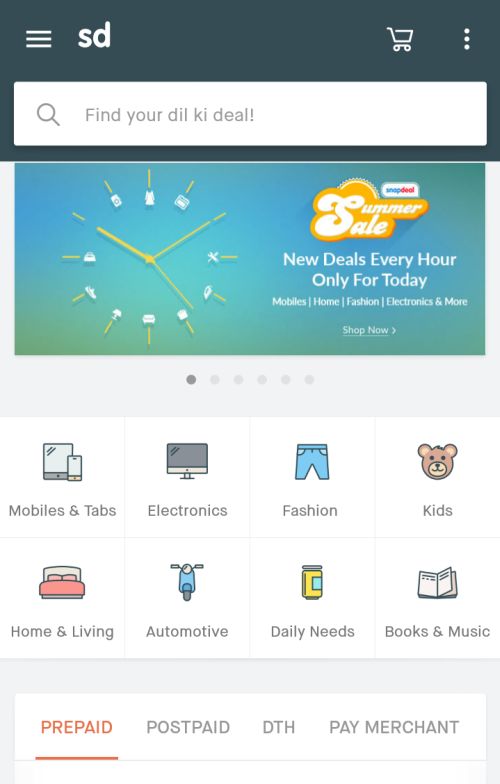 Snapdeal is the third point in the top trio of e-commerce industry in India after Flipkart and Amazon with a free to download app to its credit as well. While the Snapdeal app does bring all the features of the website in an app, it is more visually appealing owing to its Material design user interface. Coming to shopping, Snapdeal app is just like Flipkart and Amazon with similar features. However, what sets Snapdeal apart is that it is not limited to shopping products only but also provide other services. Users can get prepaid mobile recharges, postpaid mobile bills, electricity bills, gas bills and DTH recharges paid through the app as well.
Paytm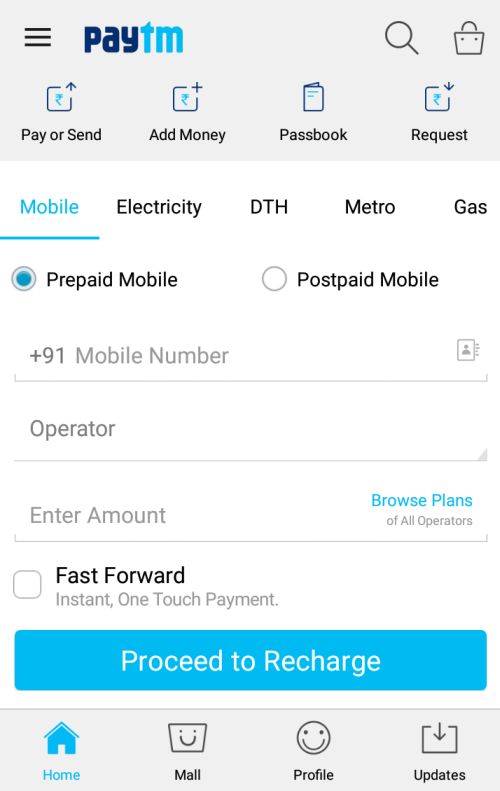 Speaking of online bill payments and recharges, another app that comes to the mind is that of Paytm. This particular website/app was initially an online recharge vendor that enjoyed a great deal of success in the country. Now, the website has evolved into a complete package by extending his horizon into online shopping domain. The app offers attractive cashback offers to its users on almost every product, which makes it one of the most lucrative online shopping destination. Moreover, Paytm does not stop just at that, it also allows users to charge their Delhi Metro Card, pay gold loan and insurance premiums as well, to name a few.
eBay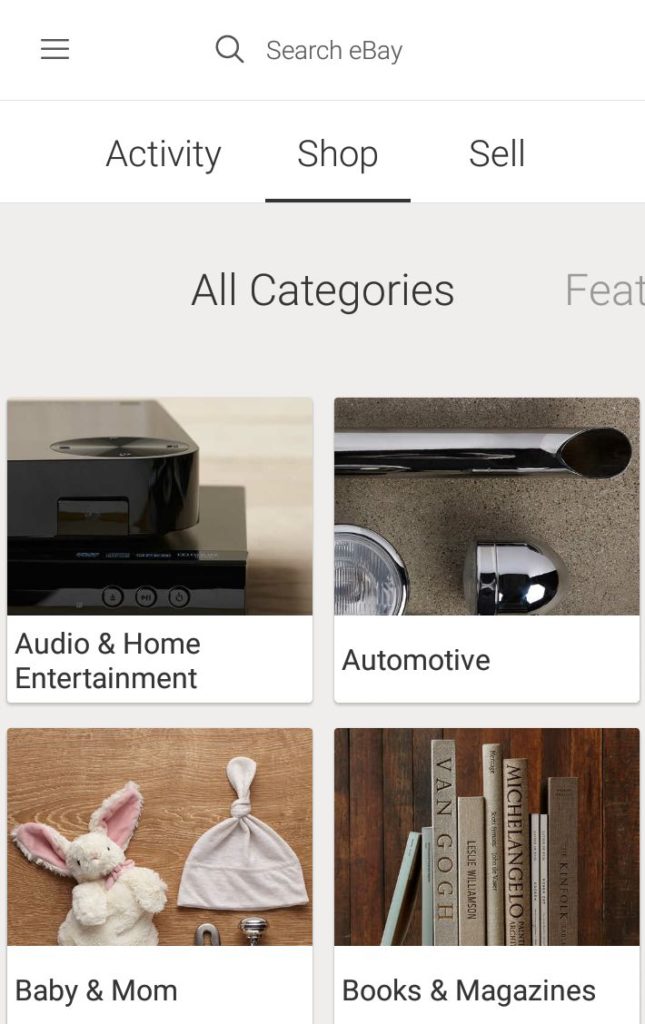 eBay happens to be one of the oldest e-commerce website in the world and in some parts of the globe, it is still the leading website. Therefore, this website has also come up with an easy to use app for its users. Besides the normal online shopping feature, it also offers eBay specific options like online bidding. Ebay also happens to be the first ever e-commerce app that lets users sell their products, without much complications.
Also SEE- 7 Free Best and Must To Have Apps For Androids
Considering the sheer number of online shopping websites in India, it is natural for a buyer to get confused. To address this confusion, price comparison apps and websites have come up like PriceRaja (website & Android App), which makes online shopping a lot easier and save both money and time.