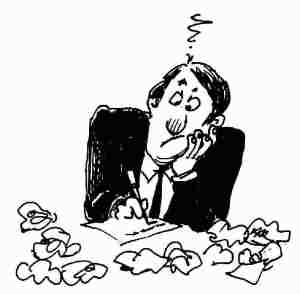 Are you fed up with blogging or writing blog posts regularly, well its not the only problem of you as this happens with every person who doesn't get some earnings with a new blog or site. Here comes the Writer's Block. According to definition, Writer's block is a condition, associated with writing as a profession, in which an author loses the ability to produce new work. It can be trivial, a temporary difficulty in dealing with the task in hand. So please don't get discouraged as this happens to every great writer at some point, and it's too easy to overcome it. Sometimes I get stuck in the middle of a post and then edit it later. Therefore today I cam up with top 15 ways to overcome and get over the Writer's block.
Easy Ways to overcome in Writers Block Situation:
Go for a short walk
Eliminate distractions
Get your blood moving
Play Games
Edit it Later
Change your environment
Read some books
Unplug the Internet
Do Freewriting
Listen to your favorite music
Take Refreshment
Spend time with someone who makes you feel good.
Call an old friend to buzz
Brainstorm ideas in bullet points and then summarize
Read some inspiring quotes to get you started
Round up and Start!
Note- One of the common reason of falling into Writer's Block Situation is that you are not Perfectionism, had fear and timing problems etc.
Also Read- How to Find Blog Post Ideas?
That's it and I am sure after doing this all, one can simply overcome writers block.