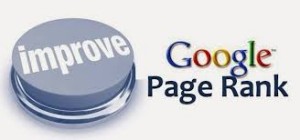 In the today post, we are going to learn that How to Increase your Blog Google PageRank by following some 15 Hot Tips below. Its an dream of every blogger to get a good Page Rank as soon as possible. So lets start with What is Page Rank? PageRank is a mathematical algorithm which is used by Google to calculation the popularity of a certain page or website. The calculation of a page depends upon numerous factors like Backlinks, quality post, outbound links and many more which are going to discuss later on. Google provides certain Page Rank number starting from 1 to 10 in which 10 implies the most trusted site. Its a fact that Page Rank cannot be directly co-related to website traffic. Even small sites with such a low web traffic can achieve high Page Rank too. A high page ranked site with targeted keywords will always remain top in the search results. Google generally updates every site Page Rank after 3 months. Now without wasting much time, lets know How to Increase Google Page Rank for your blog/site in very less time.
15 Tips on How to Boost up your Blog Google Page Rank
1. Write Quality Content
I am again and again saying that Quality of a blog post matters most. Writing unique and Quality Post will boost your site in Search results and also improves Google Page Rank too. Avoid Duplicating data.
2. Build backlinks from High Quality Sites
Its mandatory to build Backlinks from highly ranked sites or blogs. If you think that more the site backlinks more will be your Page Rank, then I am really sorry to say that you are getting it all wrong. I am again saying that to build quality backlinks not quantity.
Also Read – Top 12 Link Building Methods You Should Try
3. Learn and Apply Correct SEO Techniques
Make sure that your blog and blog posts is well optimized for search engines as Search engine optimization plays a very important role in increasing your site Google PageRank. Always apply and keep learning SEO techniques wisely from different sites.
4. Guest Blogging
This should never be ignored that Guest Blogging is one of the best method to increase Page Rank by getting quality backlinks and traffic too. I must say Guest Blogging rocks! Most of the Blogs have options of guest posting through which you can post at their blog and get two or three backlinks in return.
5. Blog Commenting
According to me, Blog Commenting is a very crucial process and a free way in generating a good Page Rank by commenting on others blog. Always note to comment on a DoFollow blog or site to get a backlink to your site.
6. Internal Linking
Keep interlinking your blog posts very much. Place hyperlinks on targeted and popular keywords. Also use Anchor text on your keywords. Never make your internal links as nofollow. This lead to less bounce rate, high page rank and more pageviews of your site.
7. Directory Submission
Its important to submit your blog/site to popular online directories for more extra traffic and backlinks as well. Note- Blog directories are search engine friendly and have a large number of incoming links. Some of the best directories are
8. Avoid Black Hat SEO Tricks
Always avoid black hat SEO tricks to create backlinks like a Bot. Also not to use keyword stuffing and over optimization techniques which will lead your blog in trouble afterwards.
9. Participate in Forums
Its a Fact that Google loves forums that are frequently updated and by getting a backlink from these forums will almost boost your Google Page Rank. Discover and Answer questions in Popular Forums like Digital Point, SEO Chat, SitePoint etc.
10. Link Exchange
Place another blog's link on your site/blog and ask them to do the same for you. This is known as Link Exchange system. By doing this technique, traffic and backlinks increases for your blog which means increase in Page Rank too.
11. Social Bookmarking
Social Bookmarking is a very effective method to increase Page Rank because by sharing your Site on different Social Sites you will get a free Backlink and Traffic as well. Some of the popular Social Media sites are Facebook, Google+, twitter, StumbleUpon, Digg, LinkedIn etc.
12. Update blog/site Regularly
If you update your posts regularly, Google will crawl your website even more often. A website with a high crawl rate get the opportunity to introduce content more frequently in Google. Now WordPress users can install the Google XML sitemap plugin, which submit the sitemap to Google, Bing and Ask automatically to better index your blog. This can also increase your Page rank too.
13. Domain Age Matters
Important Note- If you have just started your blog or site recently, consider registering the domain name for at least 2 yrs or more. Google doesn't trust site who are registered for 1 yr only, and thinks them as spammy. One of the another great advantage of this is that your site did not get trapped in Google Sandbox. If your domain/site is quite old (past domain age), older than 2 to 3 yrs, then you automatically qualify for Google's trust and good PageRank.
14. Tag Outbound links as NoFollow
If you want good PageRank of your site then its must to tag your Outbound links as nofollow. In general, Outbound links are that links that points to some external sites rather than your site. Keeping it nofollow will make flow of Page Rank juice inside your blog.
15. Target Popular Keywords
As you all knows that people search their data using keywords and not the whole sentence so if you have used a keyword which is very frequently searched then you get a higher chance of your website being visited and more visitors that is equally equal to BETTER PAGE RANK.
Experts Advice:
By following these top 15 tips above you will surely get a good Page Rank very soon. Note- If you have low page rank then don't worry it will not effect your SEO as Page Rank is solely based on number of backlinks. Also Matt Cutts says that Traffic is much more important than Page Rank but we cannot ignore Page Rank as it represents trusty and repo of a site in SERP's. I hope you all understand. Till then Peace!