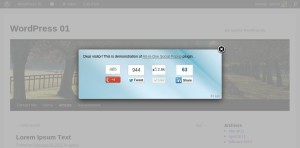 Pop ups are a bit controversial (browsers even have pop up blockers), and it is your decision when to use them – on arrival or on exit – and whether you want to use them at all. However, if you do want pop ups, it makes sense to choose from among the best. What are the qualities you should be looking for? Loading time, increase subscribers for one. Some pop ups take forever to materialize and meanwhile, you see a ghostlike black and white cross somewhere in the middle of the page (the borders take a while to show up!).
Customization, for another – you don't want pop ups that in no way resemble the color scheme and overall design of your site. Also, you want the ability to choose how many text areas you are going to have and for what, if you want a CTA with or without an image or animation and so on.
Other features include integration with auto-responder services like aweber and, of course, analytics. We have come up with a list of 12 that should satisfy your pop up requirements. Feel free to choose any of them to increase your conversion rate. We'd ask you not to pay too much attention to the rate of conversion advertised by the respective companies – they are usually more like some ad for a two wheeler's mileage without the footnote that says 'under test conditions'. In any case, conversion depends a lot upon how you make use of the pop up and its various features.
Top 12 WP Pop Ups Plugins for your Website-
As the name says, it is simple! The main advantage is that it is extremely lightweight. You can customize its appearance and also put in HTML links. Support is helpful and it appears from user reviews that the creator, Munib ur Rehman, handles support queries personally. For those of you out there apprehensive about using pop ups, the sales copy labels this one as being 'non annoying'. That should put your mind at ease.
There are two versions – Lite and Pro, and the USP is that it is 'unblockable'. The Pro version offers scope for split testing, pixel tracking and adding videos (YouTube, Wistia, Vimeo or your own uploads) among other things, but the Lite version is very useful too, and using it first is a good idea if you are a firm believer in the Try Before Buy philosophy.
This multilingual (English, Italian, French) plug in will come in especially useful if you have adult content since it provides an adult verification gateway. You can remove the plug in but save your data for later use. The Premium version (which you can try for free) has more features including adding videos (YouTube and Vimeo), using shortcodes, activation by clicking any place on the page you choose, responsive pop up for use on mobile devices, analytics, autoresponder and social pop up (Facebook). The ITRO Premium can be rendered unblockable by setting it to close only upon completion of countdown.
Do you want to promote a specific post on your WordPress site? Do you want the pop up to appear on other sites as well? CodeCanyon has the perfect answer with their Post Promotion Pop. You can get into an aggressive campaign where the pop up keeps showing itself until a specific post is visited, or it could show up just once. A javascript snippet can trigger the pop up on other websites too. Costs $12 for a regular license and 5 times as much for an extended license. As of now, there have been 33 sales but comments show some kinks which are taken care of promptly by the creator. You can certainly invest on this one because of its unique nature and prompt support in case of problems.
Also from CodeCanyon and from the maker of the Post Promotion Pop is this pop up for your mobile WordPress site. You can customize it to a great extent and it comes with 4 great templates. You can use it to promote your social channels and also your phone number using the click to call tool. Regular license costs $15 and extended, $75. Can also be used on non mobile sites because it works on Responsive technology.
The unique features are lightbox and slideshow for images, text, video and audio. The appearance is truly elegant and the configuration, elementary. It has a simple analytic feature to count number of views. You can also directly embed HTML codes, iframes, Slideshare content and forms. Regular license costs $15 and extended, $75.
Don't worry, this one's a WordPress pop up too, but it works anywhere, hence the curious name. This truly versatile (and dirt cheap at $6 with free updates for life) pop up can be used on any 3rd party site, its analytics tracked daily. This responsive pop up also supports split testing. And, of course, it integrates with just about all major autoresponde services. Definitely worth a try.
This is a content locking pop up that follows the visitor's cursor across the length of the page staying always centered. They get to read your content once they 'like' you on Facebook. Cookies remember users who have been given access already. Another useful feature is smart mobile detection.
This is one more content locking pop up and you can connect it with all major social networking platforms to get your visitors to take an action based on your network of choice. The Ninja is nothing if not persistent, and it will try everything to make sure your visitors take some sort of action whether at the time they enter your site, while they are browsing through it or when they are leaving.
This one targets users who have already engaged with your content – it is triggered only when they use the scroll function. You can control when (after the scroll begins) the pop up should appear and where on the page. You can also choose to keep it hidden if a visitor has closed the box (cookies are used to remember) and this is a fine way to not be bothersome to visitors not interested in whatever message or offer you have in the box.
This is the same kind of content locking pop up as the one that gets your visitors to like you on Facebook, only, this one is for Google+. If you are focusing heavily on that platform, this is the pop up plug-in for you. It also has an optional close button and, conversely, the ability to disable the timer and make the content locking permanent unless action is taken by the visitor.
We included this last because chances are, you already know about it. In fact, we didn't even want to keep it in this list precisely for this reason: there's nothing much that needs to be said about it. Take a look at the demo and you might never need another pop up plug-in again unless your needs are very specific and unique which this one doesn't cover.
We have given you a diverse list of pop up plug-ins. Your marketing strategy will determine which of these you will need. There's no rule that says you can't have more than one – combine a subscription pop up that comes on exit (and has an offer in it) with one of the content locking pop ups on visitor arrival. There are many possibilities, and we suspect you will not need to go beyond what we have listed to explore them.
Author Bio:
Levi Herris is an online consultant for Mosquito Magnet . He likes to blog on various areas of Online marketing and ways to boost business.