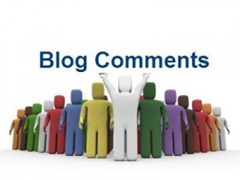 Comments are the backbone of every site or blog as Comments makes your posts alive in true manner! A site without Comments is just like a showpiece thus commenting is must. Comments are the only way by which we can interact with the people and build the relationship. Some blog gets higher no. of comments some gets lower but do you why I will tell you later on. Now today in this post I am going to tell you How to get more and increase comments on your blog/site in less time. Have a look at my hot tips below.
How to Increase Blog Comments- Top 10 Tips:
1. Check your Comment Settings
In Blogger, go to settings and under Comments tab, do the following things:- Tick on Anyone can comment and let words verification off for comment posting. And in WordPress, go to discussion and tick mark the following things:- Allow people to comment on new articles, enable threaded comments.
2. Ask your readers to Comment
In the end of the blog post, its your turn to ask your readers to comment below in the comment box for their doubts and queries as per todays post niche. This will encourage them and build better relationship between both.
3. Make it easy to Comment
Always make sure that your Comment box is beautiful in design plus easy to navigate and comment. Allow commenting system through email ids, social media sites, open id, url etc. Keep your comments section as simple and as easy to use as possible. Now you can also take help of popular comment system provider sites like Discus to supercharge your blog comments.
4. Install CommentLuv
This is a WordPress plugin which rewards your readers by automatically placing a link to their last blog post at the end of their comment. Thus Encourage a community and discover new posts also.
5. Place Top Commenters Widget on your Blog
Its a great idea to show off the names of that people with their sites who remains most active in your blog comments. You can place Top Commenters Widget in your sidebar or in the footer. This is a great way to puff their ego and to increase their page rank. Those users who are my biggest commenters will receive a dofollow link from every single page on my site.
6. Always Reply to each user Comment
Its your duty or responsibility to reply to each n every comment of your readers with proper help and data! Never try to be lazy to comment and skip off your readers comments. By doing this, understanding becomes more and more.
7. Ask Questions
Asking lots of questions will also force or encourage your readers to comment on your blog. Ask them simple questions regarding your blog performance, design, what they want, improvement and many more.
8. Eliminate the Spam
Always keep Spam comments away from your blog because they will makes your blog ugly and dirty. You can also take help of popular Spam fighting plugins like AKISMET to protect your blog. Just trash spam comment now!
9. Offer free Giveaways to Top Commenters
Giveaways means giving things for free. Now to get more comments, you can also offer or provide free giveaways to your readers such as free dofollow backlink, Advertisement, some electronic item etc. For that, you can also hold an contest and do what you want to do.
10. Make your Blog as DoFollow
This should be very important! Now a days to get a backlink its a criteria of people to comment on a DoFollow blog only. DoFollow blog can give you a backlink not the NoFollow Blog. For ex- Alexa also counts backlinks from a DoFollow blog or site.
That's it! Enjoy and don't forgot to bookmark my blog posts here.
Incoming search terms:
Top10Tips:HowtoIncreaseCommentsonyourBlog-BloggingWays