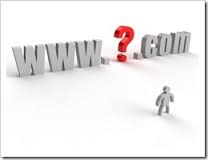 Nice and good Domain name plays an vital role in your entire blogging career! Some newbie people pick up domains names without thinking so much and often get stuck in their career afterwards. So its must for us to pick up an good domain name for your blog that suites our niche and targeted keywords. Hence Its a fact that your blog name is yours first impression towards your visitors. Note- Getting poor domain name will almost decrease 50% of visitors from visiting your blog. So today I must teach you my Top 10 Ways of picking up a killer Domain name just below. Have a look!
Top 10 Ways on Choosing the Right Domain name:
1. Always go for a .COM Extension
Yes its true your first priority must be a .COM Domain name and then go for .net, .org, .in etc. As .COM represents some repo and sounds professional in blogosphere. It is recommended by most of the webmasters and suites for all types of business online.
2. Make your Domain name short and easy to Remember
Try to register the shortest name that your customers and visitors will associate with your Website. The general rule of thumb is, keep it under seven characters if possible. (Not including the suffix.) Also make your domain name easy to remember just like my domain name-www.bloggingways.net
3. Avoid Hyphens and special symbols
Never include – and special symbols in your domain name as it makes your url ugly and not well optimized. Its get hard to remember your domain name when you deal with Hyphens and special symbols.
4. List Popular and targeted Keywords in your Domain name
Adopt Domain Name enrich in popular targeted keywords – for ex- www.bloggingways.net. Here Blogging and ways are 2 popular keywords included. By doing this, your domain name search visibility will become mores.
5. Choose Domain name that matches your blog niche
Its obvious to get a domain name as per your blog niche because it helps your visitors to know about your blog without visiting. So Choose your niche wisely.
6. Always go for an old Domain name with Backlinks
Yes to rank higher in SERP's and to avoid Google sandbox effect always register an expired old domain name. This will also helps you to get lots of backlinks and good PageRank too if an old domain name has.
7. Avoid Copyright Infringement
This is a mistake that isn't made too often, but can kill a great domain and a great company when it does. To be sure you're not infringing on anyone's copyright with your site's name, visit copyright.gov and search before you buy.
8. Never buy an Google AdSense banned domain
Before buying any domain name, please visit here to check if the domain name is previously banned by Google AdSense or not. If not, then buy otherwise not.
9. Must use domain name suggestion tools
To help you checking out the availability of multi domains in a list by your given keywords, some tools are made online like this one. Now its more simpler than ever to register and find a domain name easily. You can also use websites like AJAXWhois and Domjax.
10. Make your Domain name unique
Having your website confused with a popular site already owned by someone else is a recipe for disaster. So its must to adopt a domain name that stand out of the crowd and speaks itself. Thus build your own brand.
That's it! Enjoy!
Where to Buy Domain names?
I personally recommend to register your domain name with Bigrock or GoDaddy or Hostgator etc. because they are 99.99% uptime in nature and worlds best iCann registrants as well. Domain names costs you around $10 per year. So now what are you waiting for get set go…