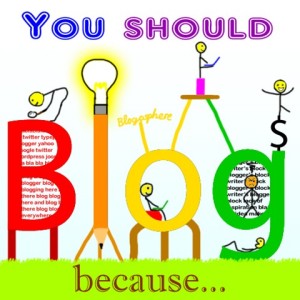 Blogging 
is one of my best hobby ever and its the most lovable thing in this world. I truly love Blogging too much and its my passion for life. During my leisure time, I used too collect useful information and then write a 
brilliant post
 for my readers. Its a fact that there are also some people who doesn't even know why they are blogging. So today I will tell you my top 10 reasons to blog in 2014 just below. I hope you all will like and appreciate it very much. Note- For Some People, Blogging is not about only making more money in their life, its all by passion etc. Have a look and sit down!
Top 10 Reasons why people should Blog:
1. It helps to speak your mind in front of the whole world. That's great!
2. A good pastime and cheapest way to convey.
3. People do Blogging for passion and to become a star.
4. Finally Blogging is the road to Make Money Online.
5. It also Improve your writing skills and Literature.
6. Gaining of Socializing experience.
7. Another reason is that some people blog because they are bored and jobless.
8. It's your new resume ever.
9. It can get you more business, both directly and indirectly.
10. It makes the habit of Keep learning always…
Conclusion:
That's all! I hope you all like my above post and know the Genuine reasons to blog. So what's your reason to blog please share with us by commenting in the comment box below. Also please share and bookmark the article as well with your friends in circle.Enjoy and Have a great day! Till then Peace and Blessings…