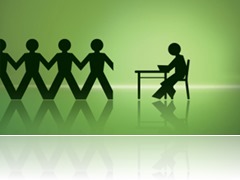 Do you want to conduct interviews of ProBloggers or Persons with high post, If yes then today I will guide you the right way to take their interviews in an beautiful manner. I have seen many people taking or sharing interviews of popular mens/women's at Internet and then display at their blogs. So what to ask and how to proceed, you should learn today at Blogging Ways. Note- Interviews make's us motivated, better relationship between each other and let us learn new things discovered by any other person. In this article, I am going to mention top 5 best tips on How to Take Interviews of Pro-Bloggers. Lets Dive in and Watch Carefully.
Guide on How to Conduct Interviews of Bloggers?
1. Drop an Email to admin from Contact Us
First of all drop an email to the person whom you want to be interviewed at your blog or site from Contact Us Page. Note- Please write an beautiful Hi saying email to the admin and tell why his blog/site is the best and the best things about it. Also you can contact him via Facebook, Google + if you have any! After getting any reply from the Pro-blogger, its time to move on the next step,
2. Request him for the Interview
Well its time to request the owner to please conduct an interview at your blog. In this, ask him to please share your thoughts with your blog readers and manage some time for this. The interview time and happening depends on his free time, also ask him whether he wants to give audio/video or text interview. After this, its time to prepare some questions for the interview.
3. Put at least 10 Questions to Answer
Now create an email consists of 10-15 questions set about your blog niche to get answered. This should be answered by the Problogger and share what its best in less time. Ask him to answer long with his full experience and message for newbie bloggers. Highlighting blogging mistakes, make money schemes and new methods to drive massive traffic to blog.
4. Share the Interview at your Blog
Thus after putting questions and got answered, its time to share the precious interview on your blog, giving dofollow links to the admin and social media links to stay in touch. Ask your blog readers to must watch and learn something good. Also let them share at Facebook or any other. Note- It should be must to include the picture of the interview men or women plus his/her blog picture as well.
5. Give Special Thanks to the Person and Let it Share
After all the happening, Please give special thanks to the interviewed person for giving his useful time to us and let new bloggers should learn something good and inspire to achieve what he/she wants at its very best. Also ask him to share this interview on their social media connections etc. More interviews on the Way.
That's it! Good Bye and please subscribe to our blog for more latest stuffs like that.