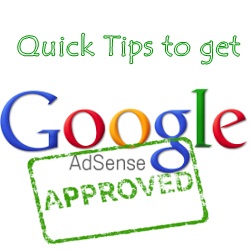 I know getting quick approval of Google AdSense for small blogs is tough enough that's why today I bring some top things to do before applying to AdSense for fast and easy approval in less time (1-2 days). According to AdSense policies, your site/blog must be optimized and furnished well as per Google Advertisers demand to get an Google approved adsense account. As Google Adsense is one of the best ways to monetize your blog, therefore 90% of the bloggers choose that. Note- Not all Adsense applications are reviewed manually, only in rare cases are the Adsense applications reviewed by actual people. Hence Applying for Google AdSense without knowing its policy of website acceptance is a true mistake. Thus I am posting a article about things you want to do before applying for Google adsense. Must See!
13 Things to Do Before Applying for Google Adsense in 2014
1. Privacy Policy
First of all user must have to build a Privacy Policy of his/her website or blog and show it openly to the people. A Privacy actually describes to your readers about what they will get on your Blog , what they should do and what they should not etc.
2. About Me Page
When it comes to Adsense, they are about Zero chances of getting approved if you are not showing this about me page. An about me page well describes you about.
3. No. of Posts
To get your adsense account approval easily, all you have to publish at least 50 quality blog posts to your site. Make is SEO optimized and Get huge traffic.
4. Blog/Site Design
Well Blog Design matters a lot. If you don't have it good, it makes a bad impressions among your visitors and adsense advertisers also.
5. Custom Domain
Its a fact that Adsense will approve BlogSpot and wordpress.com also but its highly recommended if you use a custom domain for your business as it symbolizes a brand for you. Search engines also likes top level domains.
6. Paid Traffic
Google hates the sites that are getting Paid traffic and mostly penalizes them so there is not a damn chance of getting Adsense Approval letter for a site that is getting paid traffic.
7. Person's Age Matters
You would not get approval until unless you are of 18 years old age. According to AdSense policies, child participation is denied in their program.
8. Content Quality
You always know that Content is King! Always publish unique and own developed blog content as to love by search engines and AdSense too.
9. No Adult Material
Note- Google AdSense doesn't makes ad on Adult Sites. So its highly recommended to open a site related to good niche and apply for AdSense then.
10. Other Ad network
If you have any other Ads placed like Chitika, Clicksor, Bidvertiser or anything, it's time to drop them off them before applying to Google AdSense.
11. Page Views
In order to get a fast adsense approval, your site must receive at least 100-200 pageviews a day. Blog with no traffic will be denied.
12. Domain Age
For newly published sites, its very hard to take approval therefore its must to have at least 2 months old domain before applying to Google AdSense.
13. Contact Us
Contact us page is another important thing for getting approval for adsense. As This page help you to make a good relationship with your visitors.
That's it! I guaranteed that by completing this things or checklist above, you will definitely get an approved Google AdSense account soon. Till then Happy Blogging!