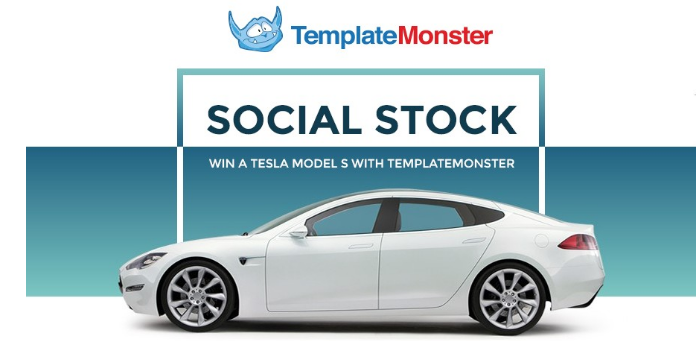 Are you in search of your own online portal? Are you a regular follower of the latest web design trends? Can you imagine obtaining the finest website template for your company or organization for absolutely no charge? You can also win exciting prizes especially suited to a web designer's needs. This is possible by using TemplateMonster – a new social media project.
TemplateMonster has been operating in the web design market since 2002 and its gallery currently includes more than fifty thousand themes covering a diverse number of topics for various web platforms. Each user has an opportunity to create a customized ready-made, fully featured theme that is simple to manage and adaptable to any web project.
Social Stock Contest
The promotion was launched a while ago and welcomes everyone to sign up and benefit from it. All registered members of TemplateMonster are provided with a promo-code that allows 10% discount on its entire theme collection. Moreover, if you are a regular social media user and Facebook is your second home then you have even greater opportunities to win wonderful prizes. You may involve your friends and followers in the Facebook community who wish to launch a website and help them take advantage of the discount through your promo code and become a winner!
The more transactions you make, the greater are the chances that you may win a Pebble Smartwatch, $100 on your PayPal account, Apple devices, Canon Cameras, Tesla Model S or Harley Davidson Street Glide.
Join Social Stock to Win a Premium Theme:
A news blast for all TemplateMonster users and followers; the world's most renowned website developer is promoting  a big TemplateMonster ! Now anybody can get a premium theme that suits your needs – for free!
Social Stock is a yearlong competition among its users who are granted a 10% discount on the entire stock of TemplateMonster's themes, which are to be shared and circulated among their friends and followers on the Facebook community.
The best part about this is the consumer does not have to invest a single penny to win, as the registration is free on its official website
TemplateMonster is well known for its vast collection of ready-made websites suited to a wide variety of needs. With more than 13 years of experience in the global market the company has gained the trust of its users. Currently, the stock of the company includes more than thirty thousand templates for various topics e.g. blogs, portfolios and online stores, E-commerce platforms like WooCommerce, Prestashop and Magento, Content Management Systems, for example WordPress, Joomla etc. and all have been created with up-to-date web development tools and legal codes.
Guidelines for you to avail yourself of the Social Stock giveaway.
Get listed in the Social Stock program
Create your own promo-code
My Promo Code– drm1njwwlh4vehywhepe3fpjm
Share it with your friends and followers on various social media networks e.g Facebook and Twitter
Registered users can share the promo-code directly from their Social Stock profile. TemplateMonster, the most experienced template provider, will help you create a buzz with the following tools:
Memes for social networks
Text messages
Different samples of ready-made messages
Quick solutions for sending the promo code to all of your contact list at once
As a registered member of the Social Stock contest you can use the promo code as many times as required by just replacing the default content. The system facilitates the user continuously as it allows you to track the number of promo-code usages through the profile. You can claim the sales immediately after notification or continue collecting more for a valued prize. The contest is scheduled to run until the end of  2016.
Suggested Themes for TemplateMonster
Below are a few themes in the company's gallery that are well known and feature-rich:
Monstroid: A multi-purpose WordPress template used more than three thousand One can create potentially wonderful blogs, online portfolios, corporate sites and also E-commerce projects using Monstroid. Moreover, the owners are granted free access to a number of child themes.
Styler: a PrestaShop theme known for its remarkable functionality and frequent updates. The unique feature is that its framework is fully responsive, its home and product pages are pre-designed, and there is social media integration and a number of other smart options for the users.
Wegy: A product in high demand, originally the theme was created for business websites only but after many updates and changes it has been modified into a fully featured E-commerce solution.
Cool Premium Themes – Free of cost!
A few themes, worth downloading and using, have been added to the TemplateMonster's gallery recently and have proved to be a sound basis for various web projects.
King News: WordPress themes have also been included in the gallery, one of which is King News. It is designed for news portals, online magazines and blogs. The best part of it is that the user can operate it flawlessly on any web browser, it has a fully responsive framework with an option to translate. The website is SEO-friendly, created with a valid code with a WordPress Customizer, and allows the user to apply real-time changes to its appearance
This project has proved a great help and support for the Internet community. Reviews by users indicate that TemplateMonster has helped them generate money successfully while sitting at home. The use of this web portal is quite simple and, as with most of the themes of this company, is fully-equipped with latest customization options; some may also provide color switcher tools with adaptive Mega Menus.
TemplateMonster is one of the best ways to make a trustworthy and proficient online presence for your business and earn a handsome amount of money!
Incoming search terms:
happy propose day shayari hindi
download profile picture
propose shayari photo