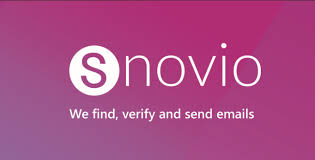 Intelligent lead generation minimizes concerns of underperforming marketing budgets, missed KPIs, and also reduces operational overheads. It also provides you with a great opportunity to make sales through targeting and engaging responsive prospects. Snovio is one of the best lead generation platforms available and is taking the world by storm. In this review, we are going to discuss the key features of Snovio and why it is the best in the market.
What is Snovio?
Snovio is a great email finder that was designed to solve the problems of lead generation. The strength of Snovio lies in the concept of decentralization which involves attracting many people to assemble and update the data of the system via the Snovio Marketplace.
Snovio introduced a token system to eliminate poor quality leads and enhance data exclusivity. It is an exceptional tool for generating leads and possesses the most accurate information for any business. Data contributors are rewarded by this system. Tokens are used as a reward for creating and updating leads.
Features of Snovio
Snovio has introduced a variety of unique tools that simplify searches and can be used to get leads and save them. Some of the key features include:
You can check the validity and regular use of email addreses by screening out the non-working and abandoned ones. There are no additional credits that will be withdrawn from your account. You also get a list of quality leads with email addresses that are already bounce-free and valid.
It gives you quick and instant access to several email addresses, job positions and names from various domains. You get connected to finding your contacts and growing your network.
Explore the incredible company information database of the Snovio program by contacting the appropriate person in the right department.
Use the Prospect Search Tool to determine and save the email addresses of LinkedIn users.
Identify technologies used by a website
Snovio offers a unique feature that allows you to check the type of technology used by a business in terms of web frameworks, marketing, e-commerce tools, CMS or software.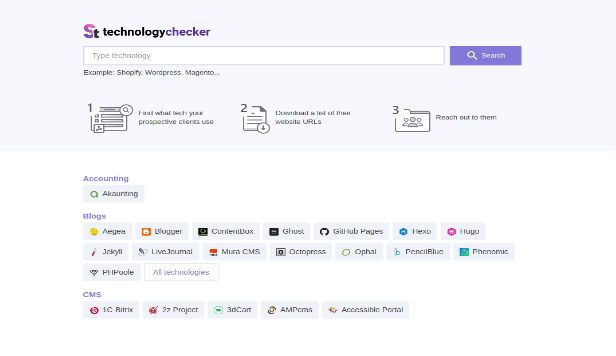 The email sending feature allows you to send emails for free to a list of prospects without any charge.
How it works
Snovio is one of the platforms that takes advantage of the incentivized contracting and the blockchain innovation technologies by creating the Snovio Marketplace. Their developers always make huge attempts to become new massive players in the lead generation market. All services that are supported by blockchain technology use Smart contracts to eliminate errors in accomplishing orders. It also ensures trust scoring as well as rewards for the associated parties.
As a Snovio client, you can easily get quick access to a refreshed database at any time regardless of your location. You get prompt lead notices and are always updated with the most recent information.
When the contributors offer their information as a supplier, they are always rewarded by getting a wage of SNOV tokens proportionate to their contribution. Data related to a new client will always be refreshed throughout your operations. However, there will be a straightforward dissemination of the tokens.
If you have SNOV tokens, you can use them for interior bookkeeping between Snovio's platform, clients, and the patrons. SNOV are ERC20 tokens on the Ethereum blockchain. The platform remunerates the clients for incorporating information by use of tokens.
They are also used for internal payments within the Snovio platform. You can utilize the SNOV tokens in purchasing data to generate leads.
Snovio users are offered 5 different plan choices depending on the features and services offered by each. XS, forever free – 100 credits/month; S, $19 – 1000 credits/month; M, $49 – 5000/ per month; L, $79 – 25,000 credits/ month and XL, $139 – 50,000 credits/ month.

How to use the Snovio Chrome extension
The Snovio platform debuts in the form of a Chrome browser extension. It is Snovio's first release and contains core modules of the platform. Using this extension, you can find leads on websites such as Twitter, LinkedIn, Facebook or any other website visited by a user.
You can do this by opening individual profiles or from the LinkedIn search. It comes with an inbuilt email verifier engine which is one of the vital tools of the Snovio Chrome extension. Leads can be generated and validated by users using a simple browser extension. Currently, the Snovio chrome extension boasts over 350 five-star ratings and more than 12,000 downloads.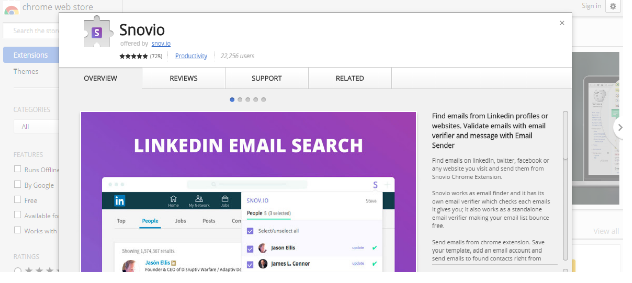 Snovio for customers
If you are a business owner looking to improve your business with more clients, then Snovio will be the best one-stop platform for you. Customers can get fully validated high-quality leads with information that is up to date. As a customer, you can also verify the validity of the leads before purchase, using mechanisms such as the contributor's account, date it was added and other parameters. Using the Snovio platform, customers are always assured of the best leads in the industry.
Snovio for contributors
A contributor is any person who generates, validates or updates old leads with new data on the Snovio platform. Snovio contributors are then rewarded for their quality contributions to the platform using the SNOV tokens.
The rewards are often based on the quality of leads brought by each contributor. The rewards are based on a stake-weighted system if multiple contributors generate the same amount of leads. This includes the chronology of the added data, contributor's account ratings and the number of positive and negative reviews accrued previously by a contributor.
Conclusion
There is no other reliable online service or software that meets the utility and quality of the Snovio platform. It stands as the world's largest decentralized lead generation service. Snovio provides you with a significant number of contributors who can solve the problems of outbound research, lead generation and much more.
The overall lead generation strategy is not only powerful but also effective. Using SNOV tokens as credits is a concept that is much more beneficial compared to using cash in purchasing the credits.  
Try Snovio's perfect solution for Sales reps, Marketers, Startup founders, Recruiters and anyone who needs email outreach or outbound research. Cut down the time it takes to find and collect leads or candidates. Find the people you need and bring your idea directly to their inbox!
Free for Signup

editor rating