In today's world of globalization marketing your business has become an indispensible option that you need to take care about. Customers have become more demanding and aware than they ever were and knowing your customer has become essential. Talking about marketing, reaching customers on a large scale that too reaching someone who is sitting at the other corner of the world has been made possible by technology today, Digital Marketing tools takes care of that for you. But digital marketing can be cumbersome too if you don't know when and how to invest your time and your resources on which tools.
Here comes serpstat to your rescue!!
About Serpstat
Started in 2013 as a keyword research tool, Serpstat has been growing and improving continuously.
In August of 2016 Serpstat turned into an all-in-one SEO platform, and now it offers 5 essential tools used by professional digital marketers worldwide.
Services and tools offered by Serpstat
Serpstat offers five advanced search engine optimization tools that professionals use all around the world:
Position Tracking
Under this tool you get the following advantages:
Back link Analysis
This tool comprises of following features that might help you:
Keyword Research
Coming to one of the most used tools, you can do following things through this tool:
Site Audit
This tool comprises of following features that might help you:
Competitor Research
Under this tool you get the following advantages:
Competencies in Databases
Their rate of increase in number of keywords is sky rocketing. They have updated their Google.au; google.uk and google.ca databases recently making them one of the major keywords database holders across the world. With the help of this now they have been able to increase their keywords database by:
AU – 18 times more keywords
CA – 13 times more keywords
UK – 9 times more keywords
Their databases now include:
In google.au from four million keywords they have increased it to 73 million keywords
In google.uk from seven million keywords they have increased it to 65 million keywords
In google.ca from four million keywords they have increased it to 54 million keywords
They provide you with the greatest features and tools in the market for digital marketing of your business and they are soon coming up with a great update of keywords for google.us
Semrush another database for keywords is considered to be a benchmark in the industry. And you can yourself check out the comparison of semrush and serpstat for the databases of google.au; google.ca and google.uk. Serpstat is better in every keyword proving their point of providing you with best services.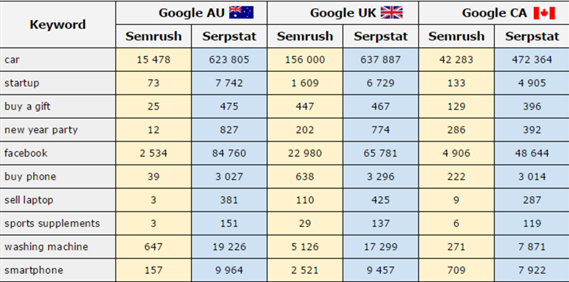 Along with this serpstat also lets you now to find out more long-tail keywords, which can be defined as keywords with meagre amount of search volumes so that much of the traffic is not brought in by them. To carry out a comprehensive long tail keyword search you can use serpstat, you just have to type in any keyword in their search bar and there you can apply a number of filters that will assist you in achieving what actually you want to.
Pricing
This is the most sought after section of any of the review, well because that's what people look out for mainly in reviews. In any way serpstat offers a variety of plans with their lowest one starting at a meagre cost of $15.20/month.
And there is no need according to me to look into prices when you are getting this much at such meagre costs.
Serpstat provides data for the following databases, regardless of the plan you choose:
Google: UA, RU, BG, US, UK, CA, AU, LT, LV, BY, ZA
Yandex: MSK, SPB, UA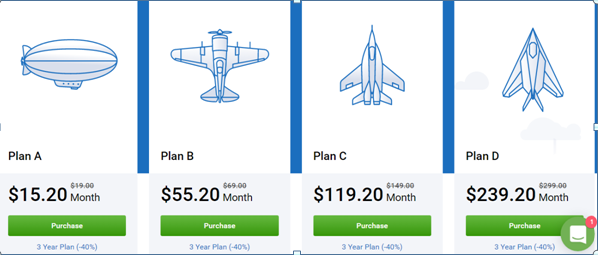 So why you should choose serpstat
Advanced URL Analysis
This feature helps you promoting any single page of your website. Along with finding its closest competitors, in addition to this you can also try to find keywords that are relevant to your page.
Tree-View Feature
Tree view is oe of the most loved feature of serpstat which helps you identify what pages of a domain rank for which keywords and on what position. This will help you find out that where are you actually standing and will help you to increase the organic traffic on your website.
Search Suggestions Database
With serpstat you get a list of search suggestions for any keyword that  you enter. This feature is really profitable for companies that rely on targeting mobile users who use google search suggestions frequently on mobile devices.
Tracking of Top 100 Positions
With the help of serpstat not only you will be able to see your domain's positions for keywords that you're monitoring, but it will also save  the top 100 results for each monitored keyword for you, which will allow you to see how your and your competitor's positions are changing for these keywords.
Final Conclusion
So finally the bottom line here is that when you are getting all these five tools at a meagre cost, why to approach someone else for search engine optimization and digital marketing tools. Serpstat could help you gain those customers too which are sitting at the opposite corner of the globe and help you reach a wide range of audience for your business.
For further details and queries about their product and services please feel free to contact them at: https://serpstat.com/
Smart and powerful tool for ✓ Backlinks Analysis ✓ Rank Tracking ✓ Keyword Research ✓ Competitor Analysis ✓ Site Audit.