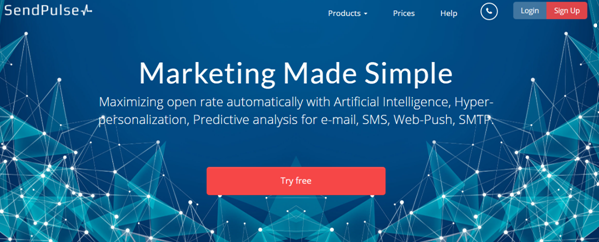 Communication is an integral part of any business when it comes to either communicating with the customers or communicating within the business with one's own people. With globalization coming to the scene we can see the reach of businesses going high reaching to a stage where they are based in one corner of the world and their customers around the other corner. With digitization too we are able to expand our horizon and take our business to places where it has never been.
SENDPULSE REVIEW 2017:
ABOUT SENDPULSE
SendPulse is a young company headquartered in New York and San Francisco, USA; comprising of 35 people currently. Encompassing 250,000 active users currently comprising bloggers, business owners and large corporations, they have reached a stage where they have successfully helped their users increase conversions and expand their businesses to new target of audience based on trust and commitment. According to them they are a fast, intuitive and affordable way to send emails, sms, web push and SMTP email that will help you increase your brand awareness amongst potential consumers and expand your business drastically. According to them their mission is to assist you in creating a simple, high quality and efficient platform of communication between your business and your customers.
THE PRODUCTS THEY ARE OFFERING
With the help of SendPulse you can create and send bulk mails to your customers with their simple drag and drop editors or you can choose amongst their huge database of templates.
Features:
Their drag and drop email editor allows you to quickly and easily create professional-looking templates for your emails.
Over 100 ready-made responsive layout templates, and designs will make creating emails fast and simple.
Any email that you create in the editor will look good at any screen resolution, and any device.
Address your customers by name; insert any information you have about a recipient in to your emails.
Set replaceable text fields in your emails based on the information that you have about your recipients.
Send different emails to your clients depending on their gender, place of residence, or particular interests.
Test out several versions of the subject or body of your emails and send out the version that received the best results. That email will be the most effective.
Just set up a whole series of emails once, and their automated sending will ensure that they are sent out when someone subscribes, after a recipient has clicked on a link, or after any other trigger that you specify.
SIMPLE MAIL TRANSFER PROTOCOL SERVER [SMTP SERVER]
You can use their SMTP server transactional and marketing email messages from any of your tools or applications using their reliable service.
You can fully integrate their SMTP server to your CRM or CMS application or software or in fact to any other system that you are currently using and then send emails to your customers through your own online system, making it convenient for your business. In addition to this they also provide detailed API documentation, and in your account on the SMTP service you will find all the personal settings you need for the SMTP server.
Features:
Use a dedicated IP address to increase your sender reputation and avoid blacklisting of your IP due to someone else's actions.
Show that it's really your own company and domain sending the message, and minimize the amount of messages that are marked spam by using the special cryptographic signatures SPF and DKIM.
They send out your mailings at high speed with their servers that support secure SSL connections.
For each mailing list, you can discover the amount of messages sent out, the number of conversions made and links clicked, and many other details.
Their service generates sending reports and delivery error reports. All reports can be downloaded to your computer.
List of customers that unsubscribed
Your mailings won't be sent to any addresses on the list of recipients who have unsubscribed, even if they are on a mailing list.
WEB PUSH NOTIFICTAIONS
Through their Web push product you can swiftly reach your customers when they are online at their respective devices and systems with updates.
Features:
High level of subscriptions
Highly effective communication
Offline notifications to customers
Personalization and segmentation
Trigger messages and bulk messages
Developer API
With SendPulse's SMS sending services you can send instant messages to your customers sitting anywhere across the globe within a fraction of seconds irrespective of your own position.
Features:
Global reach and Fast Delivery
Automation
Personalization of messages
Subscription forms available
Live Statistics of operations
Auto-responders available
PRICING OF DIFFERENT PRODUCTS
1) Email Services
You can choose from four different plans currently available with them for email services
Free plan
This is valid if you have less than 25k subscribers, in this you can send 15K mails per month for free after you sign up.
Monthly subscription
Get the most bang for your buck with a subscription plan that lets you select the number of subscribers and emails you need. This is a plan where the price is decided on the basis of subscribers you have.
Pay as you go
If you don't send many emails, their prepaid email packages give you the option to pay only for the emails you need. This plan is also based on number of subscribers and messages you send.
VIP Plan
If you have more than 1 million subscribers and want to plan a regular mailing program then you can contact their Customer Care Team if you want to get the VIP plan.
2) SMTP Services
Herein first 12,000 mails are free after you sign up, after which you can choose from their monthly plan and prepaid plan which is same as was in the case of Email services.
3) SMS Services
Once you register you can send 10 messages for free after that you will be charged as per the rate of the country where you are sending a message. You can check the price list of the SMS, country wise over the site.
4) Web Push Notifications
Once you select a channel of communication to your customers from any option on SendPulse you can send free web push notifications to them without any external charges.
FINAL THOUGHTS:
You know marketing today would be providing you with a great competitive advantage improving the customer base of your business and letting you know your customers. For this you have to use an effective as well as efficient platform for communication between you and your customers, which according to us is provided by SendPulse in a very systematic, simplified and enigmatic way. The level of quality, variety, reliability and efficiency in their services makes them one of the best in today's market. With prices and plans custom made to suit your requirement and capabilities this is the best shot that you can take for your money to expand your business and reach your potential customers anytime and anywhere.
All the best in expanding your horizon!!
Integrated service to manage email, text and webpush campaigns. Create and send newsletters now. Analyze your results with reports etc.
Free upto 2,500 subscribers

editor rating
Incoming search terms:
basantpanchami
Happy Basant
basant panchami hd wallpaper
propose shayari for boyfriend
happy basantpanchami