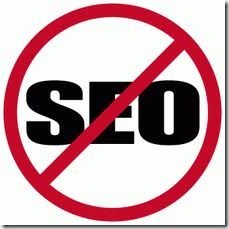 Each day, more and more businesses jump into the fold of building a website from scratch because the lure of ecommerce is now too obvious to ignore. SEO or search engine optimization is the process of making a website show up more prominently in people's queries online. Ideally, you want to achieve do SEO through things like exquisite web design, fast page loads, and awesome content. However, these things take a lot of effort, money and time; which is why some are drawn into temptation of 'black hat SEO'.
Black hat SEO are tactics that is sort of cutting the line. Not only is it the faster way of gaining online visibility but it's also riskier. Admittedly, anyone can pretty much do as he/she pleases online since it's a free world. We're here to caution you of SEO techniques that may end up doing more harm than good if you pursue it.
Bad SEO Techniques to be Avoided
1. Keyword Stuffing – this is not 1999 anymore. Search engine companies are close to artificial intelligence-like search algorithms for crying out loud. There is no way you're going to fool Google for example to rank a page that doesn't make sense only because it has repeated a keyword a hundred times.
2. Cloaking – is the when a website owner makes a search engine think it's an entirely different website because it wouldn't rank it as high if it found out the truth. Google will severely penalize a website if it finds out, which is usually the case.
3. Link-exchanges – a lot of websites have learned about how much progress Google has done in detecting websites that participate in link-exchanges the hard way. And when they do, it's too late and unmixable already.
4. Duplicate Content – what's the difference between duplicate and plagiarized content? Exactly, there isn't any. And that's exactly how search engines treat it. Websites with duplicate content are considered low quality sites to Google and their likes.
5. Hidden text – does you website have white font texts on a page with a white background? Don't wait for Google to find out, because it thinks websites that has these have something to hide or is stuffing keywords or meta data. Both are heavily penalized black hat techniques in case you didn't know.
Link farms – we've mentioned previously that websites the participate in link-exchanges or link farms get penalized. In that case, the link farms themselves are down voted by Google algorithms for obvious reasons. Simply put, Google feels this site violates its regulation of ranking websites naturally.
Article spinning – is when a website owner doesn't have the time, skill or money to create high quality content and instead uses an article spinning software to come up with written content. This usually results in lousy articles that real people wouldn't spend time reading.
Comment spamming – this is an old trick of spamming the comment section of high traffic sites for a chance to drive some of those traffic into your website. This might have worked years ago, but not anymore. Website administrator can report your domain for this annoying tactic.
All Done.