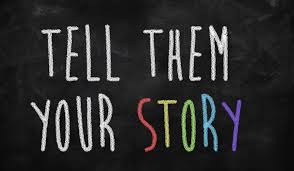 What makes you come back to your favorite TV shows, movies or books? Obviously, a good story! Publishers understand this and know to use the power of story to attract a wider audience. Believe it, storytelling is a powerful marketing tool. Stories have the power to provide contextual simulation and inspire, encourage and attract people. It will help you attain favorable results. It is important to consider storytelling at the right time in the right way. Storytelling goes hand-in-hand with marketing.
Reasons to go for storytelling
Bind facts into emotions
Reveal your writing skills
Share our knowledge on a particular topic
Attract the audience
Make people know about your services
Engage with your audience
Maintain a positive reputation
Show your core values
Interact with the online community
Today, businesses are turning towards digital marketing. It's no secret that you must approach towards new media with innovative ideas to be successful. Storytelling is the new buzzword in marketing. It is imperative for brands to tell a good story about their business/brand to attract the audience. It's not the product that attracts the wider audience. It's the power of storytelling that attracts the audience. But the question is what makes a good story? Adding drama, inspiration and intrigue to your marketing strategy will make your brand story more powerful and interesting.
Wondering about how to turn your marketing messages into powerful stories effectively and efficiently? Well, it's important to know how to use storytelling in marketing to get the most out of your brand. We have compiled a few steps to harness the power of storytelling in your marketing strategy.
Introduction: It is also known as Exposition. The introduction provides the background details, upcoming business events, character etc. People look for brands for products, but also for the story behind the brand. So, it's great to share your company's background, vision and mission through marketing.
Rising Action: Try to create climax among the audience for your brand! Avoid making flat posts repeating same information about your business/brand again and again. Think out of the box while advertising your business or brand. Make sure that we share genuine information about your business with your fans and followers. It will make them check in on and come again and again for your services.
Customer-Centric: In order to attract the wider audience towards our business, you focus should not be on the main character of our marketing effort but on the customers. Presenting your brand doesn't work well until your customers are not happy with your brand or business. It is imperative to focus on customers reaching out to you for finding a solution. Be sure to solve their challenges with your services.
Falling Action: If you manage to solve the challenges faced by your customers, what are the results? In marketing, you can express your results to attract the wider audience. The powerful stories about your business can make you gain a great reputation among your customers.
Resolution: Challenges are resolved for the customers which create a release of stress and anxiety. Marketing platform should reveal the brand or customer winning. Be consistent and clear while showing the ultimate goal of your brand and customers. Are they happy with your brand? If yes, you win the game of storytelling in your marketing plan. Visit us to avail the best marketing services to boost your brand.
Final words
In marketing, give your audience what they want. People really like stories but only genuine ones. Bring your brand to life by adding storytelling in your marketing strategy. Are you leveraging the above acts of storytelling in your marketing? Thanks for reading and be sure to leave your questions and ideas in comments!
Incoming search terms:
propose day shayari
Propose day shayari Images
प्रपोज शायरी
sad images for whatsapp dp