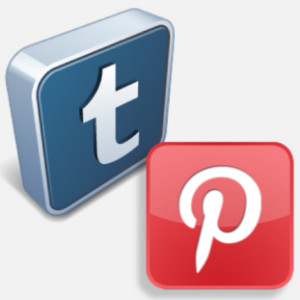 The list of social media sites is never ending; however, if you ask me to handpick the best two platforms for ecommerce marketing I would instantly point out Pinterest and Tumblr, as they are my favorites. But, recently one of my friends came up with a startling question of "which is best of the two?" It gave me the sudden idea to research about the two top-performing platforms and their differences to deliver the verdict. And I did so! However, I believe sharing this post would help many having the same questions on their minds for some time. Hungry to learn which is the best marketing medium for ecommerce, Pinterest or Tumblr? Find it yourself at the end of this post.
Overview:
In fact, I went across too many reports and surveys headed by many agencies. Candidly speaking, my headache doubled as a result of the survey results brought up by different agencies from distinct parts of the world. The reason for this was while one pointed out that Pinterest is the leading platform another revealed it is Tumblr that leads the social media market. However, upon some carefully study I was able to come to a conclusion on deciding the best option for ecommerce marketing. To put forward the points of differences that I've cumulated on these two wonder platforms, I've chosen the infographic method as it could help any reader digest the details with absolute ease.
Pinterest Marketing Strategy:
A recent survey carried out by a popular US agency reveals that Pinterest is topping the chart with considerable number of ecommerce conversions and sales. The tremendous success of this platform in a short period of time is due to its ability to showcase ecommerce website images with products or services elegantly and professionally. Unless you're from a different planet, you'd have studied the current market trend and part played images. As you can pin your website as an image directly on the Pinterest portal, it serves as the conversion point to bring in more sales to your business. Remember, unlike other media like Facebook, Twitter, Tumblr, etc. this medium has the potential to double your sales and clientele as it deals with images rather text.
Pin the best: If you really want your marketing strategy outstandingly the best way is to pin the best rather pinning whatever you like!
Stimulate users: You have two options: one is to create a pin with complete information about your business and other including only parts of information of your product or services. Different intriguing images like this could easily stimulate the users and persuade them to visit their site out of curiosity.
Include 'Pin It': It's easy to set up a pin with exciting images about your products and services; but, if it doesn't offer any facility for others to pin it, your entire efforts will go in vain. So, by adding the Pin It button to your board will help in the process of helping others pin and re-pin your site easily.
Include videos: Adding varieties of images of images to your board is often recommended. Also, you can pin videos of your product or services efficiently here. Keep in mind, try to pin different images and not just images of similar types. Adding variety to your board can improve the clientele as well.
Try vertical pinning: Pinning vertically helps you save space and fits perfectly with the Pinterest layout. Leaving enough space on layout makes it look tidy.
Connect to other social networks: The biggest advantage of having a Pinterest account is it offers facility to connect with other social networks. By doing this you can enhance the performance of your ecommerce site double times than earlier.
Tumblr Marketing Strategy:
Tumblr is not too far away from the other famed social media sites, especially with that of Pinterest, as it is packed with some amazing features. Though it doesn't have a massive volume of community and followers as that of other blogs, it has got a tight community which can pay enough attention to creative stuff. Often mentioned as micro-blogging platform, Tumblr does carry some noteworthy benefits to help ecommerce business in the process of marketing. Let's discuss in detail how this platform works for your ecommerce marketing.
Dashboard effect: I don't how many of you have leveraged the dashboard of Tumblr. If you've done, you could easily have doubled your web traffic. From the dashboard you can control and manage all your activities. Besides, the dashboard information assists in the process of garnering details about your blog followers which could help you improve your web traffic.
Add stirring business info: Leaving your portrait with no not-so-interesting data isn't going to help your marketing. Add some stimulating and exciting business info to garner the attention of Tumblr community. Be creative and you'll be rewarded.
Add powerful themes: Though it is believed that Tumblr is a network for micro-blogging and text based, more than 40% of Tumblr posts carry creative visuals with the posts. So, Tumblr community not only pays attention to text but also to visuals; pick a great theme for maximum marketing outputs.
Personalize your brand: One of the biggest strengths of using Tumblr is its facility to add personalization to your page and posts. Unlike Pinterest which offers a same layout to everyone, you can make brand reflect your personality in style using the personalization options included on this network.
Follow other posts: Don't just keep on posting content for others, despite rather follow other's posts and try to comment to their posts. As Tumblr's is a tight community, getting engaged with more users can help you earn a reputation on this network.
Benefit from Yahoo! effect: Most recently Yahoo! acquired Tumblr and as a result, the chance of doubling your marketing effects will be relatively easy.
Social media aid: Tumblr its users opportunities to share their valuable information via posts through various popular social network sites. So, making your post popular is no longer difficult with Tumblr.
Go mobile friendly: Tumblr allows mobile apps. So, the followers of Tumblr can relish all your posts with valuable information via mobiles as well by just downloading the apps.
Track your posts: This is quite crucial for marketing success. Using Tumblr's feature-enriched dashboard, you can easily track the performances of your posts to fine-tune your content for better web traffic and sales. Also, it provides an option to embed Google Analytics to it as well.
By now, you'd gained a significant amount of details over the two table topping platforms in today's market. The marketing strategies offered by both the media are quite distinct, yet I was able to decide which one would be more suited to ecommerce marketing.
Conclusion:
Today, if you've analyzed the marketing trends enforced by top rated ecommerce companies, you can idealize how they have made use of their images to success. Of course, images are stairway to take your marketing strategy to success and Pinterest offering more image-oriented marketing facilities can easily draw in more customers and direct sales. Also, Pinterest boasts a wide range of users and community which is several times bigger than Tumblr's.
So, according to me, Pinterest is the powerful platform where you can leverage maximum customers and web traffic with ease. I hope everyone reading this article would agree with me! If you've other opinions, please share via comments.