Introduction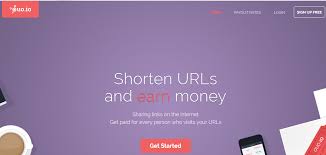 Ouo.io is a URL shortening service and a new website that allows users to get paid when someone clicks on user share links. Through this URL shortening service, you can shorten your links and make money from it. For each valid and legitimate visitor on the share link, the Ouo.io pays you! And the payout rates offered by Ouo.io are decent and are different for countries that you can ensure on the page of Payout Rates.
Day by day the site becomes popular because they not only check your shorten URLs unique visitors but in addition to that from the same visitor they also check and count the multiple views, therefore, you will be advantaged for all your traffic in addition to views of the page.
They offer a variety of utilities and provide a suitable and simple user interface as well so that you can simply maximize your earnings. They also give a full mobile support, so, that you can easily shorten your URLs and even you can simply see the stats on your Smartphone.
What is Ouo.io?
Ouo.io is a URL shortener service where every time you will get money whenever someone clicks on your share shortened Ouo.io links. This URL shortener website is similar to other websites that are an entirely free program where with some extra money you can maintain your wallet.
When we compare the service to other competitor's website then Ouo.io is not just a service that gives you simple UI but it also has some different awesome services such as high pay out rates, low minimum payout, non-intrusive ads and fast payments.
For any countries per 1k views, they offer you $1.5 so, Ouo.io is the superior choice for you if other URL shortening websites are not giving you good rates for your country.
Features
Free forever
Publicly
Instant and easy approval
User friendly website
Minimum threshold of payment is $5
Earn as a minimum $1.5 per 1k views
Mobile Optimized
On the same viewer, multiple views are also counted
Simple Ouo.io Details
Network Type: CPC, shortener URL, CPM
Payout for 1K visitors : Up to 5 dollars (Lowermost $1.5)
Minimum Payout : 5 dollar
Ad formats : Interstitial Ad
Payment options : Through Paypal, Payza, and Payoneer
Payment time : 1st and 15th date
Requirement : N/A
Referral : 20 percent
Website URL : Ouo.io
Payment Frequency : Net 15, Biweekly
How does it work?
You will earn money through Ouo.io by sharing the Shortener URL links that they provide you.
How it works in Practice:
When viewer click an share shortened URL (shortened link)
On an intermediate page, Ad is displayed automatically and you earn money
From the intermediate page to the destination page (long URL) the visitor is redirected
This way of online earning money has some exciting benefits.
Advertisement types
Like other CPM based URL shortener links this website also provides you interstitial ads. The Ads they provide shown before real web page. These Ads are viewed to viewers who are click URL shortened links for 3 seconds as they will be forward to the real destination web page.
Payout
The payout rates of Ouo.io are decent, at the time when I start writing this review the highest and uppermost rate that they were paying to their users was $2.80/1000 for the traffic of UK and minimum rate that they paying was $1.5. Furthermore, the rates that they offer is different for countries and on daily basis, it changes, so, for your convenience, you have to check out on their payout rates page.
Signup
On Ouo.io, the sign up is not too difficult even a beginner can easily signup it. In just 2 minutes you can sign up for a new account. You just have to simply click on the button of sign up and fill up the simple form of registration (fill the requirements that they need to you) and then submit it to them. Once you have completed your registration then you can instantly start building short URLs and sharing these created links with your followers, family members, friends or anywhere you want on the internet to earn money. For each and every impression and on single view outside of your account, you will be getting paid.
Any type of approval is not required.
Conclusion
(Ouo.io is the best URL shortening service to earn money)
After searching a lot on this Ouo.io review I've reviewed that most of the peoples review it as a positive site and saying that it's a trusted website as well. Also, there are a lot of peoples from different countries shows their last month earnings that they earn through Ouo.io.
So, after searching much, now, personally I recommend this service or website to you! I recommend you to share your URL shortener links in places where it will be there for a long term.
It's time to hear from you that how we help you. So, do you have any questions? Or did this Ouo.io review help you? Or you want to share your experience with Ouo.io. Then let us know in the comments box. I'm eagerly waiting to hear from you.
Incoming search terms: