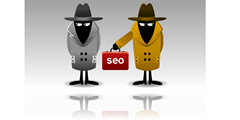 Now a days Negative SEO is one of the most talked topics since the launch of Google's penguin update. Google has somehow accepted that possibility of negative SEO but is very rare. Back in December 2012, head of Google's webspam team Matt Cutts released a video to help us understand just how negative SEO works. Though negative SEO is very real (under certain situations), it's also given rise to plenty of myths. If you lack adequate SEO knowledge, it's quite easy to give in to the most common myths of negative search engine optimization etc. So lets read more about it below.
What is Actually Negative SEO?
In General, Negative SEO refers to when one website buys links and points them at a competitor's website in an effort to torpedo their rankings. Note- Negative SEO cant be done to high authority websites. Other instances of negative SEO include such tactics such as hacking a website to inflict some sort of malicious damage on a website, review bombing or either by reporting another website's "black hat" tactics to Google etc.
Executing a negative SEO campaign requires:
Time
Money
Tools
A lack of morals
Most Common Ways for Negative SEO of a Website (SEO Tactics)
Spammy Links. It is the number one form of negative SEO. Competitors will go to spam sites and put a backlink to your site. It's as simple as that.
Hacking and Security Breaches. If you don't have the proper security, someone could easily hack into your site/blog and block the Google bots from crawling your site altogether.
Report You as Spam. Google allows websites to contact them about any spam issues. A competitor could easily contact Google and claim your website is full of spam. This is usually the last step in a negative SEO operation.
Fake Emails. In rare cases, competitors will actually create fake emails and email all of your good partnerships and tell them to take down links to your site. This isn't common, but it's something to consider.
Matt Cutts Video on Negative SEO:
That's it! In the end, All I have to say "try to be at safe side and stay away from the impact Negative SEO". Therefore Having backlinks to your website is really good, but the quality of the links matter a lot. Higher the number of quality backlinks better is the domain authority of the site or blog. But what if there are huge number of bad quality links to your site or from an adult or gambling site? These irrelevant bad quality links will definitely hurt your SERPS rankings and Negative SEO.
Update– You can also use the disavow tool to eliminate bad links pointing to your site and stay away from Negative SEO.
Please Share the Article If you Liked?