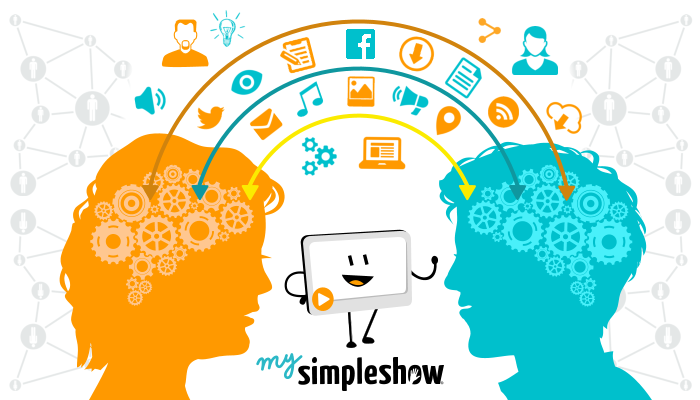 Today the need of the hour is to differentiate your business or your product amongst your competitors. Have you ever felt the need of something that might help you to present your product or your business in an effective and efficient manner? A presentation or a video that might help you to express well and enhance your presentation skills and give an everlasting impression on your prospects and customers.
So what exactly is an explainer video??
An Explainer Video is a short, fun and informative video that is usually two to three minutes long but in some cases can be longer. Because it is light, entertaining and fun to watch it captures and retains viewers more effective than just text or boring videos. Explainer videos can be used in a lot of situations and are perfect when you want to teach, inform, inspire and a whole lot more.
Why does your business need explainer video
A great explainer video can have a huge impact. It allows you to reach your audience and get your message across in a simple and engaging way. It doesn't matter if you need to communicate in a professional environment, teach your students, or promote important issues that you feel very strongly about. With the power of simplicity, storytelling, and images that stay in mind, your message will get heard.
Where can you use their explainer videos?
For Educational Purposes
You can also teach the world. You can use mysimpleshow in the classroom with your students or contribute to open educational resources across the globe. Introduce, summarize, and explain topics worth sharing with your students and help educate people with the world.
Personal reasons
You can decorate and celebrate and elaborate up your blog, build a crowd funding video, or get your dream job with a video resume. As of now there are no limits for using a great explainer video.
Professional video
If you aim to promote your product or service, train your employees, or need to motivate your team, a simpleshow explainer video will help you shine. You can use it for training, change management, or any form of corporate communication.
How to make an explainer video
With MySimpleShow you can easily make an explainer video by following these simple and easy four steps.

Step 1. Drafting
In this step you have to answer some simple questions to finalize and plan your category for your explainer video. In other words this is the planning phase of your explainer video.
Step 2. Writing
With the assistance of their practical tools you can easily formulate a great script with an innovative tint in it to grab the attention of your audience.
Step 3. Visualizing
Their Explainer Engine automatically generates a storyboard for your video in turn giving you a preview of what your video will actually look like in reality.
Step 4. Finalizing
This is the final touch giving step where you give finishing touches to your video by controlling its speed, voice modulations if any and other things before uploading it to your platform or to You- Tube.
Great features that would make you want to choose them
Perfect Storyline for your message
As mentioned above by just answering some simple questions you will be provided with best options of your script and storyline for your message.
Make you a great storyteller
They help you to transform your message into a story so that your audience may be indulged into it deeply with full attention.
Their Explainer Engine illustrates your story with images that stay in mind
They help you make a story that grabs attention of your audience.
Not a perfect match? Explore other options!
They offer you a variety of categories where you can decide which video you want to make.
Make use of thousands of simpleshow illustrations and upload images
Examples help you make a better decision and choices.
Record your own voice or let us do the talking
You have an option of recording your own voice for your explainer video or making them do the voice over and voice modulations.
Preview your video and make changes in an instant
Preview helps you give an idea about how your video will look once it gets published wherever you want it to.
Publish and share your video with your audience
wherever and whenever you want as per the availability and presence of your target audience.
Some Examples
MySimpleShow have large number of pre uploaded frameworks for your explainer video so that you might get an idea of what you want to do and how you want to do it. No matter how much complex your topic is they will help you make transform it into a story. Some of them are as follows
Examples for Professional category:
Introducing a company
Comparing options to make a decision
Presenting your resume
Explaining a workflow process
Appealing for donations
Startup funding appeal
Communicating your company guidelines
Explaining your vision and strategy
Communicating a corporate change
Explaining your business idea
Explaining your market place
Examples for Educational Category:
Explaining a ground breaking invention
Introducing a chemical substance
Explaining a law
Discussing pros and cons of a hypothesis
Interpret literature and movies
Summarizing a famous person's biography
Introducing a physical law
Explaining a biological process
Explaining a medical disease
Briefing about a historical event
Summarizing literature and movies
Examples for personal category:
Explaining a physical exercise
Sharing a cooking recipe
Inviting people to an event
Discussing advantages and disadvantages of a topic
Conclusion
The bottom line here is choosing someone who can help you create a artistically beautiful as well as academically and logically informative and innovative explainer video that might help you express and share whatever you want to with your audience. And for that I guess MySimpleShow  would be of great use for and you and your work. So go ahead and all the best and have fun making your video.
For further details and queries feel free to visit their website:
It has never been easier to create your own explainer video. Mysimpleshow transforms any text into an animated video you will love.