As internet traffic monetization is gaining momentum, both publishers and advertisers are having a hard time fighting the banner blindness. As the time passes, internet users are less and less likely to notice a standard banner, which takes a toll on banners' effectivity and makes them less profitable for all parties involved.
Many think that Native Advertising is some sort of digital marketing novelty, yet this it has been around for quite a while now, but it was only after the Open RTB 2.0 came out that Native Ads became really big. In 2017 this kind of advertising is showing literally everywhere on the Internet but the market is still full of opportunities. According to the figures presented by Statista, in 2016 in USA alone expenditures for Native Advertising exceeded 5 milliard dollars, in year 2018 the number is expected to grow up to 9 milliard dollars a year. Though it is hard to collect the full data, even this assessment is enough to envision the general trend in digital marketing.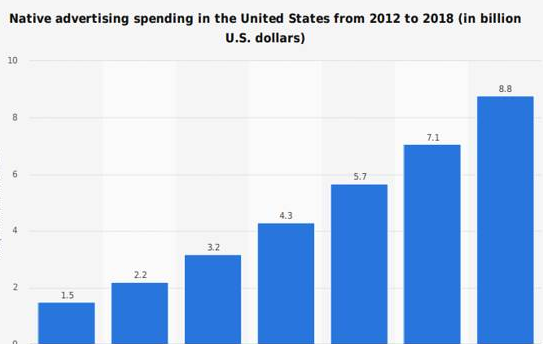 (Source: charlesngo.com/beginners-guide-native-advertising-for-affiliate-marketing/)
Recent reports show that Native Ad widgets get 60% more attention compared to the standard banner format. This naturally leads to the two times higher CTR and lead generation rates of Native Ads. On the average, the advertisers' profit becomes about six time higher. This is a good news for the publishers as well, as their income grows simultaneously.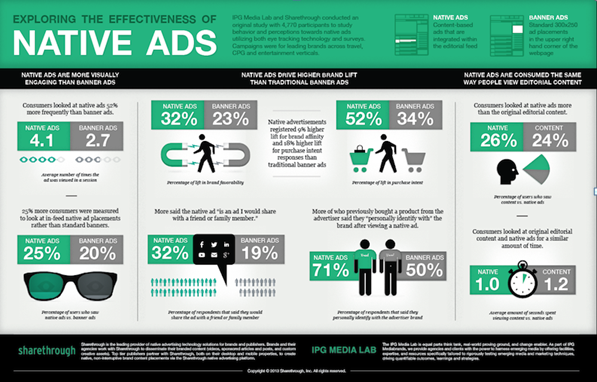 (Source: charlesngo.com/beginners-guide-native-advertising-for-affiliate-marketing/)
This ad format is most popular with bloggers, news websites, online magazines and entertaining websites. Native Ads are designed look like a part of a website content so they do not look foreign or out of place. For the best results, it is advised to put this kind of ads after an article or in suggested articles section. As readers' attention is focused on a website content, Native ads, that look like a part of this content, get the attention by extension and don't annoy the readers, unlike standard banners do.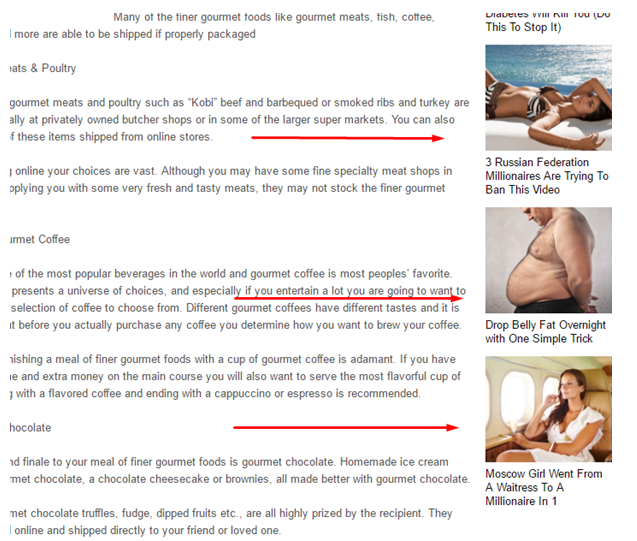 (example of native ads placed in sidebar)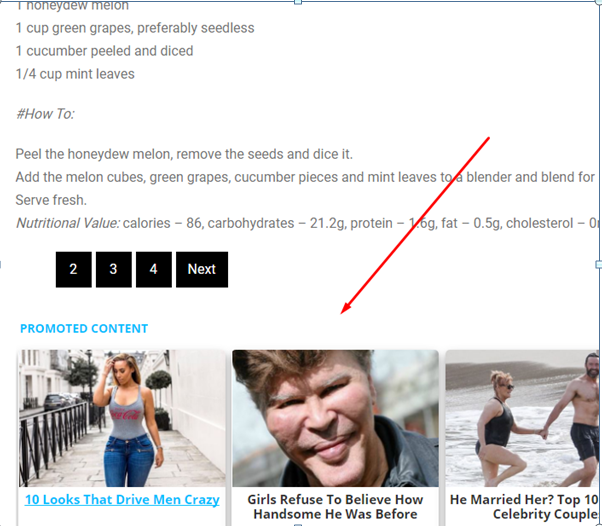 (example of native ads placed under article)
MediaVenus Native Advertising Network has been on the market since 2014 and has gotten pretty far by now. During this time their team got their ads placed on thousands of websites around the globe, they have established strong business ties with numerous networks and media agencies, and managed to sculpt their system to be as efficient as it gets. And they keep growing! You can meet them on most conferences and summits dedicated to digital marketing. Their specialists are pleasant people and great professionals, who are always ready to exchange contacts and discuss business perspectives.
One thing that makes MediaVenus stand out is their widget-constructing tool that really provides every opportunity to design ads that will fit any website like a glove. These widgets can be placed anywhere on a website, but for maximum profit, it is best to put them under article.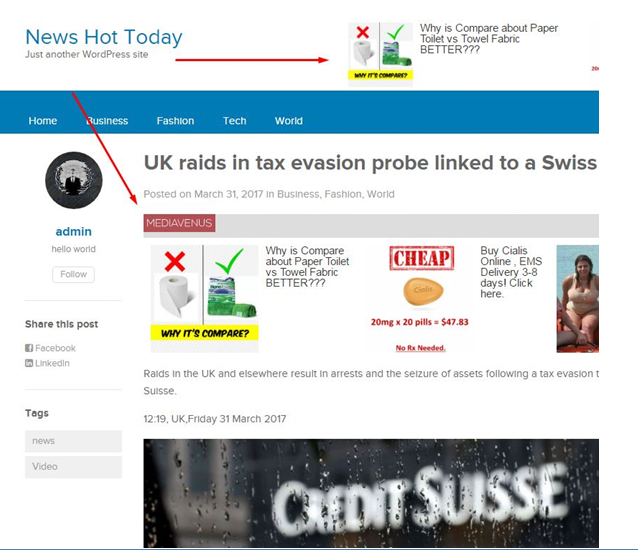 (example of native Ads)
They also have standard banners that come in sizes 300х250, 300х100 and 325х100, those are still a good time-tested way to monetize traffic and to generate leads for certain types of campaigns.
(banner 300х250)
A new option in their system is pop up ads. This kind of ads has greater visibility and gets more clicks. It is usually placed on websites with changing user base; it helps to monetize this kind of traffic most efficiently. There are two types of pop up available: pop up widget 980×200 that shows in the bottom of a screen and stays there during the scrolling and pop up ads 4×2 that appear in the center of a page.
Speaking about the GEOs available- MediaVenus covers them all. Thanks to its hard work and established contacts, this network attracts publishers and advertisers from all over the world.
Most networks have a predefined set of verticals they work with:
Slimming producta
Beauty and health related goods
Accessories
Dating
Mobile services
Mobile Apps
Electronics
Online Earning
Gamble/Casino (if legally permitted)
Alongside these categories, there are other successful campaigns, that don't quite fit the list, so there is no reason stick strictly to the verticals named above.
From what it seems, MediaVenus puts great emphasis on traffic quality, as they have a professional moderating team that studies stats of each website and its traffic sources and keeps an eye on new ads and campaigns. With this kind of approach bot traffic is out of the question. One more feature they have is 24/7 multilingual support that answers each ticket in a blink, in addition to that, each advertiser and publisher is assigned a personal manager, so  there is no need to worry about dealing with a new system on your own.
While surfing the internet one can their ad widgets on popular websites that belong to big publishing houses and media agencies, those are a great source of high quality traffic. The success of MediaVenus in this field is probably due to their extensive experience with business contacts and collaborations.
For a publisher with many friends involved in monetization, MediaVenus offers a great additional income option – a referral program. The idea is simple – bring a new publisher and get 5% of what he earns. It is a great way to get passive income.
As regard top up options for advertisers, there is quite a variety: the Network works with Paypal, WebMoney, Paxum and wire transfer. There is no commission or additional charges. Publishers get their payments weekly via PayPal, Paxum, Capitalist, WebMoney, credit cards and Wire transfer. No fees, no charges.
In recent years, Native Advertising market is experiencing rapid growth and many have already raised their profits with it. It is a great business tool for both publishers and advertisers. So don't knock it till you've tried it! Give it a go and may be MediaVenus Network will be your key to success as well.
Register in MediaVenus.com (link https://mediavenus.com/?&utm_source=bloggingways_net )