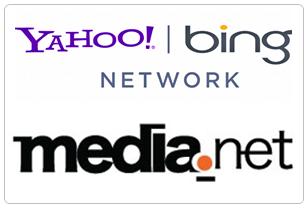 Gone are the days when there is no good alternative to Google AdSense as recently a program named Yahoo Bing Publisher Advertising Network i.e Media.Net comes into play. This program provides you such a high PPC almost equal to AdSense and minimum payout at $100. But there is a problem for small publishers that Media.Net only accepts sites/blogs with high amount of traffic mainly coming from USA, Canada etc. Also Ads from this site comes into Link Ad text block related to your blog's content or keywords etc. Therefore today I am going to review it and tells you How to make money with Media.Net ads below.
What is Media.Net-Yahoo Bing Advertising Network?
Well Media.net is an contextual ad network, that means it serves advertisements based on the context of your webpage. It is owned by Yahoo Bing Combined Advertising Network which was launched in last year. Media.Net completely based on RPM and Impressions earned and has minimum payout of $100 at end of the month via PayPal or Wire Transfer. Account Approval is quite tough as media.net is currently an invite based ad network, and anyone can request for an invite. Each account is reviewed manually and to get approved, your site has good amount of traffic.
Media.net: Features and Program Information
Contextual advertisements: As mentioned above, ad will be showed based on the context or keywords of the page.
Pays High revenue: Well Quality of the ads are high, and various optimization techniques will help you to make huge money from your ad serving.
Mobile Ads: One of the key feature of Media.net is mobile ads. This feature is currently in beta, but with the growing number of smart phone users, mobile ads is the future of advertising for publishers. Now Media.net mobile detection technology automatically detects mobile and smart phone browser, and serves mobile ads, which will help you to earn extra bucks.
Live Assistance: There are very few ad networks which offers dedicated account manager, and media.net is one of them. As soon as you get an approved media.net account, you will be assigned an account manager, and he will be helping with setup and getting started ahead.
Neat and clean reporting Dashboard: Reporting dashboard is neat and easy to get accustomed with. It is also very user friendly and easy to navigate.
One account & Unlimited websites: If you have one approved account with media.net, you can use the same account to run advertisements on multiple websites. Though, you need to get approval for every website, which is easy with the help of site manager etc.
Multiple ad unit size: Now You can create multiple ad unit size using Media.net ad management panel.
Compatible with Google AdSense also…
How to Apply and Get Approved for Media.Net Ads?
1. Note- Your Website should need lots of traffic and majority of them is coming from countries like Canada, UK and US.
2. Website/Blog design should be user-friendly, good looking theme and easy to navigate etc.
3. Website containing any illegal, adult or copyrighted content/image should not be promoted.
4. No Black Hat SEO tricks should be involved or used in Building your site.
5. Websites which are hosted free may not be approved.
6. Non-English Sites are rejected mostly.
If you have above criteria, then you must proceeds to their Sign Up Page.
Is Yahoo Bing Ad Network Media.Net Better than Google AdSense?
Well its not… I completely says that currently there is no such company that is paying really high CPC like Google AdSense, Yes Media.Net is a good and better alternative of it to monetize your site if you get banned from AdSense publisher program.
The best part of Media.Net Advertisement Program is that their customer support is damn good and pays really high PPC than others. Also there is no such risk of Account Suspension or invalid Clicks like Google AdSense if you are genuine. At last, I am again saying that you must give it a try to know better?
Till then Peace and Blessings!