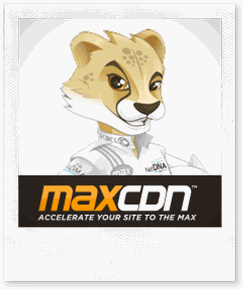 Vola! We are again back with our 7th Big Giveaway on Blogging Ways, but this time it will be on MAXCDN and you can win upto 5 1TB (Terabyte) free accounts very easily. Let me first describe what is a CDN is? A CDN is content delivery network or content distribution network, which is a large and distributed network system of servers deployed in multiple data centers on Internet around the globe in order to speed up loading time of an website. Now MaxCDN can enhance the performance of your blog and your visitors will have more better experience than ever. Therefore I am planning to give this freebie among 5 Persons who can win 1 free MAXCDN account worth $70 per 1TB . So lets check out some of its features below and know How to Participate in this Contest?
Why MaxCDN?
MaxCDN is one of the leading Content Delivery Network operators in the industry till now and has been a trusted provider for more than 15K+ businesses on the Internet. MaxCDN was built upon NetDNA's CDN system to deliver a fast, affordable and simple CND for everyone. Thus MaxCDN improves the speed by delivering your content from their servers located worldwide. Hence its a must tool for Professional Bloggers and even startups.
Apart from that, its important for better SEO, user experience,less server load and Pages that load faster are listed higher in search results etc.
How to Win this MAXCDN Giveaway?
Please follow the below steps in order to be eligible for the contest-
Submit a comment to this post telling us how MaxCDN can help your site.
Subscribe to our Blog now:- Click here to Subscribe
Like and Share this post as well.
Important Note– This giveaway ends on 12th June 2015. Please use a valid email address when filling out the comment form. Please comment only once. Till then Best of Luck and please take part in this Contest with your Best efforts.
The winners will be selected at random, contacted by email within 2 business days after the contest is over and announced within the article. Thanks everybody…
Update– The Winners were Jon David, Rahim, Garry Ross, Sunil Sharma and Otango.
Final Words:
All the very best to all Participants for MaxCDN Giveaway !!!
Also SEE- Top 3 Best Content Delivery Network (CDN) Providers
Incoming search terms: