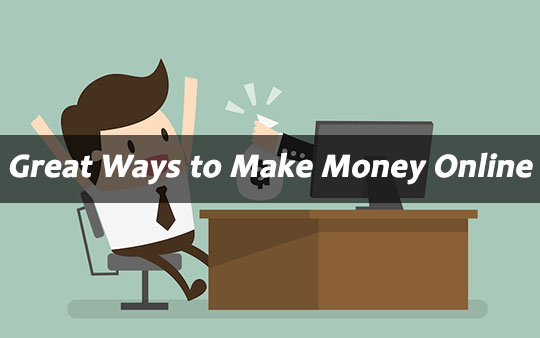 There are innumerable opportunities out there if you are seriously willing to put some effort behind anything. Our interactive, comprehensive, and easy to read guide consist of 35 different ways to earn cash from the comfort of your home.
It is true that most of the times we make things stressful for ourselves. Most of the times, we think about money making ideas and earning some extra bucks, but we have to back ourselves. At some point in your life, you have to get yourself out of your comfort zone. To be honest, there are thousands of different methods, and you can go for any of them if you have the passion and the drive to earn money. However, the ideas are not far away from your reach now, as we are sharing a list of 35 ways to make money from home.
Most of the times, we think that our set of skills would not match some specific methods to earn money while thinking and discussing ways of making money. Today, we will make sure that you will find at least five to ten methods out of 35 that will befit your skills.
So, if you are a college going student and want some extra cash, a mother who is raising a couple of kids but want to make a career, or a 9 to 5 job employee who needs to do some side hustle and start your own business, then this article is for you. Some of the ideas presented over here might be perfect for you.
Here Are The 35 Methods To Make Money Online
So, let's begin with the list, and then we will discuss more about them in detail. Remember, we can just give business or job ideas. All the effort is yours.
Become a social media manager
Become a social media evaluator
Sell on Fiverr
Sell on Amazon FBA
Sell your stuff on eBay
Sell other people's stuff
Start an online store
Start Virtual assisting
Start virtual bookkeeping business
Do freelance writing
Become a blogger
Write an eBook
Start a Pinterest business
Do data entry
Become a customer supporter
Become a freelance researcher
Online tutor
Write resumes
Mystery shopping
Test websites and applications
Check rewards sites
National Consumer Panel
Fill out surveys
Design web logos
Write reviews
Freebie trading
Sell your photos online
Become a focus group participant
Sell your baked goods
Bing rewards
Rent out a room
Rent out your parking space
Sell your university notes
Sell your university textbooks
Buy And Sell Domain Names
1.     Become a Social Media Manager
By becoming social media manager, you can manage any company's social media accounts and their activities. The primary purpose is to create awareness and increase the following of a certain brand. There is no restriction of working for only a single company; you can handle multiple clients' social media management. It is worth earning $20 to $50 per hour if you are just an average professional.
2.     Become a Social Media Evaluator
You have to evaluate social media activities of any given company. In this job, you are required to search for hashtags, videos, ads, search terms, and other things that are related to the specific brand field.  You have to evaluate all these things and then report back.
3.     Sell on Fiverr
It is a great platform to sell your services, and the starting price is $5. Once we saw a person offering his service to sing a happy birthday song in a dinosaur suit. Sound weird? It is nothing; others are much more mainstream.
Anyways, if you have skills like designing, developing, writing, SEO (Search Engine Optimization), voice-overs, transcribe, etc. Then you can sell any of them on Fiverr.
4.     Sell on Amazon FBA
Who does not shopped on Amazon once in their life? Have you ever observed that whenever you purchase something, you also see the business name that sells the product to you? Basically, you can become a seller on Amazon and sell whatever goods you want to sell.
One of the Amazon programs is known as FBA, and it stands for Fulfillment by Amazon. With the help of FBA, you can source your products whether that is purchasing on clearance or wholesale. You can send them to Amazon, and then Amazon will ship your goods to customers. Yes, it cost some fee but still much more convenient than shipping yourself.
5.     Sell Your Stuff on eBay
If you want to open an online store, then go to eBay as the preferred option. You can sell your own stuff from your home and earn through it. The products should be unique to a broader audience, and that is easily shippable. Easy shipping is the key to this business, as you would not like to waste your profit margin while shipping the product.
6.     Sell Other People's Stuff
If you think properly, then it is an excellent idea to sell people's stuff and earn through it. You just require putting a little bit of effort and nothing else. Obviously, you would only get the commission of selling the product because it would be others' property.
What you are required to do is to find people who are interested in selling items, but they do not have enough time or even interest. You can discuss with them the lowest price of the item and how much commission they will give you.
7.     Start an Online Store
We talk about selling through Amazon, eBay, and others' stuff. However, you can also make your own shopping online store and start selling the products. You can sell products in demand, but you have to market it well in order to make it successful. Once you begin retaining customers, there is some serious cash in this way of earning.
8.     Virtual Assisting
You can work as a virtual assistant and work from home. There is a diversity in this work. You would not get bored as every day is different in this job. You can earn $15 to $20 if you are an average virtual assistant. Later, this position has the potential to make you earn $50 each hour.
9.     Start a Virtual Bookkeeping Business
So, if you are comfortable with number games, and are ready to put some effort into finding clients, then why are not you thinking about becoming a virtual bookkeeper? This business has flexibility and good pay. By just giving a couple or more hours every day is enough to earn $100.
10. Freelance Writing
If you love to write and possess excellent skills in it, then there is good news for you. The jobs of freelance writing are in massive demand these days. You can earn hundreds of dollars per article. Once you become a known writer on marketplaces like Freelancer, Fiverr, People Per Hour, or Upwork then you do not have to look for any other job.
11. Become a Blogger
You can express yourself and earn through blogging at the same time. You are required to make a blog first and start running it. You just need to invest $15 to $20 in this business for getting a domain and hosting services. However, this is not a quick way to earn. You have to be patient while doing a blogging business.  If you keep blogging, then it can become your full-time job gradually.
12. Write an eBook
Writing an eBook is not tricky if you are a good writer. However, for making money by writing an eBook, you have to be a good marketer as well. You can write it and publish it on Amazon. Remember, for continuous earning, writing only a single eBook is not always a good idea.
13. Start a Pinterest Business
Basically, it is not a business. You can support your existing business or ideas through Pinterest. Increase your following on Pinterest and drive all the traffic to your online store or blog is the name of the game.
14. Data entry
There is a broad variety of work on the internet. It includes putting the given data on Microsoft Excel and Google Spreadsheets such as typing documents and transcription. However, the earning is not satisfactory as you will get $7 to $12 per hour.
15. Customer Service
In this job, you have to take phone calls, answer online chats, and emails. There are many customer service jobs available online; you must look for them. You will need communication skills, quiet room and a headset for this job to earn through it.
16. Become a Freelance Researcher
As the name suggests, freelance researchers basically answer the question that others cannot or things that others cannot research due to lack of time. The job is diverse, and there is no specific window of earning in it.
17. Online Tutor
The online tutoring is the way to go if you are a teacher or have the potential to teach. There is a massive demand for online courses and teachers. It allows flexibility for the teacher and the student. The pay scale depends on the subject.
18. Write Resumes
If you do not have enough time to write or have some extra time to write, then you should write resumes. However, it can become your full-time job as well if you are good at it or possess good name in the market.
19. Mystery Shop
It is a fun job to get some extra bucks, free products, and dinners. Some of the mystery shopping jobs even let you do it over the phone.
20. Test Websites
You can make a lot of money by doing this job, but you cannot do it consistently. However, you can get a right amount of money for a short period of time. Basically, you have to test the usability of websites. You can get around $15 to $20 for a test.
21. Rewards Sites
Both sites like Inbox Dollars and Swagbucks are good sites for earning something extra. You can easily make $20 each every month without putting a lot of effort in it.
Just search the internet, watch videos, complete surveys, and other small tasks. We suggest you to sign up instantly.
22. National Consumer Panel
Nielsen Group owned the National Consumer Panel. It is a simple program; you earn rewards by scanning groceries every week. Just download the app, sign up, and then start working.
23. Surveys
If you do surveys in a part-time job, then it would not affect your day job. Taking surveys is a fun job to earn free products, extra cash, and gift cards.
24. Design Web Logos
If you know how to use Photoshop and have an understanding of designing, then you can earn a good amount of cash by doing this business. It is not only about making logos; you can make different graphics such as newsletters, flyers, brochures, etc.
You do not need a graphic designing degree, as long as you are making jaw-dropping designs that others like and love to pay for.
25. Write Reviews
There are many sites out there which will pay you some cash in exchange for product reviews. If you are able to comprehend different products and write fast, then this easy method is for you. You have to be different, thorough, and honest when writing your review. It will work great for you if you a get a niche that you like.
26. Freebie Trading
It is actually simple but a real job for making money. Freebie websites offer cash rewards and sometimes gifts for trying out products or services. Yes, it would not allow you to make a handsome amount of income, but doing it as one of the side hustle will surely boost your income a little. You can work on it, whenever you want.
27. Sell Photos Online
If you love photography, then there are many platforms, apps, and websites available where you can sell your photographs. It can be a part-time or a full-time job according to the time you spend on this. You can check iStockphoto and Shutterstock to sell your images.
28. Focus Group Participant
Researchers require participants to assist them in developing the specific results. You can become a participant in your area's focus group and earn the share from their research funding. You can call your local museum, university, and even look on Google to search opportunities near your location.
29. Sell Your Baked Goods
Are you good at cooking or baking? Do your friends love your cakes? If you are confident about your skills, then it is the perfect time to avail your talent and make some money out of it. People love to try homemade products. You can even get contracts for gatherings and meetings. You can become a preferred choice for kids in your area for any birthday bash and festivals.
30. Bing Rewards
If you do spend your spare time on social media, then you can also fill out surveys and able to do other small tasks online. So, Bing Rewards is for you. This search engine gives you points for almost every activity you perform on it. The more points you get, the more money you earn.
31. Rent Out A Room
It is not an online job, but you can do this thing from the comfort of your sofa. If you have a room that is free in your house, then you can rent it out and earn every month without doing anything.
32. Rent Out Your Parking Space
If you are blessed and have a parking area in your house, but unfortunately you do not have a car, then you can rent it out as well. You can earn good money if you are interested in this. You can offer this in any area, but if you live near an airport, train stations, or offices then do not ruin this opportunity to earn without moving your body.
33. Sell Your University Notes
If you do like to help other students and ready to share your hard work with them, then you can sell it. It is an excellent way to take out useless things for yourself and earn through it. There are even websites where you can sell your notes. They will take their commission, but it is not a bad deal. You can earn $2 to $50 on each note, depending on the worth of it.
34. Sell Your University Textbooks
Apart from your university notes, you can also sell your textbooks if they are useful for you anymore. You can advertise it on noticeboards. There are also different websites that will allow you to sell your notes.
35. Buy And Sell Domain Names
If you think there are domain names that people will need in future like iPhone20.com or anything that makes sense then go, purchase it, and sell it. You can buy as many domains as you wish.
So Many Methods, So Little Time
So, these are the 35 ways to earn cash from home. These are just ideas from our side; we are reinforcing again that all the effort is yours. You are not restricted to choose any single of them; you can work on as much as you want.
Hard work is the key to go ahead. You would not become rich overnight. However, if your luck works and you put a lot of effort, then these jobs will get you more money than what you are getting through your full-time job.
Author Bio
:- Zoe Lucas is a freelance blogger who loves to write in different niches, Currently working as a web editor at 
Call Me Loco
!