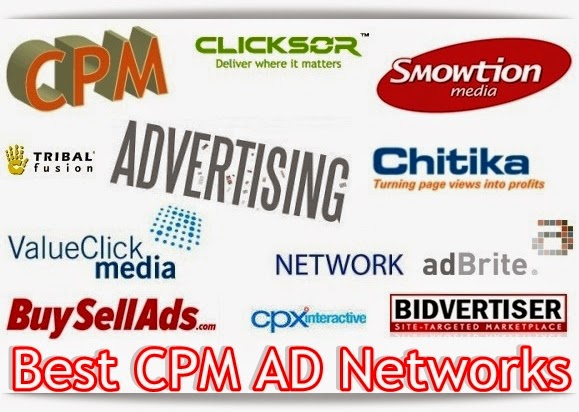 Do you ever imagine what if your's blog traffic comes into play to help you make money. Yes its true, Now you can convert your visitors i.e traffic into money with the help of CPM Advertising. There are lots of CPM networks exists to monetize your blog in good manner. With CPM Advertising Networks you can earn without even worrying about a single click, all you have to focus on your blog traffic to be maximum. It is just opposite to Google Adsense and Different advertiser's pays different amount per thousand views, and it totally depends on your sites capabilities i.e. content, traffic & quality. So lets know more on it below.
What is CPM Advertising?
CPM stands for Cost Per Mile/Impressions and from a publishers point of view how much a common bloggercould earn from thousand page views that he receives from his Blog or Site. To make this possible, various CPM networks comes into role which we will discuss below.
Top Highest Paying CPM Advertising Networks Ever:
It is one of the best and highest paying Ad network ever in this industry. Well Tribal Fusion offers their publishers a Highest CPM to generate more revenue from their site/blog. But the main problem is that it requires 60,000 unique visitors per month i.e for the large publishers. Minimum Payout is $50 via PayPal.
However AdPepper provides you very decent user-friendly experience with stunning CPM rates but lacks consistency. CPM rates are hidden and overall considered as average. Payments are via PayPal at minimum $50.
According to me, Technorati Media is the most popular CPM Network/Sites for those who are searching a Adsense Alternative. Ads are totally new and contextual. Payments are made via Check or PayPal.
Value Click is for large scale publishers and doesn't accept those websites which generate less than 3,000 page views per month. Their Control Panels are quite good and CPM various as per website repo. Payments are made via PayPal only.
Well Burst Media requires minimum 20,000 page views per month. It is considered as very cheap advertising network and not good for high scale publishers to earn more from their websites. Payouts are very less in this website.
All Done… Happy Earnings $$$