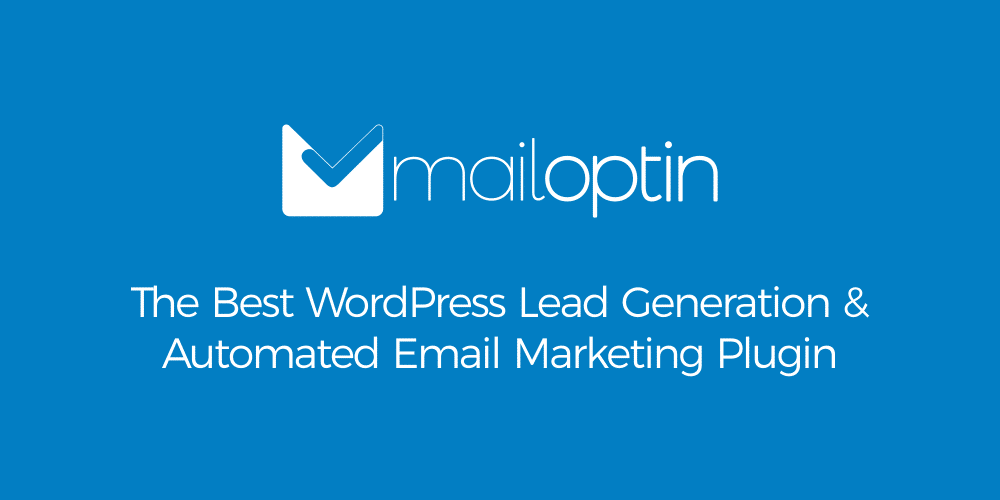 MailOptin is a feature-packed WordPress plugin that will allow you to start building list instantly. It is very flexible and easy to use. You do not need to have any prior knowledge of list building or coding to start seeing the result.
Unlike other alternatives in the market, MailOptin goes a step further to ensure your email list subscribers, readers or customers are nurtured and constantly engaged using its suite of event-triggered and automated emails such as new post notification and email digest with lots of other automation constantly being added.
One of the highly sought-out features in a lead generation plugin is the exit intent. This allows popups to be triggered only when a visitor is about to leave your website rather than spamming visitors with intrusive popups on each page load.
Not only does MailOptin brilliantly offer the exit popups; it also comes with other highly rated features like the following:
Lightbox, notification bar, slide-in, in-post and widget forms
Multiple high-converting optin forms
Email triggers for new post alert
Page-level targeting
Built-in analytics, conversion and reporting stats
Exit intent to show popups are visitors are about exiting your site
Display rules
Optimization for small screen devices
Integration with all major email marketing services
Unlimited customization options
Click link trigger for content upgrade
The developers of MailOptin really pushed the bar on the plugin to include just about every feature right-out-of-the-box, that is needed to start creating awesome opt-in forms for your email list effortlessly.
With the user-friendly native WordPress interface, you will not waste time reading a bunch of documentation or taking extra coding classes to start growing your list. The user interface of the plugin is self-explanatory and comes with a handy description of every feature in the options page.
MailOptin: The Features
MailOptin comes with several types of optin forms, and each of them comes with a variety of templates which can easily be customized based on your preference.
Here are some of the optin type forms available on the plugin: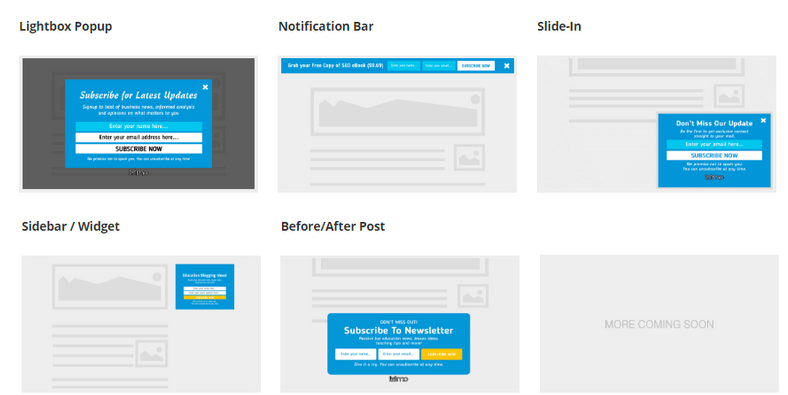 Lightbox: Easily create popup optins with various stylish templates.
In-Post Opt-in: The plugin allows you to display opt-in forms at the top or bottom of your post.
Notification Bar: Optin campaigns can also be displayed on the top of your website.
Slide-in: This optin form appears at the bottom corner of your site.
Sidebar/Widget: Sidebar optin form is generally for the sidebar placement, you activate it from the WordPress widget area.
The interesting thing is that your entire progress can be tracked using the built-in analytics, conversion and reporting stats that makes A/B split testing very accurate.
However, before digging into the well-tailored reporting feature of the plugin, let us talk more about the customization aspect of the plugin. Creating and managing your optin form is very easy, thanks to the plugin's clean user interface and well-labelled options and settings pages that simplifies the whole process.
You can basically get your optin forms working and start collecting emails from your visitors in very few minutes.
The Customization
There is a live preview of your customization paired with an impressive collection of beautiful templates for styling to suit the design of your website.
Everything can be edited; elements like text-field or buttons can be removed and inserted. You can edit the message, the image, the image orientations, borders, effect, and colours.
Creating an Email Optin Form
Firstly, you have to activate your plugin and connect to any of the leading email marketing services via the plugin's email "Connections" option page. There are a lot of email marketing services supported by the plugin including MailChimp, Sendy, Constant Contact, Campaign Monitor, Drip, GetResponse, ConvertKit, AWeber.

Once connection has been approved and verified using an API which the plugin will assist in locating, you can save the options page and head over to the "Optin Campaigns" page where you can start creating optin forms immediately.
After creating your optin forms, you can start customization by clicking the "customize" button which will take you to a new page where there are tons of options to get you started without stress.
As mentioned earlier, the plugin's themes are fully customizable, you can really tweak the options to get you the exact design you want.
Configuring How the Form Works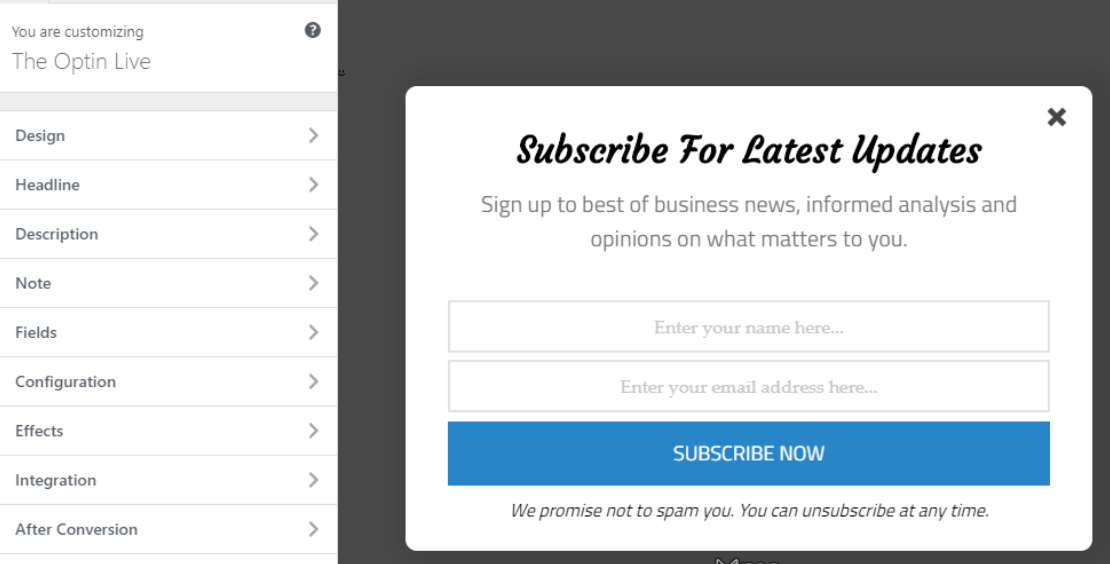 After styling your optin form and you are happy with the result, start configuring how the plugin will work on your site. This takes place within the same "Customize" area; you only have to select any of the options to kick off your configuration processes.
Depending on the type of optin form you are working with, you will have different options that determines how thing are going to play out. For example, when creating a lightbox, notification bar and slide-in forms, you will have the exit intent.
You can also enable to the scroll percentage trigger as an alternative display rule, instead of the hugely successful exit intent. Again, it depends on the idea behind your list building strategy, but whichever the case or idea you have; MailOptin can always bring them into reality. Thanks to its huge list of features that makes email list building a very great adventure.
There are other configuration settings available on MailOptin, including the ability to set after conversion. For example, setting a success message or redirecting users to a custom URL of your choice after an optin form has been filled and submitted.
It is also possible to set cookie duration. This is done to prevent the optin form from showing too often to visitors.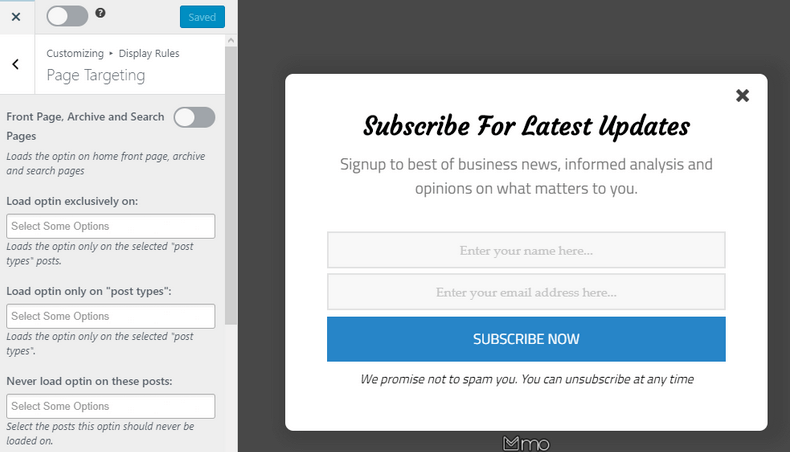 The page targeting configuration on the plugin allows you to determine where the optin form will be displayed. It is possible to trigger an optin form on certain pages and prevent it display on other pages.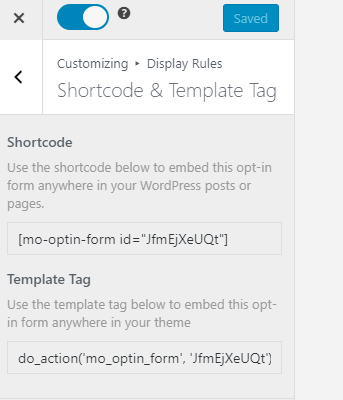 You can even take this further by embedding optin foms with shortcodes or templates tags. The possibilities are simply jaw-dropping and show the level of detail the developers put into the plugin development. It is not just one of those WordPress plugins, it is an email marketing software made from the heart, for the heart of the list building world.
More also, through the click launch trigger, you can carry out a successful content upgrade. This means that you can lure visitors into subscribing to your mailing list by offering them some kind of incentives. It could be a free downloadable content, extended resources, a free premium app or game. When visitors decide to get the free content, they subscribe to your mailing list, MailOptin automatically sends them the download link, while you collect their addresses. What a brilliant idea! Use this with a lot of creativity to get exponential growth in your mailing list.

Note: You can also send automatic newsletters to your registered users and list hosted in your email marketing software immediately a new post is published on your website.
Enabling MailOptin
Now that all your settings have been saved, you can enable or activate the optin form so it can be deployed to your website for immediate use. All you need to do is return to the "Optin Campaign" page; you will find the list of all your created optin forms. Toggle on/off the activate button to either activate or deactivate an optin form.
Analytics and Reporting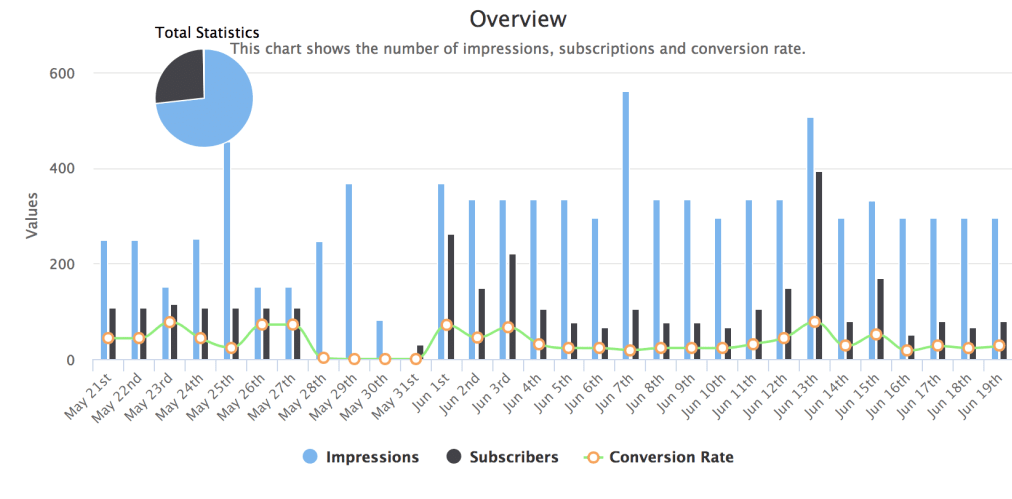 Through the built-in analytics, you can analyze clicks, views and conversion rates. From within your WordPress dashboard, you can also see which pages or optins are converting best.
This is one of the core features of MailOptin, it doesn't give room for assumptions. The analytics is available right-out-of the box to ensure every vital piece of information can be pulled out and used to determine the best strategy to carry out a successful email list building.
Pricing
Pricing starts from $69 for the Standard version which is limited to one site only. For three sites, the Standard license has a price tag of $99 per year. It includes access to unlimited optin campaigns, exit intent, click launch trigger, one year support and lots more.
To gain access to every premium features, you will need the Pro plan, $199 per year. It includes everything on the standard plan as well as adblock detection, optin scheduling, WooCommerce integration, priority email support and more.
Final Thoughts
As you'd expect with everything written about MailOptin, it is no doubt the lead generation email marketing software of choice. The huge library of features, including the ability to fully style your optin form is a positive design decision.
With its ease of use, stylish optin themes, A/B split testing ability and other existing features; MailOptin remains one of the best list building plugin on the market. It is an investment worth making.
Find out more about MailOptin on their official website. There is no better time to get it than now.