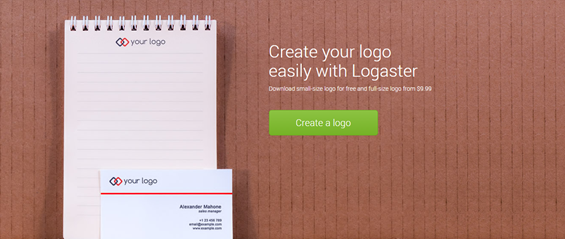 The importance of a logo is a superlative function that many people underestimate because experts and studies affirm that a well-designed logo can strike greatly the attention of a potential customer comparing it with a terrific logo. It's so important because people has spent years and valuable hours of their lives just by researching better practices and methods to create striking logos.
A logo is like the face of your brand or product, could you trust in a bad face? That is the question you have to ask yourself in order to realize the importance of a logo. A well-designed logo will boost the confident of your leads towards your brand, by drawing the attention of people and emanating empathy to everyone who see it.
What it is Logaster?
An innovative company like Logaster is completely aware of that potential with the use of just one image. Logaster uses cutting-edge tools, and practices to deliver you an authentic, and outstanding logo which will represent your brand.
Logaster is an online business that offers the creation of logos and corporate identity elements. Even a child may design a logo on its website, really it is easy to use and it doesn't require a vast amount of cognitive power, just a little bit of creativeness.
What Kind of Features Can I Get From Logaster?
Logaster is a superb website, as flexible and versatile as nothing. The best part about this website consists in its scope, covering all range of logos for any activity type from Business, Computer, Medicine, Sports, everything is covered by Logaster.
In addition, it's totally free to use. You can create and design hundreds of logos without expending a cent, with incredible quality and fantastic design. You have to bear in mind that this website is also useful to create Business card, envelope, letterhead/fax cover and Favicon. You can design and get anything in those fields.
Create and design a logo are free, but it has a cost when you want to have plenty of formats and print it. But, the simplicity and the convenience to design and create following completely your preferences is invaluable. In fact, if you compare the cost of this website, with the cost of hire a graphics designer, print and other expenses, Logaster can make you save plenty of bucks. Think about it, you will save valuable resources to invest in other fields in your business and grow exponentially.
By buying your logo you will get:
Your logo without any annoying watermark.
High-resolution logo with incredible quality.
Transparent backgrounds to use it on any surface.
Change the logo by convenience.
Ability to download a version of the logo for social networks.
How to Use and Create A Wonderful Logo with Logaster.
Some websites offer a really overwhelming system which tends to confuse rather than simplify, Logaster is completely aware of this problem and has created a cutting-edge system that allows you to create a logo in a matter of minutes, without any help, and with top-notch quality, conserving a really user-friendly interface that makes easier the process.
You just have to click on Create up and left of your screen and select what do you want to create, a logo, business card, letterhead/fax cover, etc.
Immediately, you just have to type your company or identity's name and select your desired activity type.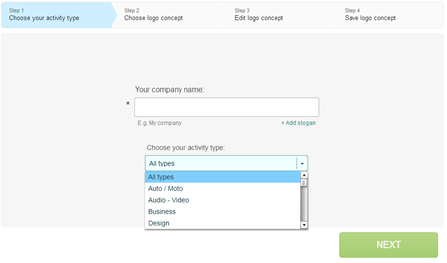 After that, you will be in the Choose logo concept section, in which you will be able to choose between an infinite repertory of designs.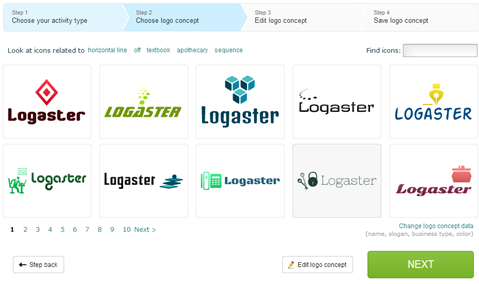 Finally, you can edit your logo concept and download for free (with watermark) or by paying a fee to download it in 1024px, 5000px and for print and screen. It will be available in different formats (png, jpeg, svg and pdf).
As you can tell, you won't be doing your valuable logo in more than 5 minutes, all the process is clear, with a user-friendly interface, with none less than a few clicks and by following these 4 steps.
Plans, pricing and details.
BrandKit (all-in-one) package: With this package you will get a logo for print and screen, a business card design, envelope design, letterhead/fax cover design and favicon. Of course is a large repertory of formats (svg, pdf, png, jpeg, docx, and ico) with a price as low as $29.99
Logos package: You will get a small size logo, for screens of 1024px ($9.99) and 5000px($19.99), also an option for print and screen in different formats (svg, pdf, png and jpeg) for $24.99.
Products: This company offers:

Business card design (pdf and png) for $9.99.
Envelope design (pdf and png) for $9.99.
Letterhead/faxcover design (pdf, png and docx) for $9.99.
Favicon (ico and png) for $9.99.
Also Check– WordPress Plugin for Logaster Logo Generator

Description- it's an Convenient tool for creating free logos online. Logos are saved to media library and fully integrated to WordPress site etc.
Plugin Features:
Too Easy logo creation process
Large database of high quality icons
Integration with Logaster allows designing a corporate identity (favicons, business cards, envelopes, letterheads any more)
Popular vector formats (PNG, JPEG, SVG, PDF) supported
Verdict.
Logaster is meaning of freedom, creativeness, and convenience. This innovative company has known how to blend quality, versatility, and convenience in only one website. The prices are low, considering the user-friendly website and the supreme quality you will get, not counting the benefit to doing it yourself, on your own time, moment and preferences.
If you want a new face or you're looking for a face that represents the values and the mission of your company, definitely Logaster is your best bet. You must not underestimate the power of a stylish and well design logo, it can persuade your leads and emanate a trustful ambient to increase your revenues.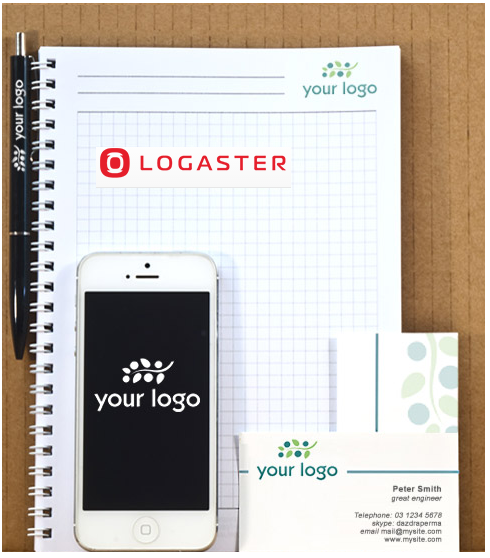 The price-quality is more than fair, you will spend more money, time, and efforts by hiring a whole team or person to design a logo. Even if you have all the resources to paying someone to do it, the results won't be the same.
Thanks!
Logaster Logo Generator is an online service for creating logos and corporate identity. Just enter your website name and website will create dozens of logos that works like a rocket.