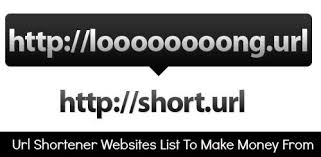 Now a days Making Money from Blog is not as easy, thus all it requires high amount of daily traffic etc. Therefore today I am going to discuss some genuine ways to make money online from URL Shortening. Well Url shortening is a technique that is used in which a provider makes the webpage available for very short URL (link) in addition to the actual long URL. This is something quite different than making money from AdSense, Affiliate Marketing and Direct Ads. That's why now everyone can earn decent income is by using the paid URL shortener services or sites. There are so many advantages of doing URL Shortening such as-
If your website is providing download links, then you can use these URL shorteners even more to make additional income easily.
Another thing is that All you need to do is to enter your long, ugly, or affiliate weblink in these url shortener websites and hence create your short and beautiful url completely free.
Short URL's is easy to remember and listen etc.
How URL Shortener Services Actually Works?
In Simple, These URL shorteners program will act as a medium to advertisers and publishers online. Now Every time someone clicks on the link that you have shortened, you will get paid, many sites pay around $4-5 for 1000 visitors that you bring to your link. The person who is opening the link is to wait for at least 5-10 seconds in order to visit to the actual link etc. This is who the advertisers or these services get benefited on both sides.
Top 10 URL Shortening Websites to Make Money from
One of the best in free url shortening service that will pay you around $4 for every 1000 visitors came. You can also refer users and earn an extra 20% commission, $5 is minimum payout via Paypal, Alertpay or Payza.
This is the next most popular URL shortening website ever. Hence It is receiving over 5 millions links in a week and over 160 millions in a month. Payments are made via PayPal only.
Well Goo.gl is yet another URL shortening product from Google with link tracking and stats. Payments are made via PayPal and Alertpay.
They pay $4 for every 1000 visitors and 20% commission on the earnings your referrals make as same as ADF.ly. Payment through PayPal and minimum threshold value is $5 etc.
Now everyone can Earn $4 for every 1000 hits you send in via there link. Get 5% commission on the earnings made by your referral. Minimum threshold is $3 though PP.
Another url forwarding and shortening program in which there existing members can earn up to 90% of URLCash's income. You can also make 35% of what your referrals earns!
An free url shortener service/website, thus this site pays you only if someone buys something through your link just like affiliate marketing.
Tinyurl is one of the best 1k sites from the Alexa. Its presently the mostly used URL shortening website ever with over 4 million active users using it every month.
Great url shortening service where you can earn $4 for 1000 visitors you bring in. Refer people and earn 5% of their earnings, $0.10 sign up bonus when they verify their email address etc.
free url shortening service that gives you earn $4/1000 visitors, plus additional 20% of referral commission, also $5 minimum payout through Paypal and moneybookers.
Also SEE- List of Top 10 High Paying Best PPC Ad Networks 2014
All Done! I hope you all are satisfied with my top 10 collection of these best paid URL shorteners websites in 2014. Now earn with the link conversion process and Enjoy even more…