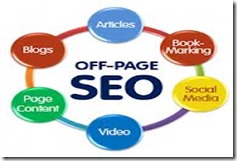 Well Off-page optimization (off-page SEO) is that thing which can be done off the pages of a website to maximize its performance in the search engines as to target keywords related to the on-page content. It is totally different from On Page SEO and must to be know by Bloggers. In General, Off-Page SEO include social media likes, backlinks building and offline promotion etc. So today in this post, I am going to teach you some useful Off Page SEO techniques to boost your blog post up to 200%. Note- To rank higher in Google, Off Page SEO is must and can't be ignored to outrank your competitors. Please check it below.
What is Off Page SEO?
As Discussed above, Off page SEO means to do SEO for a page at outside terms. Unlike On- page SEO, off-page SEO refers to activities outside the boundaries of the webpage. The most important are:
Link Building
Blog Commenting
Promoting URL at Different Places
URL Submission to Search Engines
Off Page SEO Checklist 2014:
1. Submit your Blog post first to different Search Engines, blog directories, Forum and article marketing sites as well after publishing it online.
2. Now do Blog Commenting on different blogs related to your niche by taking help of CommentLuv to show your latest posts link.
3. Press Release Creation and Distribution
4. News letter posting and News Syndication etc.
5. You can also do Podcasting Video uploading and tagging as well
6. Submit your Posts to Social Media and Bookmarking sites like Facebook, Twitter, Google plus, LinkedIn, Digg, StumbleUpon etc for more extra traffic.
7. Classified Ad Creation and Submission
8. Link Building techniques and Popularity
9. Wiki Submission etc.
10. Tell your Friends about your new blog post to visit and click
Final Words:
All Done! I Guarantee that this Off-Page SEO checklist will definitely improve your site SEO structure and many more things at the SERPS etc. Now a days Do more Blog Commenting and Social Media Shares to Get ahead of your Competitors and beat them. If you liked the post, then do share this on Facebook or Twitter etc. Till then Bye and Please Comment below as well.